Working Safely with Gel & Acrylic Nail Products to Minimise the Risk of Allergic Reaction
A BBC report launched on 14th April 2023 highlighted a very important issue for the Beauty Industry around the dangers of products used without correct training or awareness of the ingredients of gel nail products. Understandably the launch of this report has caused panic and concern for many nail technicians, but also for many consumers who regularly receive nail treatments from nail technicians using gel nail products.
Here at The Beauty Academy, we wanted to address any concerns for those who have trained with us or who are considering training with us within nail technology. We are proud to be a part of ensuring this industry can continue to grow safely, with our courses helping to contribute highly qualified, confident, and knowledgeable Nail Technicians to the UK Beauty Industry.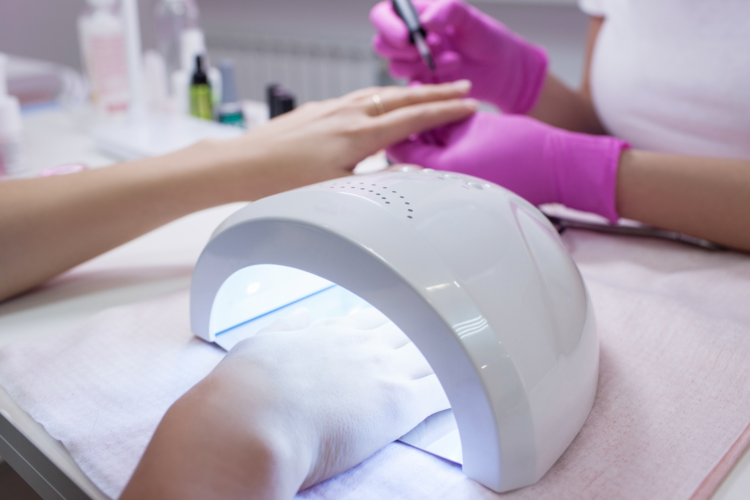 The BBC reported that the government's Office for Product Safety and Standards is investigating the growing numbers of people developing life-changing allergies to some gel nail products. In a statement it said: "All cosmetics made available in the UK must comply with strict safety laws. This includes a list of ingredients to enable consumers with allergies to identify products that may be unsuitable for them."
The BBC report stated that "though most gel polish manicures are safe and result in no problems, the British Association of Dermatologists is warning that the methacrylate chemicals – found in gel and acrylic nails – can cause allergic reactions in some people."
Allergies are by no means a new issue and certainly not unique to the Beauty Industry, although much of the increase in reactions to gel nail products specifically occurred following Covid-19 related lockdown where many took to the use of DIY home nail kits to implement 'self-care' while salons were closed. With the cost-of-living crisis further driving many to seek to cut costs including spending on health and wellbeing, such as beauty treatments in-salons, the number of people using home use nail kits is now at an all-time high.
Dr Deirdre Buckley of the British Association of Dermatologists urged people to stop using DIY home kits to treat their nails. The BBC report highlighted those allergies "often occur when gels and polishes are applied at home, or by untrained technicians.
Some people have reported nails loosening or falling off, skin rashes or, in rarer cases, breathing difficulties following single or prolonged use of some gel nail products. Allergic reactions can leave sufferers unable to have medical treatments like white dental fillings, joint replacement surgery and some diabetes medications. This is because once a person is sensitised, the body will no longer tolerate anything containing acrylates.
Dr Buckley told the BBC, "If people are determined to continue with acrylate nail products, they should get them done professionally."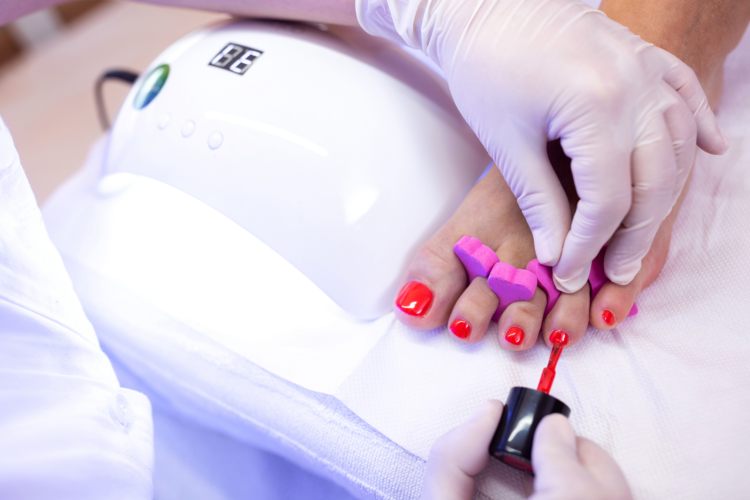 The BBC report expanded "formulation of gel polishes do differ; some are more problematic than others." The founder of the Federation of Nail Professionals, Marian Newman stated "people that buy DIY kits and do gel polish nails at home, please don't. What should be on the labels is that these products should be used by a professional only." Furthermore, she noted, "one of the most recognised allergens is an ingredient named Hema. To be safer, find someone who uses a brand which is Hema-free, and there are plenty of them now. If you understand what to look for, it is safe."
Hema, also known as hydroxyethyl methacrylate, is considered the number one allergen in nail products. The hydroxyethyl methacrylate monomers polymerise the polish, setting it hard and giving it the desired 'shiny', long lasting finish. Advancements in technology and product chemistry has meant many gel and acrylic nail product brands are now able to produce the same desired results from their products with vastly reduced amounts of Hema within their products, or even with entirely Hema-free formulations being launched. Hema-free gel polish formulas do not include the tiny Hema molecules that can enter the skin and cause allergies. Instead, they may contain larger molecules that do not penetrate the skin and are not reactive under UV/LED light.
Gel nail products, unlike traditional air-drying nail polish products must be dried or 'cured' under a UV or LED light for the correct amount of time to ensure the product has hardened fully. Not all nail lamps will fully or correctly cure all gel nail products. The lamp must be at the correct wattage or light wavelength or the acrylates (the group of chemicals used to bond the gel to the natural nail), do not dry properly, penetrating the nail bed and surrounding skin, potentially causing irritation and allergies.
There are many steps which can be taken by a trained nail technician to help minimise the risk of an allergic reaction occurring or developing over time through repeated exposure, and it is important to be aware of these and communicate these steps clearly to reassure your nail clients that you are taking every possible precaution to keep both themselves and you safe!
Use Hema-free products wherever possible.These are ideal for those who have sensitive skin/nails, known nail product allergies or are at risk of allergy due to overexposure to Hema-containing nail products. Purchase products from a trusted, professional source ensuring they are tested to EU standards to ensure safety.
Use the correct nail lamp for your system. Undercured gel product is the leading cause of gel nail product allergies.  Lamps should be matched to the system you're using to ensure a full cure. If you cannot afford to have multiple lamps for the different brands of products you stock, simply cut back and focus on having the full product line and corresponding lamp as recommended by the gel brand manufacturer to match your gel products. Also ensure your lamp remains clean inside, wiping any remanent product from the sides / UV bulbs or LED diodes to ensure your lamp works as expected.
Use the full brand of products. Do not mix and match your products within treatments, make sure your base, colour and topcoats are all from the same brand / manufacturer and cured using the recommended lamp for the brand. With acrylic products, ensure you are using monomer (liquid) with the same brand of acrylic powder. Products are tested rigorously by the manufacturer for safe and effective results when used together.
Do not touch uncured products. Product on the skin can leads to allergies, whether that occurs through shaping a gel or acrylic brush with your fingers, wiping product off the skin with your finger, touching skin around the nail with your nail brush during application, applying too much product so this overflows the nail plate into nail folds, or leaning on the tissue where you've wiped excess product. Liquid tape can be used around client's nails if concerned about product getting onto client's skin. Take care when removing the tacky inhibition layer on gel to avoid touching this or wiping onto client's skin.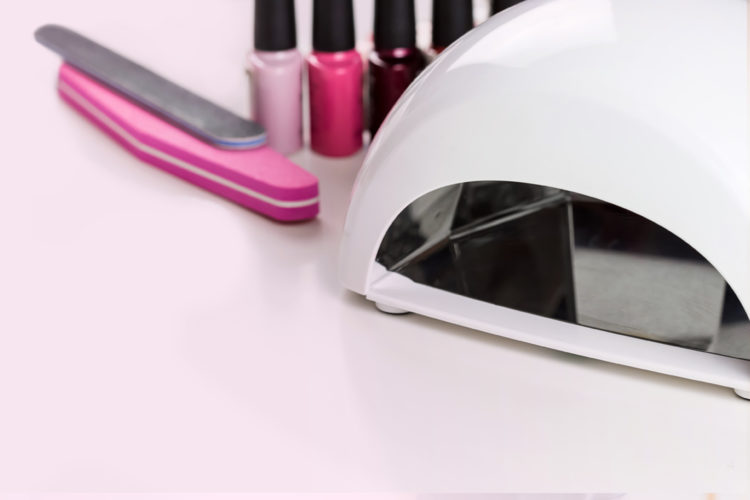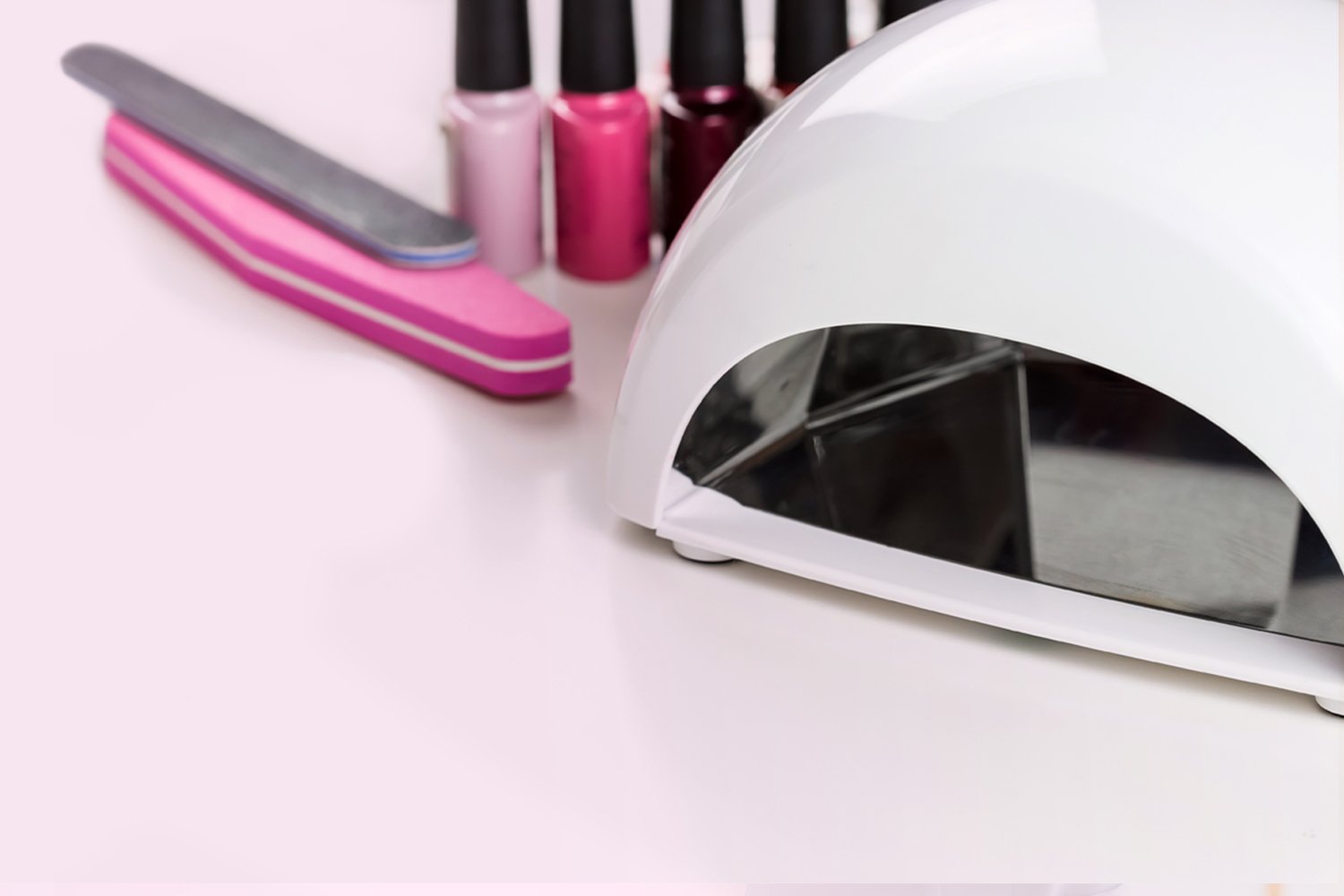 Perfect your powder to liquid ratio when working with acrylic. Monomer liquid can contain Hema. Ideally use Hema-free monomer liquid (see suggested brands below) but it is also important to ensure you are effective with your acrylic bead ratio as applying a bead of acrylic that is too wet will not cure correctly and may mean product spills over onto the skin increasing risk of allergy. Also ensure your bead size is not too large, work to the 3-zone technique.
Protect yourself. Good quality, nitrile gloves that are at least 8mm thick are essential for nail technicians working with gel and acrylic products. This helps keep your skin free from repeated exposure to products on your skin. Gloves should be changed after every client. Wash hands before and after every treatment. Clients should be given hand sanitizer to cleanse hands at the start of treatment, then advised to wash with soap and water immediately after treatment to remove any potential stray product. Many nail techs wear a face mask, such as a KN95 rated mask as these are tested to prevent dust, chemical and particle inhalation.
Keep your workspace clean and dust free.Wipe over the nail desk after every client using a damp microfibre cloth to help collect any dust (ensuring you wear gloves) and then sanitise using usual antibacterial sprays. Any couch roll that has been used to wipe excess product onto should be placed in a lined pedal bin (with lid) and the bag disposed off after every treatment. Salon ventilation is essential so that dust and vapours in your working area are extracted, or pass through a three-stage filter system, such as a source capture system.
 Patch Testing. You might think it wise to patch test nail products, however given that nail products containing methacrylate are not intended to go on the skin, it is not advisable to carry out any kind of patch testing as this can lead to unnecessary skin exposure to products. Given this, it is better practice to simply ensure you are working safely and avoiding skin contact with every nail treatment than trying to devise a patch testing process.
Summary
Gel and acrylic nail treatments can be considered perfectly safe provided they are carried out by a professional, trained nail technician using professional use nail products from a reliable source, where tested to EU standards. Precautions should be taken to ensure risks are minimized to avoid contact with uncured products on the skin and ensure products are used safely to manufacturer's recommendations and with the correct lamp for full curing.
It is important to ensure your knowledge and skills are completely up to date to ensure you are following industry best practice on the safe application of gel and acrylic nail products. If it has been some time since your training, you may wish to update your skills with our online or classroom courses to boost your confidence.
By visibly demonstrating confidence in your safe practices, being seen to go above and beyond to keep your clients safe; they will be reassured to continue receiving their favourite nail services. You may wish to produce a salon policy outlining the steps you take to minimise risks of gel nail product allergies, to help promote the professional services you offer.
It is fantastic news that the government is working towards better standards and awareness within the beauty industry for the safety and benefit of all!
---