The Magic of E-Filing
Once nail salons are able to reopen (hopefully in August), we're certain you wonderful nail techs will be packed out with clients wanting to restore their nails to former glory. We can imagine some of the nail extension horrors you may encounter and clever client scheduling will be key to fitting everyone in. But what else can you do to speed up your nail treatments to maximise your earning potential while additional safety measures are in place? Our blog this week looks at E-Filing…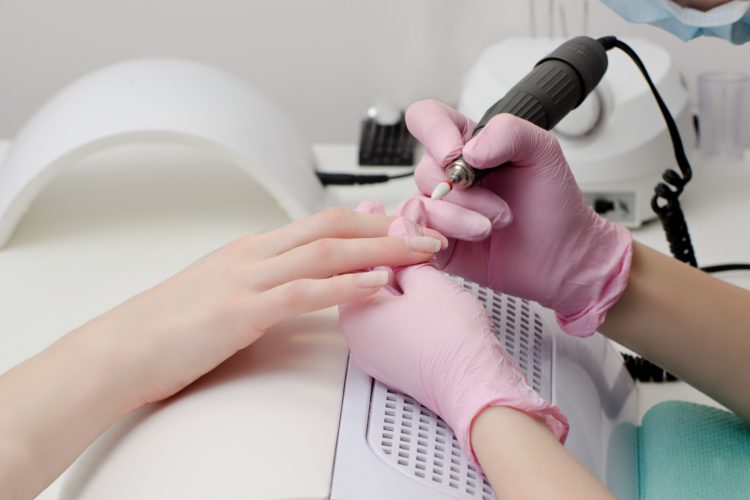 What is E-Filing?
It is surprising to hear how many nail techs are not fully aware of e-filing and how it works. E-Filing is use of an electric nail file to speed up the time taken working on nail extensions. It can be used on both acrylic and UV Gel nail extensions to help finish and refine the product, to help with speeding up a maintenance or removal treatment such as to reduce the length of the extensions, take our excess bulk when rebalancing and to help with product removal (usually alongside use of acetone soaking). Experienced nail techs may also use an electrical file on natural nail plates (often called a Russian manicure), although specialist advanced training is required for this and not all insurers will cover this.
E-Filing helps to reduce the amount of manual filing required to speed up your treatments, give more even finish for better quality nail results and can help to reduce the risk to the nail technician long term of an RSI (repetitive strain injury) or aggravating of conditions like Carpal tunnel or arthritis. Quicker treatments allows you to fit in more clients so boost profitability but is also great for time pressured clients, who often want a quick and effective treatment.
Can anyone train to use an E-File?
We offer courses in E-Filing which can be completed through our Online Student Portal and are accredited by IPHM. The course teaches you to utilise an electric nail file when working on acrylic or hard gel nail extensions. We do not cover use on a natural nails as most clients prefer use of manual files on natural nails for a safer, more comfortable treatment. We will also soon be launching a Classroom based training option. The E-Filing courses are suitable for anyone who has completed a recognised training course in Acrylic or UV Gel Nail Extensions and ideally also within Manicure & Pedicure. If you are looking to train within these skills also, you may wish to look at our Online Nail Training course packages, Virtual Academy Nail Courses or Classroom based training. The courses are suitable for those recently qualified or who have been working within nails for some time.
The Main Perks
Incorporating E-Filing into your nail skills will be invaluable, especially once rushed off your feet post-lockdown. You will be able to;
Offer quicker nail extension treatments including for maintenance and removal.
Fit in more clients each day to maximise your earnings
Offer better results in your nail services than with manual filing alone
Reduce the strain on your precious hands and wrists from less manual filing
Reduce the amount of nail files within your kit, great for mobile therapists
Metal E-file drill bits can be easily and more thoroughly sterilised, offering a much more hygienic service
E-Files can be picked up affordably and are usually guaranteed for at least 12 months making a great investment
Still have questions? Why not contact our friendly team for more advice on the best training option for you?
---