What's in a brand name?
We have lots of students ask us about courses such as Eyelash Extensions, Highly Defined Brows and Lash Lift & Tinting. They are confused as they have seen courses offered by beauty suppliers, branded courses and online courses and they don't know where to start in regards to what the key differences are. First let's cover what the term trademark is as this is essential to understanding brand-specific courses…
What is a trademark?

A trademark is a way for a brand, company, producer or other legal entity to identify themselves and the products or services they produce, provide or source. It is a way for someone to recognise one entity (or brand from another) and for consumers to identify the origin of a product or service.  Trademarks can be registered by the trademark owner and licensed in regards to specific types of usage. By registering a trademark, it can prevent use of the relevant name, logo, phrase or other 'mark' to be used without authorised licence from the trademark holder. Such unauthorised use can be considered trademark infringement and can open the person using such up to legal proceedings including prosecution or claims for damages. Brand specific training courses are those offered by such registered trademark owners and they often allow you to then go on to provide treatments using their products, to buy (or resell) their products and to use their logos/brand names within your own advertising.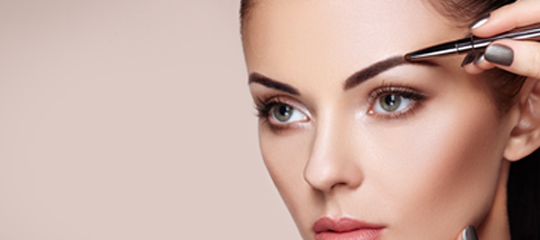 The Beauty Academy Courses
All courses offered within our training centres are non-brand specific courses which teach you the fundamental knowledge and practical skills to deliver lash extension, lash lift or brow shaping and defining treatments. We teach the generic skills of these classic and in-demand beauty treatments. You achieve our in-house diploma certificate which is accredited by ABT and allows you to gain insurance to begin offering your treatments to clients. The beauty of our courses are that they are professional courses covering the core knowledge and skills for these treatments, they are accredited but they are much more affordable (starting from only £99) than many of the brand specific courses. They do not tie you in to any specific brand or supplier before you're fully familiar and practised with the treatment. Many students find they complete brand specific training (which often require you to purchase their costly branded kits to attend the course) but once they begin offering their treatments on a regular basis and start speaking with clients, they find they prefer working with a different brand or clients are asking about other brand names. Often this requirement to purchase kits means half of the kit contents is also used up on the training day(s) themselves also leaving little product to go on to practice with. At The Beauty Academy, we provide all products and tools required to attend our courses at the centre on the day(s) at no additional cost. The only exception to this is where a patch test is required for which we keep the cost minimal.
Branded Courses
There are many brand names for specific treatments such as lash lift, lash extensions, and highly defined brows treatments. We don't need to list them since you will have heard of most of them along the way when searching for a training course. These courses are usually significantly more expensive but this additional cost is attributed to the fact that you will be able to advertise using their brand names, as a brand specific trained therapist. This may be advantageous for salons who benefit from large shop front window displays using the recognisable brand logos and who can command much higher treatment prices to reclaim the cost; but the additional cost is not usually viable for mobile therapists, those just starting out in beauty (and so who don't know what brand they prefer yet) or necessary for those who are already very established therapists with an existing client base.
The pros of a non-brand specific course such as The Beauty Academy courses:
Much lower initial course cost (from only £99 for courses with The Beauty Academy)
The Beauty Academy face to face courses are all accredited with ABT & online courses recognised by Radius insurance
No starter kits are required to attend our training day(s) unlike most brand specific courses
No commitment to any specific brand, get qualified, get experienced & then decide what's right for you once you understand the treatment and your client's needs
Great, quick and affordable way to learn something new, try out a new treatment service & see if it's for you and your client base.
The cons of a non-brand specific course:
You can't use any trademark protected brand names to describe or advertise your treatment services, however you can use a wide range of treatment related non-brand specific terms. If you later wish to utilise brand names, a simple conversion course can assist with this (see more about this below).
You might not be able to purchase branded products directly from the brand themselves, however you will be insured to use any brand of products to deliver your treatments. Similar professional (and cost effective) products can be purchased from large beauty wholesalers like Beauty Express.
The pros of a brand specific course:
You can advertise your treatments using their brand name / trade mark / brand logos
In some areas you may be able to charge a small premium on 'branded' treatments but often applicable only to salons or established therapists. Generally treatment price ranges are reasonably fixed by treatment type and area regardless of brand of products used as you must remain competitive to attract new, and maintain regular clients.
The cons of a brand specific course:
Much higher course cost with branded training providers (usually from around £399 per 1 day course)
Often requires commitment to purchase an expensive brand specific kit to attend the course (as they want to 'tie you in' to their brand)
Much of the kit is used on the training day itself & when starting out, rarely are students optimally economical with product so makes initial practice costly also
You may begin offering branded treatments with little knowledge of your client's needs or preferences. You may then find yourself tied to that specific brand with additional cost to retrain within an alternative brand to buy different products or indeed be insured to use other brands as many brand specific courses are not accredited.
Conversion Courses
Remember that once you have completed a generic, accredited training course such as those offered by The Beauty Academy and are insured within those treatments, you will be able to purchase professional products from most leading beauty wholesalers including Beauty Express (just not always direct from the specific product brand). You always have the option to complete a shorter 'conversion' course with most leading branded course providers from only £99 (depending on the brand), if you later wish to become brand specific and to use their brand name as part of your advertising. These courses also help you refresh and occasionally advance your skills once you have had some time within the industry providing treatments and once you've gained insight into the available brands and identified the one best for your budget and client's needs through experience of the industry. Most quality branded providers offer these courses to attract your business to purchasing their products, build their community of brand qualified therapists and raise their brand profile.
Generic Terms for Advertising Treatments
Many successful salons and independent therapists have huge success in promoting and offering their treatment services including lash extensions, lash lift and brow treatments charging the 'going rate' for their location and type of offering e.g. mobile, home based or in-salon. Anyone can describe and advertise using generic terms to promote your services (or indeed be creative with the naming of your treatments to stand out from the crowd). Just take care not to infringe upon existing registered trademarks and brand names unless you are brand trained or otherwise authorised by the brand to do so. Doing so can open you personally as a therapist or indeed your salon/business up to legal action from the trademark owner or brand which is bad for business and could be expensive. Generic terms for treatments as follows, are great ways to promote your services:
Eyelash Extensions – Classic Lashes, Semi-Permanent Eyelash Extensions, Volume Lashes, Russian Volume Lashes, Celebrity Lashes, Volumised Lashes, Eyelash Extensions, Lash Extensions, American Lashes, American Volume Lashes, Lash Enhancement etc.
Lash Lift & Tinting – Lash Lift, Tinting, Ultimate Lash Lift & Tint, Natural Lift Lashes etc.
Brow Treatments – Highly Defined Brows, Defined Brows, Ultimate Brows, Enhanced Brows, Brow Shape & Tint, Brow Redefining etc.
If you have any questions about brand names, your course or certification or how best to advertise your treatment services, please don't hesitate to contact our Support team at [email protected] and they will be happy to help!
---
Discover our Training Courses:
---