Know Your Nails
With so many nail treatments to learn, it can be really confusing as to what to offer and why. Our blog breaks down the best nail treatments and the benefits; to help you decide which to learn and to promote them to your clients…
The Staple Manicure…
Everyone loves a manicure, fresh and smooth natural nails and skin. All great nail extensions start with proper care of the natural nails so manicures are also great for use following removal of or when on a break from nail extensions. Manicures are great for those trying to grow their natural nails, in the winter months when extreme weather can dry and dull the skin and nails or indeed before a special occasion or holiday. Using basic products and a traditional air-drying polish, you can achieve incredible results although it can take time and repeated treatments to achieve the best results if nails are damaged or particularly dry / brittle. Recommended to be carried out every 3-4 weeks (or more often if traditional polish is applied, which can chip with time and wear).
Main Benefits
+ Suitable for all clients, both male and female and of all ages
+ Less contra-indications to a manicure versus nail extensions and the benefits of improving nail health and growing own nails can outweigh quick fixes with extensions
+ Less cost and upkeep to maintain results versus nail extensions
+ A wide range of traditional, low cost polishes on the market and offer the option to retail for home use
+ Popular all year round, can be enhanced further in winter with luxury aspects such as warm paraffin or heated mitts and mask
The Perfect Pedicure…
A great additional service to provide alongside manicures, caring for the skin and nails of the feet. So many clients have work or hobbies that keeps them on their feet, so it is a popular treatment to offer all year round but especially around holiday season (who doesn't love fresh polish on toes for the beach) or for weddings and proms. A great treatment to add into your packages, even for those who usually have nail extensions on fingers. Treatments typically take around an hour and are recommended every 3-6 weeks to maintain results.
Main Benefits
+ Suitable for all clients, both male and female and of all ages
+ A great add on nail service for any nail tech to offer as part of packages or as a standalone treatment
+ A great treatment for holistic therapists to offer alongside massage treatments
+ A great way of retailing home use products to maintain the results
+ Popular all year round, can be enhanced further in winter with luxury aspects such as warm paraffin or heated booties and mask
Good Ol' Acrylic…
It has been around for decades and is one of the most popular nail extension systems in use. Using a powder and liquid applied in combination as a small bead applied to the nail surface, to overlay a false tip to give instant additional nail length and an enhanced look. A full set usually takes around an hour to apply with practice and can last 2-3 weeks before requiring maintenance (infilling the regrown natural nail area and rebalancing the nail shape).
Main Benefits
+ Quick, cheap system to work with. No lamps required to set the nails so great for mobile technicians.
+ Durable, hard-wearing system good for those who want nail extensions but have previous damage to nails such as reformed nail biters, those who do a lot with their hands (horse riders, sports players etc).
+ Lots of acrylic powder colours available allowing the system to be used for creative results or just a classic French look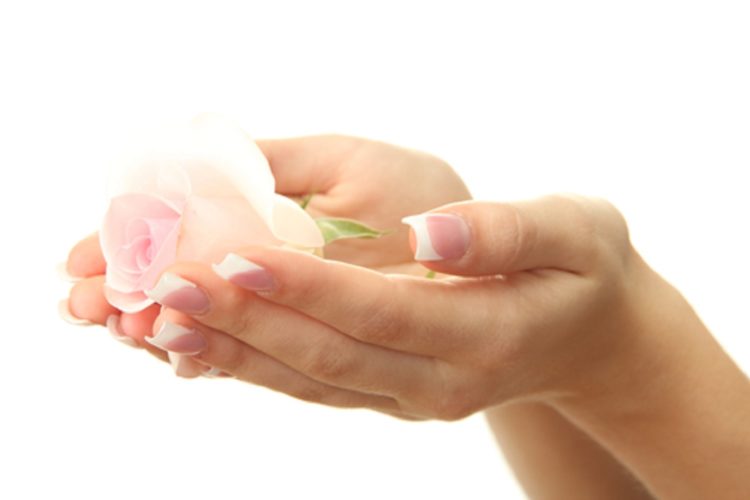 Trusty UV / LED Gel…
A newer system than Acrylic, it has become popular as it offers a more natural looking nail extension system that is also easier to work with (doesn't air dry, but only sets when you're ready, when you cure under a UV or LED lamp). Also without the vapour of Acrylic due to light curing so better for those who work in less well-ventilated work areas or mobile within client's homes. Can be applied over tips to extend natural nails or indeed over natural nails alone to give greater enhanced strength to the nails than say, a gel polish. Typically lasts 2-3 weeks before requiring infill to the regrowth area of the natural nail and rebalancing of the nail shape.
Main Benefits
+ Low odour unlike acrylic so great for mobile use or where ventilation may not be optimal
+ Flexible, natural-looking system that is great for those wanting extensions for special occasions such as weddings
+ Easy to master as system only sets once light-cured allowing you to tweak nails until you are happy with the finish
+ Product is ready mixed in pots so easy to store and transport, less risk of spilling as with acrylic liquid for example. No need to master product ratios unlike with acrylic.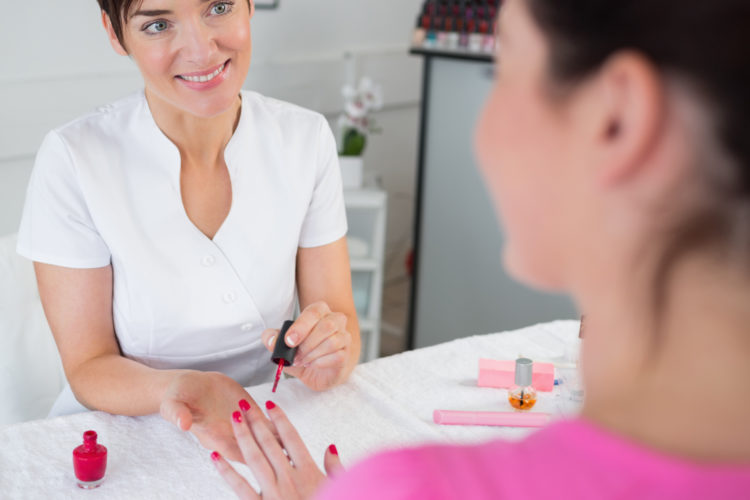 Versatile Gel Polish…
Gel Polish has been around for a while now and is well established, despite being one of the newest nail treatments available. It is quick and easy to learn to apply, with a wide range of brands now available to suit all budgets and in a huge range of colours to suit every client. Gel polish is quick to apply, typically taking only 30-45 minutes to apply to fingers and/or toes and provides a chip-free finish for up to 2-3 weeks. Products go a long way and are dry and ready to go once the topcoat has been cured meaning little wastage making it a profitable treatment. Gel polish should be completely removed around 2-3 weeks after application and either a manicure to refresh the nails or reapplication can be immediate.
Main Benefits
+ Quick, easy to apply
+ Profitable service suitable for a wide range of clients
+ Great for those who want to grow their natural nails and don't want the hassle of nail extensions
+ Suitable for those who want a more natural look but still a polished finish
+ Long lasting, chip free polish and high shine finish. Allow you to be creative and offer nail art within the gel easily too.
+ Products available for all budgets and price points
+ UV and LED lamps have come a long way, now much smaller so easily portable for mobile nail techs
So there you have it, a brief run down of the most popular nail services available. It's easy to see how starting with the basics of manicure and pedicure can then lead on to offering either one or both nail extension systems or indeed simply sticking with gel polish. It's worth noting that gel polish can also be applied over both UV and acrylic nail extensions allowing for a really top class nail finish and extra revenue for nail techs. You can also see how the maintenance required to upkeep nail treatments easily allows you to build a loyal, regular client base. With 1 day accredited nail training courses starting from only £199 and online, insurable training courses from only £99; become a fully qualified nail technician is much easier and more affordable than you may think. Remember most nail technicians typically earn around £15-£30 an hour with uncapped earning potential; it's easy to see why freelance nail technicians are now becoming one of the most popular careers in beauty therapy!
Call us today on freephone 0800 999 2277 or browse the nail course pages below to find the best training option for you!
---