How to start a side hustle Beauty Business along side your existing job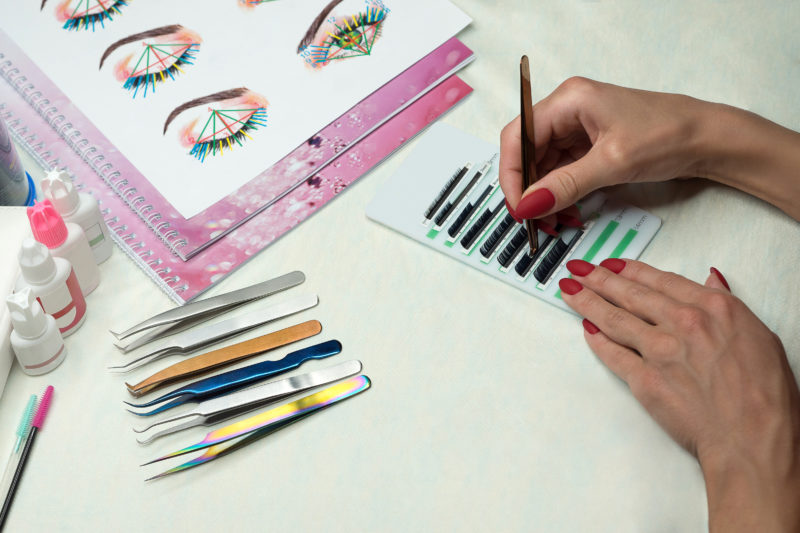 Research suggests that 35% of people in the UK now run their own side hustle business. Many side businesses start out as hobbies along side your current job, eventually becoming your main source of income! With Beauty services surviving recessions, it makes them the ideal option to kick start something on the side. Becoming a Therapist or Technician is ideal if you're looking for something to fit around your current life, work and family.
We've collated our top tips to support you in making your first steps to starting your side hustle business!
Find your passion
The first thing to consider when starting a side beauty business is what area of beauty interests you. It can be easy to jump in and want to offer all services, the pitfall of this is becoming a 'jack of all trades'. We would always recommend starting off with the treatments you feel most passionate about, whether it's Lashes, Nails or Make Up, finding your passion will mean you'll be excited to put the time and energy into practicing your skills and offer amazing treatments to your new clients!
Training
In order to get started with offering treatments to clients you will need to gain insurance. For insurance providers to cover you, you will need to have relevant qualifications in the treatments you are providing. Our Accredited Online or 1 day Diploma courses are ideal to get started alongside your current job. Online courses allow you to study conveniently, while managing your current commitments. Accessible 24/7 through our online student portal, learn in your own time, at your own pace. Alternatively you may prefer to have a tutor on site to guide you through face to face, making the 1 day Diploma courses the ideal option as they are fast track, available 6 days per week all year round and offered across our 10 training centre locations across the UK. Both online and classroom based training provide an accredited certificate that is recognised to gain insurance to work freelance!
Legal responsibilities
It's vital that you do your research when looking at starting your own business, be aware of the health and safety policies you will need to adhere to, these can be found on the gov.org website and ensure you have adequate insurance. We provide our students with details of insurance providers to cover you whilst you study and become qualified. If you need that extra bit of know-how to get your new business off the ground, our Online Starting a Business Course is ideal for you as it covers all the important guidance and rules on getting setup, while allowing you to think about your brand, marketing your business and devising a business plan to make starting your own business quick, profitable and successful.
Sourcing products and equipment
Whilst you're training you may want to take advantage of student starter kits, these are an ideal way to get started whilst you're practicing your services on friends and family and can be found on our 'starter kits' page on the website. Once qualified you will be eligible to create accounts with local wholesalers to source your equipment. Our courses are not brand specific, meaning your not tied to any expensive product brands and can source your products affordably to maximise your profit as you start-up your business.
Marketing your new business
In todays modern world the traditional ways of advertising have gone out of the window, with more and more companies relying on word of mouth and visual representations online to ensure their success. Without social media accounts your business is invisible as the majority of clients admit to checking businesses socials out before they book treatments.
Read about ways to promote your new business on social media in our recent blog.
If you're interested in finding out more about working within the beauty industry and starting your own business, our team are always on-hand to offer guidance and support with choosing the right training courses to get you started, tips on products and kits, feedback on your treatments to build your confidence and more.
Reach out to our team through Live Chat on our website or call us on freephone 0800 999 2277 (option 1) to get started today!
---