Pre-requirements: There are no pre-requirements for this course. This course is suitable for complete beginners to beauty.
Our Online Starting a Business in Beauty Therapy Course is designed for those looking to launch a business within this exciting industry, and require the business acumen, know-how and ideas to successfully create and maintain this. Ranging from marketing ideas to legal obligations of the self-employed, this course equips you with the vital information to launch your new beauty business with confidence.
Developing your business idea including your business name, pricing, working hours etc.
How to research your competitors and know your local market
Creating a business brand
Marketing basics including using social media platforms
Guidance on how to build a customer base and keep clients coming back
Setting up your business including suppliers and where to work
How to maximise sales including link-selling
Personal attributes required to be successful in business
Business considerations such as professionalism and personal safety
Legal issues including how to register your business, register for tax and legal obligations
How to promote your business including business cards and price lists
Our Starting a Business in Beauty Therapy course is ideal for anyone looking to establish and launch their own beauty business whether from home, mobile or setting up from a premises. Even the most competent therapist will be unable to succeed as a business if they do not possess the appropriate business acumen to plan, launch and manage their business successful, complying to legal obligations and procedures. This correspondence-only course will take you through the appropriate business concepts ranging from importance of your branding to legal obligations for the self-employed. This comprehensive course is completed from home on a correspondence basis; a study guide is provided to you combined with a workbook to help you develop your ideas, plan your business and produce your marketing materials. Our Support Team are available to help throughout the course if you need any further assistance or guidance with your learning.
You have 12 weeks to access our online student portal & view the online course resources at your leisure from date of enrolment. This course is taught through pre-recorded video demonstrations and e-manuals. There is no 'live' online session to attend so you are free to study online at a time convenient for you. You have up to 12 months from date of enrolling to submit your case studies to us by email, to achieve your course certificate.
We anticipate students to take a minimum of 12 hours to complete this online course, including completion of case studies.
Our diploma courses are suitable for complete beginners and do not require any prior learning to be able to train with us; many of our students are not yet beauty trained and are looking to start up a business in the industry. We welcome students of all abilities, whether you are looking to learn a new skill from scratch or currently working as a therapist and looking to refresh your knowledge of particular treatments.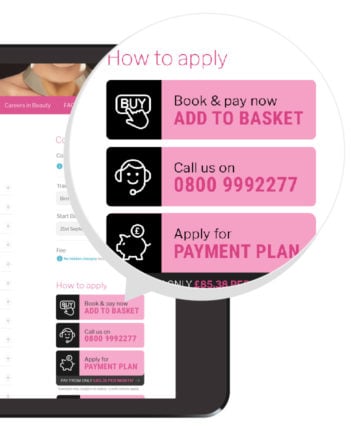 Our friendly, expert Advisors are on hand to answer any questions & assist you in booking your place over the telephone. Call on Freephone 0800 999 2277 or click the 'Chat Now' option below to connect through live chat on our website.
Alternatively, our courses can be booked online 24/7, using our secure payment system.
Simply choose your course (including venue & date for classroom courses)
Click to 'Add Student Details', enter details & click 'Add to Basket'
Then complete the secure, online checkout choosing your preferred payment method
Your automated payment receipt email includes a link to self-sign up & begin learning straightaway!
Choose from secure payment options including PayPal, WorldPay or Klarna. Newpay and Payl8r finance are also available, allowing you to spread the cost over 3-18 months. Apply quickly & easily online at checkout, for an instant decision. For more information on finance options, click here
When you have successfully completed your training course(s), you will receive a diploma certificate issued by The Beauty Academy. This not only demonstrates your commitment to the training, but also allows you to obtain Public Liability Insurance so you can start offering treatments to paying clients from home and/or mobile.
We recommend all students purchase Student Insurance while studying their Online course. This is available for just £20 (plus tax) and covers you while practising your treatments on friends and family. This can be purchased securely online directly from Radius Insurance.
Upon successful completion of your online course, you will be issued with a certificate from The Beauty Academy which is recognised by Radius, the leading provider of professional beauty insurance. This will allow you to gain Therapist Insurance for just £70 (plus tax) to cover you when working from home or mobile providing your treatments. Find out more at our Insurance for Online Courses
All of our diploma courses enable you to work from both home and mobile offering the specialised treatment(s) that you have completed. You can start earning by offering treatments to paying clients as soon as you have obtained your insurance.
Our Online Courses have been devised following 32 years' experience delivering high quality private beauty training in our centres.
We understand our students' need for affordable, flexible training that works around their other commitments; while still providing a well regarded and insurable certificate on completion. There is no attendance required so no travel costs or time to commute to centres involved. Study conveniently from home, with our tried and tested, accredited courses.
Our courses are delivered in a highly accessible way, available 24/7 through our Online Student Portal. Dip in and out of your course materials, with as much support as you need from our expert in-house team by email, throughout your studies and beyond.
Comprehensive course e-manuals written to the highest industry standards, accompanied by video tutorials produced with our professional, highly skilled tutors allow you to develop confident ability and knowledge to be successful within the beauty industry, whether that is starting your own new freelance beauty business or extending an existing beauty business with new treatments.
Our courses cover the latest, most in-demand beauty treatments with new courses launched regularly. Gain insurance on completion to begin earning £25-£50 an hour!
Once you feel confident in your understanding of starting your own business, you may want to undergo one of our one-day diploma courses in either beauty, nails or massage.
You may also consider completing a qualification in make-up to further your career opportunities within this industry. To learn more about the qualifications that we offer, please click here.
Share your thoughts!
Let us know what you think...
3 reviews
Customer Reviews