How do you get started in Lash Extensions?
Lash Extensions are still on the of the most popular and lucrative beauty services to be offering right now. While DIY false lashes may have come a long way, there is nothing that can beat a professionally applied set of semi-permanent eyelash extensions for creating the WOW factor to your look. During lockdowns, many turned to stick-on strip lashes but many have learnt to their peril the damage poorly applied lashes can do to your natural lashes. With the festive party season nearly upon us too, there has never been a better time to get into offering eyelash extensions. But how do you get started?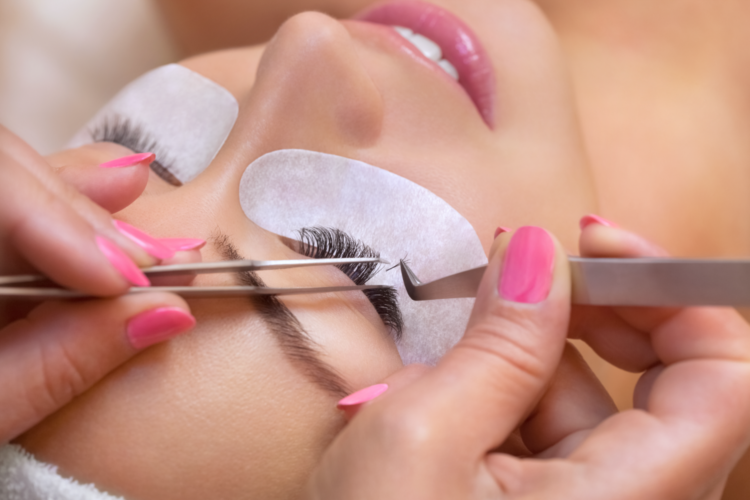 How much will it cost to learn to offer lash extensions?
A lot less than you might think!
We have an accredited & insurable Online Classic Eyelash Extension Course for only £99, or if you prefer to learn face to face, our 1 Day Classic Eyelash Extension Course is only £199. You will need to start with Classic Lashes to ensure you master the basics and fundamental skills, isolating a natural lash, picking up a false lash and applying to the natural lashes – plus lots more, before you can progress to more advanced lash techniques. Starting with Classics lets you try out lashes, see if it is a good fit for you and you can always do further courses from there.
If you know you lash extensions is the career for you, we have packages to save you money allowing you to book your Classics and more advanced training in Russian Volume and Hybrid Lash Extensions all together. Choose from our 2 Day (Classic & Russians) Package at £349 or our Complete Lash Technician 3 Day (Classics, Russians & Hybrid Lashes) Package at £449.
Flexible payment options are available to help spread the cost. Learn more here.
How do I get confident in Lash Extensions?
Completing your training is only the first step. Lashing will take time to master and get your treatment application times down. Initially it make take you around 2-2.5 hours to complete a full set with those first few attempts, but with patience and practice you'll soon get this down to around 45-90 minutes depending on the look being created. You'll also get used to your products and tools, working with two sets of tweezers at a time sure does take practice! We recommend working on a training head to begin with and then after 2-3 sets on the block, move onto live models. You could ask friends or family, or advertise on social media offering your first sets at cost price. Ensure you have at least student insurance in place while practising, you'll need full therapist's level (public liability) insurance in place once you begin charging for your treatments. Practice certainly makes perfect!
How much will my eyelash extension kits cost to get started?
We do not tie you in to buying any expensive kits with our courses, our courses teach you the general techniques but are non-brand specific. Once you're ready to begin practising or even offering your treatments, you'll need products and tools to start lashing. We offer the following optional starter kits all from the ProSpa brand, available to purchase on our website. All are only £109!
We'd recommend starting with the Classic Eyelash Extensions kit to get you started with the fundamental skills. The main differences between the kits are the type of tweezers included and the lash curls/lengths/thicknesses depending on the lash look the kit is intended to create. Once you have your Classics kit with the essentials, you may wish to purchase additional lashes and tweezers separately from your preferred supplier to keep your start-up costs lower.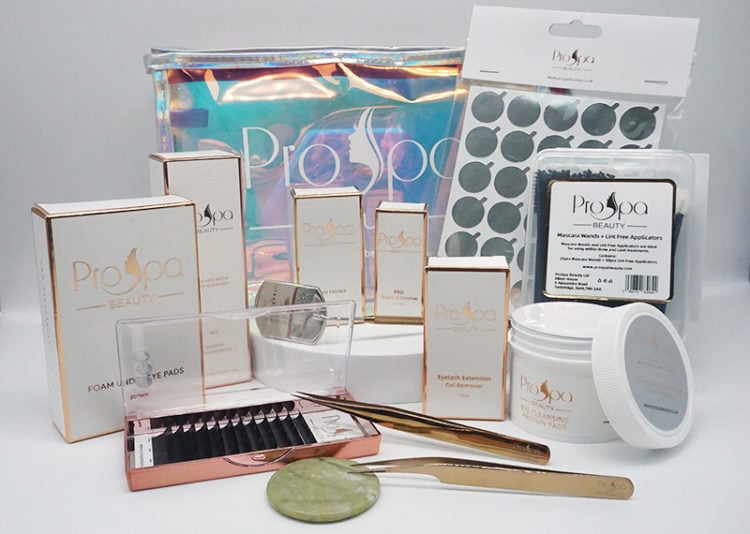 How much can I expect to earn as a lash technician?
How much you earn depends on how what basis you work, how many hours and how much you charge per lash treatment. If you rent a space within a beauty or hair salon for example, your footfall and potential clients may be greater but so will your business costs. Whereas, if you start out working mobile, while you have to factor in your travel and product costs, you'll typically have lower costs and therefore earn more at least initially. You will need to research the competition in your local area to establish your pricing structure and costs for a full set, infill etc. Think about the product brands you'll be using and take care with your kit to avoid unnecessary wastage to keep your margins high.
Consider that you can typically charge £35-£100 per lash set once you've gained a little experience, you can vary quickly earn back the cost of your training and kit within the first 10-15 treatments. 
Once you're confident in classic lashes, it is well worth learning more advanced skills like Russian and Hybrid Lashes so that you can create WOW lashes that really stand out on social media and word of mouth by clients, to promote your work. You can usually charge a much higher rate for advanced lash work such as Hybrid Lashes over a set of standard Classic Lashes. Volume Lashes and advanced lash mapped looks inspired by the celebrities are all the rage and will have your clients staying loyal to you and coming back time and time again for your expert level work.
You might also want to trial retail products to boost your earnings further and ensure clients maintain their lash results for healthier natural lashes and to avoid contra-actions occurring. Typical retail products include lash serums to help seal the extensions and nourish natural lashes.
Do I need to know how to run a business to be a successful lash technician?
The most important thing firstly is that you are confident and skilled in providing your lash services. The second most important thing is that you actively promote your new business. Social media – namely Facebook and Instagram are best for this. Set up a business page immediately, but do take time to consider your business name, logo and pricing. You want to project a professional image from the start so also consider your personal presentation. Our Online Starting a Business Course will equip you with useful information and opportunity to plan your brand before launching your business.
You'll need to register with HMRC once you begin offering your services to paying clients. Make sure you keep accurate records of any money earnt and any money spent (receipts for products, traning etc.) as this will be essential for self-assessment purposes for tax. A basic ledger or excel spreadsheet will suffice initially.
Make sure you are completing client consultation forms and hold complete records of client contact details for future reference. These will need to be kept confidential at all times in a secure locked cabinet or on a password protected device. This is essential to meet insurance obligations and for data protection.
Set up an appointment diary and block out any times you don't want to work or have other commitments. This will make it much easier to plan your working hours. Plan in at least 1 hour per week for business purposes including creating posts or promotions for social media, maintaining client records and day to day accounts etc. Encourage clients to book their next appointment before they leave their current appointment. Have a clear rescheduling / cancellations policy, perhaps included on your appointment cards for clients to keep. You may want to charge a deposit or cancellation fee (charged when rebooking) to help guarantee your earnings each week and build a regular, profitable client base.
Plan future marketing whether that is seasonal events in your beauty space / salon, discounts or promotions that you promote on social media and think about future proofing your business by adding on further treatments with time, based on client feedback of other services they are currently having elsewhere such as brow lamination and shaping. You always need to keep your business growing and fresh! Take time each appointment to do a before / after photo of your work (with client permission) and encourage clients to engage with this on social media to build your brand profile and help attract new clients.
Growing your own lash extensions business will take time and patience, but with hard work and determination is is a very real possibility to achieve your dreams whether that is financial freedom, a positive work/life balance or just doing a job that you are passionate about!
Courses You Might Like….
---