ProSpa Hybrid Lashes Kit
Hybrid Eyelash Extension Course Kit is essential for performing Hybrid Eyelash Extensions! It takes the best bits from both volume and individual lash extension treatments. Hybrid Lashes will give your clients both volume and length, resulting in a wispy, textured lash extension look that will last for up to 8 weeks. This kit is ideal for those who have attended 1 Day Classroom Hybrid Lashes Course* for use as you begin to practice and deliver your treatments to paying clients, following your training day.
Note: This kit does not contain any PRE-MADE fan lashes. If you are completing the Online Hybrid Lashes course which only covers use of pre-made fans, please see our ProSpa Hybrid Lashes (Pre-Made Fans) Kit.
*Please note for classroom courses, all products/tools are provided at the centre on the day so kits are not required to attend. This is for use following training.
Contents may vary, subject to substitution dependent on stock levels to equivalent products as required by the supplier. Kits sent direct to address given with your booking, to be received within 3-7 working days.
Excellent value, recommended retail price on this kit is £135. Available to The Beauty Academy students for only £109!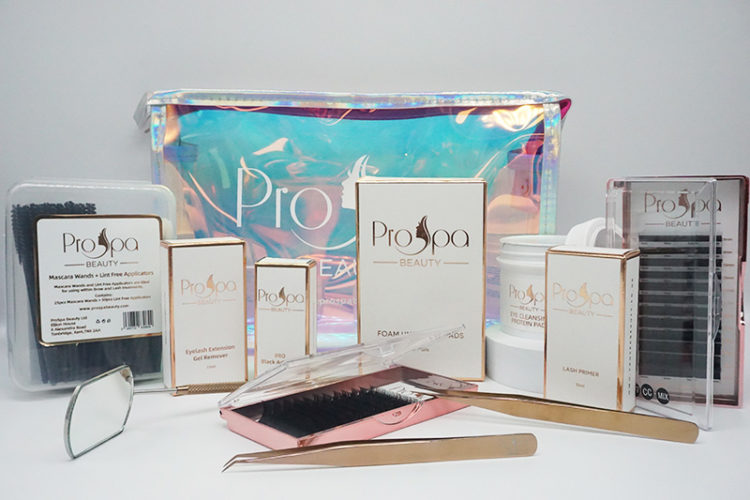 Hybrid Eyelash Extension Course Kit includes:
PROSPA BAG
PROSPA PRO BLACK LASH ADHESIVE 5ML
PROSPA ROSE GOLD TWEEZERS #7
PROSPA ROSE GOLD TWEEZERS #10
PROSPA 0.18 MIX TRAY
PROSPA 0.07 MIX TRAY
PROSPA LASH PRIMER 15ML
PROSPA LASH GEL REMOVER 10ML
PROSPA ROSE GOLD MIRROR
PROSPA CLEANSING PROTEIN PADS (75PCS)
PROSPA FOAM UNDER EYE PADS (x20)
PROSPA MASCARA WANDS & APPLICATORS (75PK)
Share your thoughts!
Let us know what you think...
0 reviews
Customer Reviews