Can you really achieve a beauty qualification with only online courses?
Absolutely, yes! You can definitely achieve an accredited beauty qualification through only online training. Our courses are accredited by IPHM and recognised for insurance internationally giving you the best chance of success in a beauty career wherever you live and work. As our courses are completed entirely online, there are no distance barriers to overcome. Online training options give you full flexibility of studying anywhere in the world, even the comfort of home. They also allow you to study at your own pace, whether that is fast track or more slowly to fit around other commitments.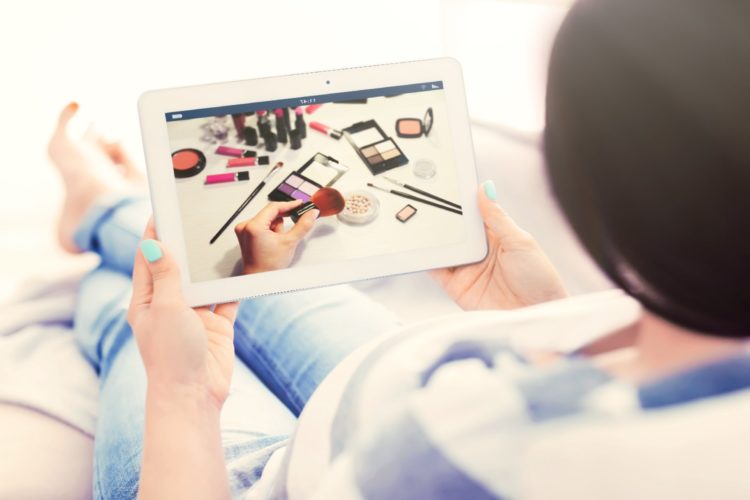 We get asked this question all the time as so many are dubious about trying something new for them, but once they discover the benefits of online training they go from course to course expanding their learning with complete confidence. Our courses are written by experienced beauty industry professionals in an easy to follow style. From high quality training videos to detailed step by steps in course manuals. You also have full access to our expert in-house Support Team for any questions along the way.
Online courses with The Beauty Academy allow you to achieve a recognised, accredited beauty qualification that enables you to get insured and start your new beauty career.
Need more reassurance? Read some recent student reviews…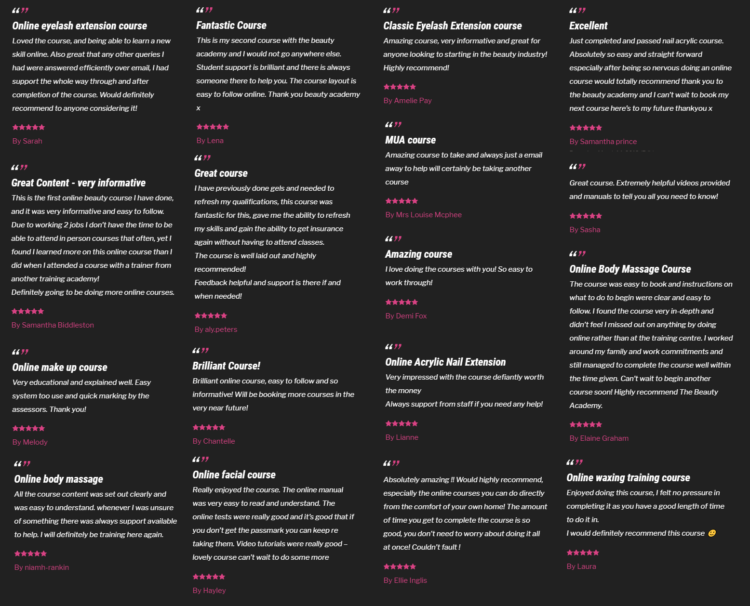 At The Beauty Academy we offer two options for Online Study, both provide an accredited certificate on completion;
Online Courses completed through our Student Portal. You receive access to a wealth of high quality learning resources, written by beauty professionals including comprehensive manuals and detailed video demonstrations. You take multiple choice online tests throughout the course which are great for checking your understanding and learning as you progress through the course. These can be taken as often as needed until you achieve a pass. You also submit a small number of case studies to us by email which are assessed against industry standards to ensure your proficiency with the treatment skills. Individual feedback to help you improve and you simply resubmit as needed until you are at a successful level to achieve. Typically students complete these courses within 2-6 weeks (allowing usually around 2-10 hours per week to study), although you have 8 weeks should you need to go slower. Achieve an IPHM accredited certificate, courses start at only £99!
Virtual Academy Courses are completed through live, tutor led training sessions delivered online through Zoom. Initially you complete some basic health and safety theory through our Online Student Portal. You then 'attend' your online teaching session which typically lasts 60-90 minutes. A recording of the session is emailed to you which can be watched back as often as you need. You submit your one best case study of a recommended 3 minimum for feedback. Once a suitable standard of treatment skill is achieved, you 'attend' a short online session where a tutor observes you complete some basic treatment skills to ascertain your confidence and given final feedback. Once completed, you achieve an ABT accredited certificate, courses start at only £149!
Online Courses
Great for those who like self-paced, independent learning.
Full support from our team throughout by phone or email.
Flexible to work around you, study as many or as few hours each week as prefer - complete within 2-8 weeks.
Studied entirely through Online Student Portal.
Watch videos, read manuals, do quick tests and submit case studies.
No assessment days or formal exams required.
Study on mobile, iPad or pc, when on the go or from home.
Accredited by IPHM, suitable for insurance in the UK, Ireland and overseas.
Virtual Academy Courses
Great for those who prefer to learn with tutor interaction.
Ask questions & get additional support during the online session.
Full support from our team throughout by phone or email.
Live online sessions available daytime, evenings & weekends.
Recording of session to watch back as often as you need + e-manual to keep.
Join Zoom session, practice treatments, join Zoom assessment, achieve qualification!
No attendance of the training centre required, all done online.
Complete sessions on mobile, iPad or pc - no fancy tech required.
Accredited by ABT, suitable for insurance in the UK & when temporarily abroad.
Our courses are accredited for insurance purposes. Courses accredited by IPHM are accepted by their recommended insurers for work in the UK, Ireland, Wales, Scotland, Australia, New Zealand, Canada, parts of the USA, & most of Europe. ABT offer insurance for therapists primarily working in the UK and temporarily overseas (except USA/Canada). This means upon completion of your online course(s) you can successfully begin working either from home or mobile offering your treatments and begin earning, once insured.
The requirements of individual salons / employers / local council licensing will vary. Generally speaking most students entering the beauty industry will do so to be able to start their own business working from home or mobile as this is often the most lucrative way to work in the industry with uncapped earning potential. Online courses may enable you to gain work in a salon either employed or more likely on a self-employed basis as the certificate is accredited, however for those such as college leavers looking to qualify to gain full time salon employment, you may wish to consider more formal options of training such as VTCT Qualifications.
How do I sign up?
Click below to explore the training options, whether Online Courses or Virtual Academy Courses. We offer Multi Buy Packages which are carefully selected course combinations, put together to give you the best business start-up opportunity with treatments that sell to clients well as a package. These allow you to save money booking courses individually and get you started quickly on the path to your new beauty career! Book securely through our website when ready. Alternatively, if you can't see what you're looking for or don't know where to start; why not give our friendly team a call on Freephone 0800 999 2277 and they can chat you through any queries and point you in the right direction!
---