What this Package Covers within 6 days of hands-on, practical training:
Classic (Individual) Eyelash Extensions

Russian Volume Lashes 

Hybrid Lash Extensions

Lash Lift & Tinting
Highly Defined Brows
Brow Lamination, Shaping & Tinting
Buy Booking this Package, you SAVE £295 off the individual course prices! That's 25% OFF! Incredible Value!
Our Ultimate Lash and Brow Artist Training Package is comprised of training within six of the most popular treatments within the industry, designed specifically for those embarking on a career as a lash and brow artist and requiring the fundamental skills to launch their business successfully.  At the end of this training course package, you will have a full skill set of every lash extension and brow perfecting treatment required of a successful technician. Typically earn between £35-£50 an hour with these lucrative skills, working from home or mobile. Achieve an ABT Accredited diploma, get insured and begin earning!
ABT (Associated Beauty Therapists) Accredited Course. Recognised & Insurable through:

This training package includes:
Classic Eyelash Extensions* (1 Day) training includes:
Health, safety and hygiene
Aftercare advice
Consultation techniques
Contraindications
How to apply individual eyelashes extensions
Maintenance procedure
How to remove individual eyelashes extensions
Russian Volume Lashes (1 Day) training includes:
What are Russian Volume Lashes
Benefits of Russian Volume Lashes
How to pick up multiple lashes for extreme volume
Application of Russian Volume Lashes*
Contra-indications and contra-actions
Eyelash curvature, length and thickness
Lash mapping
Lash removal
Application of mineral brow make-up
Hybrid Eyelash Extensions (1 day) training includes:
Health, safety & hygiene
Consultation techniques
Contraindications
Eyelash Tinting
Recap in Classic eyelash extensions
Creating a frame work to achieve the Hybrid Lash look using pre made fans
Lash mapping
Removal process
Aftercare advice
Lash Lift & Tinting (1 day) includes;
Client preparation
Consultation skills
Product information and usage guidance
Eye and eyelash anatomy
Contra-actions and contraindications
Health and safety procedures
Procedural steps for lash Lift* and Eyelash Tinting*, including best practice techniques, hints and tips
Aftercare advice
Highly Defined Brows (1 day) includes;
Health, safety & hygiene
Consultation techniques
Contraindications
Tinting
Waxing
Tweezing
Threading
Trimming
Application of mineral make-up and eyebrow pencil to brow
Aftercare advice
Brow Lamination, Shaping & Tinting (1 day) includes;
Health, safety & hygiene
Consultation techniques
Contraindications
Brow Lamination (Lifting) Procedure
Eyebrow tinting
Eyebrow shaping using wax and tweezers
Aftercare advice
 We will be sending you patch test kits to your home address, please ensure you patch test yourself 24 hours before the training course. Kits will be sent out to arrive at the address specified within your booking, before the training course. 
*You will need to complete the Eyelash Extensions Course on a date prior to the Russian Volume Lashes and Hybrid Lashes Courses to ensure you can get the most from all courses. All other courses can be completed in any order of your choosing.
This course package consists of three practical training days: , Eyelash Extensions (1 day),  Russian Volume (1 day), Hybrid Lashes (1 day), Lash Lift & Tinting (1 day), Highly Defined Brows (1 day) & Brow Lifting, Shaping & Tinting (1 day). These courses are not run consecutively and you can choose the dates to suit you at your desired training centre (subject to availability).
Each training day runs from 10am – 4pm and we ask students to arrive at 9.45am to ensure a prompt start. You will learn the theory of the treatment firstly, and spend the majority of the day practising your practical skills, with a short break for lunch.
We do not include any kits within our training courses, however we provide all products and tools required to complete the practical training on the day, at the training centre for you to use. We took this approach following student feedback so that students are not tied into specific kits or brands of products as part of their course fee, before they are trained and able to make an informed choice. Our training courses teach the generic treatment techniques and processes, they are not brand specific.
We recommend attending training where you will gain advice about different brands and suppliers to enable you to purchase products from your chosen supplier directly following your training. We do offer selected starter kits available to purchase through our website & supplied directly from the supplier to you by courier.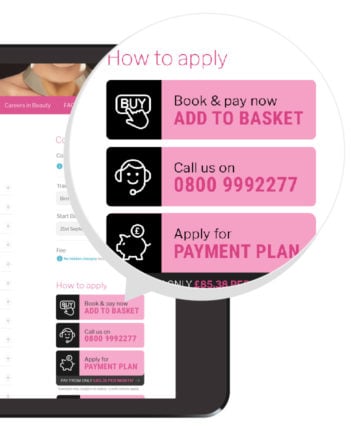 Have questions? Need assistance before booking? Click 'Chat Now' below to speak with a Course Advisor live online or to arrange a telephone call back.
Courses can be booked online 24/7, using our secure website.
Simply choose your course(s) (including venue & date for classroom courses).
Click to 'Add Student Details', enter details & click 'Add to Basket'.
When ready, checkout securely selecting your preferred payment method.
Choose from secure payment options including PayPal, WorldPay or Klarna. Newpay and Payl8r finance are also available, allowing you to spread the cost over 3-12 months. Apply quickly & easily online at checkout, for an instant decision. For more information on finance options, click here
It's all about eyes – eyelash extensions can transform the eyes by making the eyelashes appear longer, thicker and more enhanced. The treatment involves applying individual lashes to the eye, lengthening and thickening the client's natural lashes, creating an emphasised look that eliminates the need for mascara. An extremely profitable service to offer with clients returning fortnightly for maintenance (and the average charge for a set is £50-£75), eyelash extensions are becoming an increasingly popular treatment to offer. We will be sending you a patch test kit to your home address, please ensure you patch test yourself 24 hours before the training course. Kits will be sent out to arrive at the address specified within your booking, before the training course.
You are required to give and receive treatments as part of this course (Eyelash Tinting only) , so will be required to remove your make-up during the course. You will need to remove lash extensions before attending the Hybrid Lashes course as you will work on each other as well as on a professional training (mannequin) head to acquire and demonstrate your practical skills in Eyelash Extensions.
Lash lifting treatments are aimed at those wanting long-lasting, natural-looking eyelash enhancement without the need for mascara or lash extensions; something that is desired by many and currently in high-demand. The process uses innovative, effective techniques to gently uplift and straighten the lashes, creating a more prominent, enhanced lash-line to define the eye shape of your client. Eyelash tinting, especially popular for those with fairer colouring, is an efficient treatment in creating the much-desired darker eyelashes, and can be retained on the lashes without staining or streaking. The results last approximately 6-8 weeks and once your client has tried these treatments, they will return regularly to maintain the enhanced appearance of their natural eyelashes.
Promoted by celebrities, Highly Defined Brows treatment aims to create natural-looking brow shape, defined colour and give the illusion of fuller, thicker brows, making these brows a must-have treatment. Our generic course allows you to learn the high-precision procedure to transform your clients' eyebrows into a naturally arched shape, dramatically enhancing and defining facial features. Perfectly-groomed brows are one of the most popular treatments within the salon, and now many mobile and home-based therapists are taking advantage of offering these services to their clients. During the course, you will learn a variety of techniques to create the desired brow shape and appearance, including waxing, tinting and threading. All without being tied to any particular brand, allowing you to decide upon the best products for you and your clients once you have more knowledge of the treatment process itself. Learn more about generic courses over brand specific courses with our blog.
Our Brow Lamination (Lifting) treatment course will enable you to realign the brows in such a way to give your client the desired shape they want and a fuller look. This is the ultimate solution for eyebrows that do not have symmetry and the hairs follow a different pattern. This treatment solves the 'messy brow' issue, creates volume and fullness, while giving your client a sleek well kept brow shape for up to 2 months.
The Ultimate Lash & Brow training package will give you a full skill set to deliver the most popular, lucrative lash and brow treatments to launch a successful business from home or mobile, which stands ahead of the competition due to your high level of skills and knowledge.
Our diploma courses are suitable for complete beginners and do not require any prior learning to be able to train with us; many of our students are not yet beauty trained and are looking to start up a business in the industry. We welcome students of all abilities, whether you are looking to learn a new skill from scratch or currently working as a therapist and looking to refresh your knowledge of particular treatments.
No kit is included in the course fee. You will be provided with all products/tools required to complete the training days, when you attend the training centre. On the training days, you only need to bring a hand and bath towel for your personal use, completed enrolment form and cold food for your lunch (e.g. sandwich/salad). 
We are so proud at The Beauty Academy to work with such a professional, passionate and friendly team of tutors, all of which hold a Level 2 and Level 3 qualification in their specialised sector. Our tutors are also all qualified with either Level 4 PTTLS or equivalent teaching awards in education, with years of experience in beauty-related professional industries. Furthermore, our tutors who are involved in the assessment process all hold an Assessors Award.
We pride ourselves on the welcoming nature of our tutors and their ability to engage, educate and enrich students from all ages and backgrounds. All of our tutors are dedicated to maintaining their knowledge and keeping up to date with the latest treatments and techniques in the ever-changing industry.
If you would like to read more about our fantastic tutors individually, please have a look at our Meet the Tutors page.
When you have successfully completed your training course(s), you will receive a diploma certificate issued by The Beauty Academy and accredited by ABT. This not only demonstrates your commitment to the training, but also allows you to obtain Public Liability Insurance so you can start offering treatments to paying clients from home and/or mobile. Learn more about advertising your treatments beyond training.
The Beauty Academy offer a discounted insurance scheme with Balens exclusively to our students; a Specialist Insurance Brokers aimed at Health and Well-Being Professionals, offering both Therapist and Student Therapist insurance for those who train with us. To learn more about our insurance scheme, please click here.
All of our diploma courses enable you to work from both home and mobile offering the specialised treatment(s) that you have completed. You can start earning by offering treatments to paying clients as soon as you have obtained your insurance.
We offer high-quality ABT accredited training with experienced tutors, professional equipment and a great atmosphere to train in. Our training centres are well-equipped, within easy reach of public transport and regularly inspected by the awarding body (VTCT) which we provide qualifications through; to ensure we are giving you the best service for your money. We pride ourselves on working with only qualified and industry experienced tutors who are friendly, welcoming and happy to go the extra mile to deliver the very best student experience possible. 
All courses are run as smaller groups than most other providers, allowing plenty of opportunity to ask questions or seek further support if required. Our training centres are permanent and exclusive to us and they are always set-up ready to begin your training. All centres have the very latest equipment and products required to adhere to industry standards. We also provide free and unlimited on-going access to our Support Team who are available to answer queries or provide guidance within any aspect of your course with us, contactable on either email or telephone.
We also offer a variety of other Multi Buy training packages available to view here. These are ideal course packages if you would like to further the range of treatments that you offer to your clients following the completion of this training package, including other beauty treatments.
Share your thoughts!
Let us know what you think...
0 reviews
Customer Reviews