A pre-requirement for this course is to have already trained in either Acrylic Nail Extensions or UV Gel Nail Extensions so you are confident within at least one nail system already. We'll also highly recommend our Manicure & Pedicure Course be completed prior to or alongside nail extension courses.
One of our BEST SELLING COURSES! Earn up to £25-£30 an hour providing these lucrative treatments!
Our Sculpting & E-Filing Course is a advanced nail extensions course suitable for those who already have acrylic nail extension experience using the tip and overlay method and wish to increase their skills range to introduce sculpted nail extensions. You will learn sculpting with both Acrylic & UV Gel as part of this training course. You will also learn to use of an electric nail file to speed up your nail services.
This exciting course will enable you to take your nail enhancements to the next level – no more gluing and blending of tips! Sculpted nails are in high demand by the more discerning customer and command top prices within the salon. Learn how to update your nail extensions offering beautiful acrylic and UV Gel sculpted nail enhancements. Also learn to competently use an electric filing system (e-file) on nail enhancements for maintenance, removing lifting, removing gel polish,  finish filing and reshaping of nail enhancements. Speed up your treatment process and eliminate the risk of repetitive strain from continuous manual filing of extensions which is a huge advantage for busy nail techs. A fantastic two in one advanced training course essential for any successful nail technician!
Health, safety & hygiene.
Consultation techniques.
Contraindications.
Nail preparation, including use of e-file.
Correct application & fitting of nail forms.
Prepare nail bed using E-File.
Application of clear gel over form.
Application of pink & white gel over form.
Application of clear acrylic over form.
Application of pink & white acrylic over form.
Reduce length of nail using E-File.
Refine surface of nail using E-File.
Buff nail to a high shine using E-File.
Tutor demonstration of infilling, reducing bulk with E-File, thinning free edge with E-File & removal of gel polish using E-File.
Aftercare advice.
This course is structured over one day and runs from 10am – 4pm. We ask students to arrive at 9.45am to ensure a prompt start. You will learn the theory of the treatment firstly, and spend the majority of the day practising your practical skills, with a short break for lunch. You will practice your treatments using a professional nail trainer (mannequin) hand to allow you the maximum time and opportunity during the course to acquire and demonstrate your practical skills.
You will need to be confident already in working with Acrylic products before undertaking this course. You will cover using nail forms to sculpt clear and pink & white acrylic and UV Gel nails.
We do not include any kits within our training courses, however we provide all products and tools required to complete the practical training on the day, at the training centre for you to use. We took this approach following student feedback so that students are not tied into specific kits or brands of products as part of their course fee, before they are trained and able to make an informed choice. Our training courses teach the generic treatment techniques and processes, they are not brand specific.
We recommend attending training where you will gain advice about different brands and suppliers to enable you to purchase products from your chosen supplier directly following your training. We do offer selected starter kits available to purchase through our website & supplied directly from the supplier to you by courier.
No Acrylic kit is required, nor included as part of this course package. Products will be available for use at the centre, along with an electric file for your use on the day.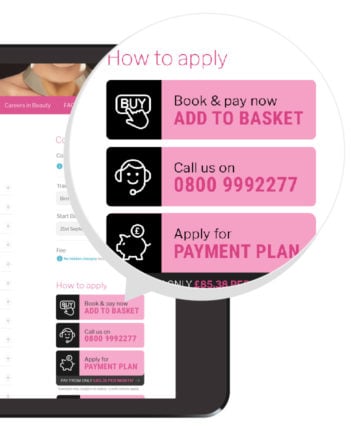 Our friendly, expert Advisors are on hand to answer any questions & assist you in booking your place over the telephone. Call on Freephone 0800 999 2277 or click the 'Chat Now' option below to connect through live chat on our website.
Alternatively, our courses can be booked online 24/7, using our secure payment system.
Simply choose your course (including venue & date for classroom courses)
Click to 'Add Student Details', enter details & click 'Add to Basket'
Then complete the secure, online checkout choosing your preferred payment method
Choose from secure payment options including PayPal, WorldPay or Klarna. Newpay and Payl8r finance are also available, allowing you to spread the cost over 3-18 months. Apply quickly & easily online at checkout, for an instant decision. For more information on finance options, click here
1. Payment in full using Credit / Debit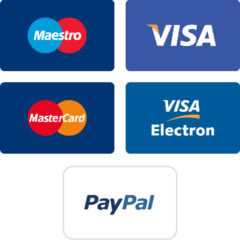 By making payment in full, you can secure your course place and enjoy the greatest flexibility to book all of your training days at your preferred training centre, in the best way to suit you – whether that's as a consecutive block (subject to availability) or taken at your own pace. Book securely online 24/7, or call our friendly Advisors by book by phone.
2. PayPal Credit on Course(s) over £99 – Interest Free for 4 Months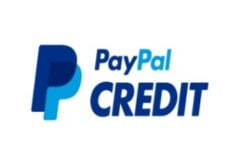 PayPal Credit allows you the option to spread the cost of any course(s) totalling £99 or more over 4 months with 0% interest*.
It's quick and easy to apply for PayPal Credit – all you need to do is select the PayPal Credit option when completing your order and this will prompt you to complete a short application form.
PayPal give you a decision instantly. If approved and you accept, you'll have a credit limit attached to your PayPal account to start using straightaway allowing to spread the cost of your training.
Book your training & pay quickly and conveniently,  all with the security and peace of mind of using PayPal (PayPal Buyer Protection provided for eligible purchases).
PayPal provide paymemt reminders and you can manage your PayPal Credit account easily online, on mobile, tablet or desktop.

Representative Example: 19.9% APR

(variable). 

Purchase interest rate 19.9% p.a. 

(variable). 

Assumed Credit limit £1,200. This example illustrates the typical cost of using PayPal Credit as a standard funding method. If you take advantage of our offers and promotions, including our 0% for 4 months offer, the interest rate that applies will be lower in many circumstances.
*The minimum payment due still applies to 0% offer balances. Any remaining balance due after the 4-month promotional period or any transactions under £99 will be charged interest at 19.9% p.a. (variable). In order to maintain the 0% offer, you need to keep up monthly repayments and stay within your credit limit. Credit subject to status. Terms and conditions apply. UK residents only. PayPal Credit is trading name of PayPal (Europe) S.à r.l. et Cie, S.C.A. Société en Commandite par Actions Registered Office: 22-24 Boulevard Royal L-2449, Luxembourg RCS Luxembourg B 118 349.
To complete this course, you must already be trained and experienced within providing basic acrylic nail extension treatments (tip and overlay method).
Acrylic nail extensions uses a two-component system with liquid and powder, making it the strongest, most versatile nail enhancement. They are easy to shape to the desired style and they can dramatically enhance the look of natural nails. The acrylic nail extension system is the most popular in the UK, holding about 50% of the nail market, making it an extremely profitable skill to learn. Our course will teach you to perform advanced acrylic nail extension treatments using the sculpting method, with confidence. Build upon your existing knowledge and skills of tip and overlay application, sculpting allows you to save time on application with no tips to apply or tailor, no blending of tips required and much greater flexibility as to the look created.
Nail extensions are one of the most popular treatments with nail technicians and with many busy nail techs typically completing 3 or more sets of nail extensions per day, it is easy to see the benefits of being able to utilise an E-File to reduce treatment times and take the strain out of filing, reducing the amount of manual filing required. Our E-Filing course will teach you to safely and correctly utilise use of an electric nail file (e-file), also sometimes known as a nail drill to speed up your acrylic nail services and quickly refine your treatment results.
This one day course will teach you the skills to apply and use nail forms as a base for building incredible and professional nail extension results working with acrylic, plus utilsing an e-file to speed up treatments and refine your results more easily.
This diploma course is suitable for existing nail technicians looking to expand their skills. To get the most from this course you need to have previously trained in acrylic/UV nail extensions using the tip and overlay method. You may wish to look at our 1 Day Acrylic Nails Course, 1 Day UV Gel Nail Course or our Online Acrylic Nails Course to gain this required knowledge first.
You will work on a professional nail trainer hand on your training day so no models are required. No acrylic kit or e-file is required to complete the training day, nor included in the course fee. All products and tools are provided for the training day at the centre when you attend.
On the training day, you only need to bring a hand towel for your personal use, completed enrolment form and cold food for your lunch (e.g. sandwich/salad).
We are so proud at The Beauty Academy to work with such a professional, passionate and friendly team of tutors, all of which hold a Level 2 and Level 3 qualification in their specialised sector. Our tutors are also all qualified with either Level 4 PTTLS or equivalent teaching awards in education, with years of experience in beauty-related professional industries. Furthermore, our tutors who are involved in the assessment process all hold an Assessors Award.
We pride ourselves on the welcoming nature of our tutors and their ability to engage, educate and enrich students from all ages and backgrounds. All of our tutors are dedicated to maintaining their knowledge and keeping up to date with the latest treatments and techniques in the ever-changing industry. 
If you would like to read more about our fantastic tutors individually, please have a look at our Meet the Tutors page.
When you have successfully completed your training course(s), you will receive a diploma certificate issued by The Beauty Academy and accredited by ABT. This not only demonstrates your commitment to the training, but also allows you to obtain Public Liability insurance so you can start offering treatments to paying clients from home or mobile.
All courses completed with The Beauty Academy are accredited by ABT allowing you receive a 10% discount off your policy with ABT Insurance when you quote ACADEMY99
The Beauty Academy also offer a discounted insurance scheme with Balens; a Specialist Insurance Brokers aimed at Health and Well-Being Professionals, offering both Therapist and Student Therapist insurance for those who train with us. To learn more about the Balens insurance scheme, please click here.
All of our diploma courses enable you to work from both home and mobile offering the specialised treatment(s) that you have completed. You can start earning by offering treatments to paying clients as soon as you have obtained your insurance; however it is recommended that you undertake some further training within nail services such as our Manicure & Pedicure course to ensure you are confident in the widest range of popular nail services possible, to best meet the needs of your clients.
We offer high-quality ABT accredited training with experienced tutors, professional equipment and a great atmosphere to train in. Our training centres are well-equipped, within easy reach of public transport and regularly inspected by the awarding body (VTCT) which we provide qualifications through; to ensure we are giving you the best service for your money. We pride ourselves on working with only qualified and industry experienced tutors who are friendly, welcoming and happy to go the extra mile to deliver the very best student experience possible. 
All courses are run as smaller groups than most other providers, allowing plenty of opportunity to ask questions or seek further support if required. Our training centres are permanent and exclusive to us and they are always set-up ready to begin your training. All centres have the very latest equipment and products required to adhere to industry standards. We also provide free and unlimited on-going access to our Support Team who are available to answer queries or provide guidance within any aspect of your course with us, contactable on either email or telephone.
Once you have completed your diploma course, you have the opportunity to further your skills by completing additional training. You may wish to complete further nail courses that complement this particular nail treatment; please see these here.
Share your thoughts!
Let us know what you think...
Course Info & Price
Course Duration

1 day

10am to 4pm
Total price for 1 Student(s): £199.00
Payment Plans Available:
No hidden charges: includes all exam fees & VAT.
How to Apply
0 reviews
Customer Reviews