Save 25% on this Package versus bookings courses individually!
Worth £795! 5 Courses in 1 Package for Only £599!
What this Package Includes:
ABT Accredited 1 Day Manicure & Pedicure including Luxury Treatments Course

ABT Accredited 1 Day Gel Polish Course

ABT Accredited 1 Day Acrylic Nail Extensions Course

IPHM Accredited Online Sculpting (with Acrylic) Course

IPHM Accredited Online E-Filing Course
Our Master Nail Technician Package will teach you to confidently deliver the most popular nail treatments within the industry, designed specifically for those embarking on a career as a nail technician, and requiring the fundamental skills to launch their business within this exciting industry. On completion of your training, you'll achieve an accredited certificate for each of the above courses giving you a full skill set to work freelance offering your treatments, typically earning £25-£40 an hour.
ABT (Associated Beauty Therapists) Accredited Course. Recognised & Insurable through:

The Beauty Academy are the UK's leading provider of private beauty training courses. We have been delivering our fast track, intensive training courses since 1990. With over 32 years' experience in the industry, we have refined our courses to ensure they meet the highest standards of industry training, while ensuring a welcoming and enjoyable training experience. Most courses are suitable for complete beginners.
We work with only the most passionate, qualified and experienced beauty training professionals. We regularly update our team's training to ensure we are delivering the most up to date knowledge and techniques.
All courses are accredited for insurance by IPHM and/or ABT. We also provide OFQUAL regulated, internationally recognised qualifications for those seeking employment within beauty through both VTCT and City & Guilds.
We train only from our own well-equipped and well located training centres for ease of finding us. Never from conference suites or hotel rooms. Most centres are only a short walk from public transport links, or with parking on-site or locally. We keep our class sizes small (typically only 4-12 students per tutor) to give you every opportunity to ask questions and get support on your training days. Our in-house Support Team are available by email during your studies and beyond to give you the best start to your beauty career.
Entry Requirements
You must be aged 16 years or over to attend our classroom courses. This course is suitable for complete beginners to beauty / nails. No previous training or qualifications required.
Course Duration / Timings
Each classroom course included within this package is completed within 1 day. Each classroom course duration is 6 hours, you will attend from 10am – 4pm with a short break for lunch. Please arrive at 9.45am for a prompt course start.
The Online Sculpting with Acrylic Course and Online E-Filing Course within this package are completed entirely online through our student portal, no attendance required. Study at your own pace with up to 12 weeks access to our portal & up to 12 months to submit your 2-3 case studies for each course to achieve the online course certificates.
Dress Code
If you have beauty uniform (tunic, fitted trousers etc.) this would be ideal. Otherwise smart, comfortable clothing suitable for the practical nature of the courses, such as short sleeved t-shirt with trousers or leggings would be suitable. Shoes must have a closed toe and flat sole. No flip flops / sandals for safety. Long hair (as applicable) should be tied back. Valuables such as jewellery should be removed and left at home.
Structure:
You will attend for each of the 3 course days including in this package from 10am – 4pm with a short break for lunch on each day. The courses are very much hands-on practical throughout the days. Short introduction on the theory followed by tutor demonstration & practical work by students. There are no exams or case studies required, your competence is assessed informally by the tutor throughout the training days.
The Online Sculpting with Acrylic Course and Online E-Filing Course are both completed at your own pace, conveniently online from home through our online student portal with pre-recorded step by step video demonstrations and detailed e-manuals to support your learning. You complete 2-3 case studies for each online course to achieve the online course certificate.
Models:
No models are required for the classroom course days. Students will give and receive treatments working upon each other on both the Manicure & Pedicure Course and the Gel Polish Course so nail extensions / gel polish must be removed prior to attending. For the Acrylic Nail Extensions Course, this is completed entirely practising upon a professional nail training hand allowing you the maximum time possible during the training day to work upon acquiring and demonstrating the required techniques for nail extensions. 
For the Online Courses, you will need to complete 2-3 case studies for each course to achieve your online course certificate. These can be completed at home on friends/family or a training head as preferred. Case study evidence is simply submitted by email (consultation form and before/after photo).
You will need to bring:
Cold food (salad or sandwich) for your lunch. Clean hand towel for personal use on the course. Pen/paper if you wish to make any brief notes on your training days.
Kits:
No kit is included in the course fee. All products / tools required to complete the classroom courses are provided at the centre for your use on the training days. Basic products/tools will be required to complete your 2-3 case studies for the Online Courses. Guidance will be given on the day by the tutor about products / suppliers so we recommend waiting to buy any kits. Selected kits are available to purchase from our website, for a convenient way to get started offering your treatments. You may interested in the following optional kits:
Upon booking, you'll be sent a confirmation email with course e-manual attached for each classroom course. We recommend reading this before your training days to get the most from your course.
As part of this pre-course learning and tuition on the training days, you will learn the following:
Manicure and Pedicure including Luxury Treatments training (1 day) covers;
Health, safety and hygiene
Consultation techniques
Contra-indications
Aftercare
Manicure procedure *
Pedicure procedure *
Filing and cuticle work
Massage of the hand and foot
Luxury aspects of manicures & pedicures
Dry Manicure & Gel Polish training (1 day) covers;
Health, safety & hygiene
Consultation techniques
Contraindications
Dry manicure procedure to prepare the natural nail*
Shaping the nail and cuticle work*
Application of gel polish*
Removal procedure
Aftercare advice
Acrylic Nail Extensions training (1 day) covers;
Contra-indications
Nail preparation
Tip application and blending techniques
Achieving correct product ration
Application of acrylic
Maintenance procedure
Removal procedure
Aftercare advice
*Please note: During the Manicure & Pedicure and Gel Polish training days, students will be required to give and receive treatments working so nail extensions and/or gel polish must be removed before attending these training days. For the Acrylic Nail Extension training day, this will be completed entirely working upon a professional nail trainer training hand.
Online Sculpting with Acrylic Course (studied entirely online from home, no attendance) covers;
Health, safety & hygiene
Consultation techniques
Contraindications
Sculpting nails using nail forms
Application of nail forms
Correct filing techniques to finish nails
Sculpting pink & white 'French' tips
Creating the perfect C curve
Glitter tips
Aftercare advice
Online E-Filing Course (studied entirely online from home, no attendance) covers;
Health, safety & hygiene
Consultation techniques
Contraindications
Techniques of using a E-File
Use of E-File to remove bulk of nail product, assist with infills, reduce false nail length & finish nail extensions
Components of the E-File (drill bit sizes & their use)
Maintenance of the E-File
This course is available at all of our 10 training centre locations including: London Kings Cross, London Clapham Junction, London Bridge, Reading, Milton Keynes, Birmingham, Cambridge, Leeds, Manchester and Newcastle.
All training centre locations are our own exclusive, permanent training facilities are set up, ready to train all-year round. Our centres are highly equipped and staffed by our friendly, fully qualified and experienced tutors. We never train from hotel rooms, conference suites or in-salons to ensure you get the best possible learning experience in spacious, well appointed and easily accessible locations.
All training centres can be reached by public transport. Many centres also have parking on-site or within reasonable walking distance.
Certification
On successful attendance of each of your classroom training days, you will be sent The Beauty Academy Diploma by email within 2 days of the course. This is accredited by ABT (Associated Beauty Therapists) allowing you to purchase insurance to work offering your treatments to the public.
Within 7 days of submission of your 2-3 case studies by email, for each Online Course, you will be sent your certificate by email which is accredited by IPHM.
Career Opportunities
Upon completion of your courses, you can start your own business working from home or mobile offering your treatments. Earn up to £50 an hour as a Master Nail Technician!
Some salons may also accept you for self-employed or employed opportunities, although this does vary across the UK and is dependent on individual salon/employer requirements for their insurance and/or local authority special treatment licensing (as applicable). For those specifically seeking employment or to work outside the UK beyond training, you may wish to consider our International Qualifications.
Insurance on Completion
Our ABT Accredited Diploma is accepted by a number of leading beauty (public liability) insurers including Balens, InSync, Radius and many more. It will cover you when providing treatments to the public, but many policies also provide additional benefits such as covering your kit for loss/damage, risk of damage to client property while providing treatments in their home and legal assistance.
You do not need any insurance to attend our courses as you will be covered by our company insurance on the training day(s). This is just for when you start working with the public as a therapist yourself.
Click below to find out more about getting insured on completion of your course: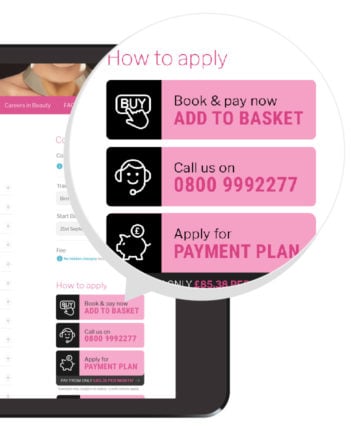 Have questions? Need assistance before booking? Click 'Chat Now' below to speak with a Course Advisor live online or to arrange a telephone call back.
Courses can be booked online 24/7, using our secure website.
Simply choose your course(s) (including venue & date for classroom courses).
Click to 'Add Student Details', enter details & click 'Add to Basket'.
When ready, checkout securely selecting your preferred payment method.
Choose from secure payment options including PayPal, WorldPay or Klarna. Newpay and Payl8r finance are also available, allowing you to spread the cost over 3-12 months. Apply quickly & easily online at checkout, for an instant decision. For more information on finance options, click here
If you would like to further the range of treatments that you offer to your clients following the completion of this training package, you may be interested in achieving a VTCT qualification within nail treatments. You can find full details of our VTCT Qualifications here
Share your thoughts!
Let us know what you think...
0 reviews
Customer Reviews