Anti-Aging Facials – Is Microcurrent the forgotten key to youthful skin?
Microcurrent facials have been used since the 1980s and were originally used as an effective way to stimulate and retrain the facial muscles to treat conditions such as Bell's Palsy. Since then, their efficacy in helping to improve muscle tone and the contours of the face has been recognised for cosmetic reasons. However, with advancements in aesthetics and injectibles such as facial fillers becoming high demand, the micro-current facial was left behind. However, as more clients now seek non-invasive methods to rejuvenate the skin and stave off the visible signs of aging, microcurrent treatments are once again coming into popularity.
Alongside radio frequency, LED light therapy and microneedling, microcurrent treatments have zero downtime making them great for those who want the visible benefits but without the tell tale signs left by invasive treatments. But what actually are microcurrent facial treatments and why should you be turning your attention back to these powerful muscle toning, cost effective and profitable treatments?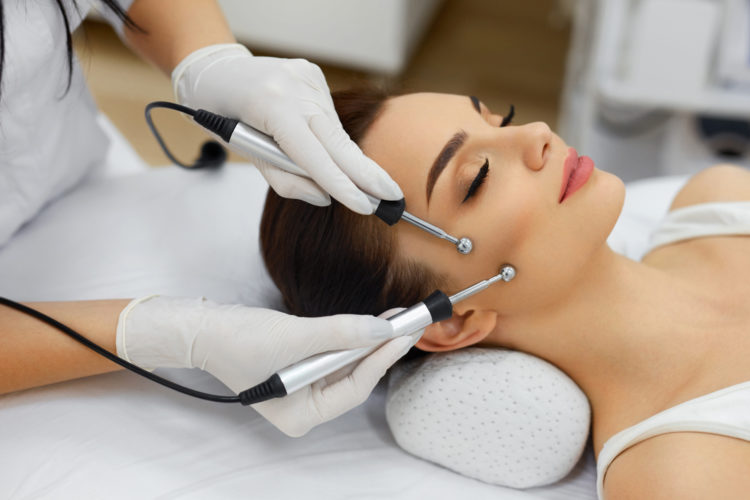 What are microcurrent facials?
Microcurrent facials are often referred to as a 'non-surgical face lift', designed to soften the appearance of fine lines and wrinkles, balancing and lifting the contours of the face by working to stimulate the facial muscles and effectively retrain the muscles to better support the face.
The treatment uses very low levels of electrical current which runs between the positive and negatively charged conductors (which depending on machine are either long slender metal rods or sphere shaped applicators). When both conductors are in contact with the skin, the current flows through the muscles training them to tone up. This treatment re-educates the facial muscles, although it is not the very low current alone that achieves this. The conductors (handheld probes) working with the current to encourage effective product penetration, effectively lift the muscles, moving them into the correct position and it is this which re-educates the muscles.
The treatment is usually delivered over a course of 6-12 treatments to execrise the facial muscles with little or no sensation from the current felt (making it an enjoyable treatment also). The current and movements encourage boosted lymph and blood circulation, speeding up cell renewal and collagen formation. This improves the health of the cells in the skin giving improved complexion. Once the course of treatments is complete, maintenance treatments are recommended to hold the lifting effect achieved (usually as part of a monthly facial).
Are microcurrent facials safe?
Microcurrent facials use such a low level of electrical current, they are entirely safe and with no downtime following treatment. There are some clients for which these treatments are unsuitable including pregnant clients, those with diabetes and those with heart conditions (such as pacemaker). It is also not recommended for those with active, moderate to severe acne as this can create further inflammation by stimulating already sensitive skin, however for those with the odd pimple or congestion in the pores, the treatment can actually help encourage a clearer complexion.
Why learn to provide microcurrent facials?
Microcurrent facials are a very lucrative treatment to offer as they are usually booked as a course of treatments with at least monthly maintenance required thereafter. Effects are immediately visible with improved radiance and glow to the skin initially, and lifting effects soon seen over the course of treatments. With no downtime, clients can combine microcurrent facials with other facial services you may already offer such as LED light therapy or microneedling for optimum anti-aging facial benefits. Microcurrent facials can be tailored to treat specific areas of the skin or indeed specific skincare concerns also and is suitable for almost all skin types including sensitive skin. The treatments are best combined with anti-aging serums which also present an ideal retail sales opportunity for salons / therapists.
Microcurrent machines can be purchased from as little as £400 from leading suppliers, with minimal treatment cost beyond the products used per treatment giving impressive profit margins.
Treatments take as little as 30-45 minutes also, allowing to maximise clients. Unlike more invasive treatments, there is no special insurance requirements (beyond completion of a recognised training course) and you do not need high level qualifications such as VTCT Level 3 Beauty or a medical background to train within or begin offering microcurrent facial services, making them accessible for all therapists who want to learn or can already provide basic facial skincare treatments.
How can I learn to provide microcurrent facials?
You may be pleasantly surprised to learn you can learn to offer microcurrent facial treatments with our Online Micro-current & Vacuum Suction Training Course at Only £99! The course can be studied at your own pace, conveniently online through our student portal. Detailed course resources and step by step videos allow you to learn all theory and treatment procedure to confidently provide these facial treatments. The only pre-requirement is to already be trained within Facial Massage & Skincare. We do offer an Online Facial Massage & Skincare Course which can be studied alongside the online microcurrent course for those who do not yet hold this training.
For those who prefer to attend training face to face, we also offer this training as part of our classroom based Electrical Facials Course, ensuring there is an option for you no matter how you prefer to learn!
So what's stopping you? Get onboard with microcurrent facial treatments today!
---