If you are looking to embark on an exciting new business venture, our Quick Start Ultimate Beauty Package has it ALL! Designed to equip you with the knowledge, practical skills and industry-required training to be able to perform the most 'asked for' treatments in the industry with confidence. It is the ideal training package for anyone who wants to get up and running as a Beauty Therapist working on a freelance basis from home or mobile. You will be taught how to competently perform manicure and pedicures, express facial skincare, lash and brow treatments, make up application, waxing, acrylic nail extensions plus the application of gel polish over eight hands-on, practical days of training.
Included in this package are the following:
Eyelash Extensions
Highly Defined Brows
Acrylic Nail Extensions
Dry Manicure and Application of Gel Polish
Express Facials
Waxing
Introduction to Make-up
Manicure & Pedicure
Express Facials training (1 day) includes:
Health, safety & hygiene
Consultation techniques
Contraindications
An Express Facial skincare treatment routine
Cleansing, toning & exfoliation
Pressure point Facial massage
Aftercare advice
Make Up training (1 day) includes:
Health, safety & hygiene
Consultation techniques
Contraindications
Creating a flawless finish to the skin
Application of evening/prom make-up
Identifying a variety of lip, face and eye shapes and how application of make-up should be adapted
Application of traditional bridal/day make-up including the use of the following products: concealer, foundation, loose powder, eyeshadow and pencil liner, mascara, blusher, lipstick and lip liner
Aftercare Advice
Dry Manicure & Gel Polish training (1 day) includes:
Health, safety & hygiene
Consultation techniques
Contraindications
Dry manicure procedure to prepare the natural nail
Shaping the nail and cuticle work
Painting techniques (block colour)
Demonstration of french polish
Application of gel polish
Removal procedure
Aftercare advice
Eyelash Extensions training (1 day) includes:
Health, safety & hygiene
Consultation techniques
Contraindications
Choosing correct lashes for client's eye-shape
Application of individual lashes
Maintenance procedure
Removal process
Aftercare advice
Highly Defined Brows training (1 day) includes:
Health, safety & hygiene
Consultation techniques
Contraindications
Tinting*
Waxing
Tweezing
Threading
Trimming
Application of mineral make-up and eyebrow pencil to brow
Waxing training (1 day) includes:
Health, safety and hygiene
Consultation techniques
Contra-indications
Aftercare
Different types of waxing products
Use of hot and warm wax
Alternative depilatory products and treatments
Procedure for waxing legs, underarms, face and bikini areas
Manicure and Pedicure training (1 day) includes:
Health, safety and hygiene
Consultation techniques
Contra-indications
Aftercare
Manicure procedure *
Pedicure procedure *
French Manicure procedure
Filing and cuticle work
Massage of the hand and foot
Acrylic Nail Extensions training (1 day) includes:
Health, safety & hygiene
Consultation techniques
Contraindications
Nail preparation
Tip application and blending techniques
Achieving correct product ration
Application of acrylic
Maintenance procedure
Removal procedure
Aftercare advice
*You will be required to be patch-tested 24 hours before the Highly Defined Brows course using the tint test kit that will be sent to you prior to the course. You will give & receive lash/brow tinting and brow waxing treatments as part of the course. Lash treatments will be completed using a mannequin training head.You will give & receive treatments as part of each of the training days included within this training package. You will need to remove nail extensions/gel polish before the manicure & pedicure course if applicable. You must not have received cosmetic procedures such as skin fillers or microblading within the 12 weeks prior to attending the training courses.
This diploma package consists of eight practical training days:  These courses are not run consecutively and you can choose the dates to suit you at your desired training centre (subject to availability).
Each training day runs from 10am – 4pm and we ask students to arrive at 9.45am to ensure a prompt start. You will learn the theory of the treatment firstly, and spend the majority of the day practising your practical skills, with a short break for lunch.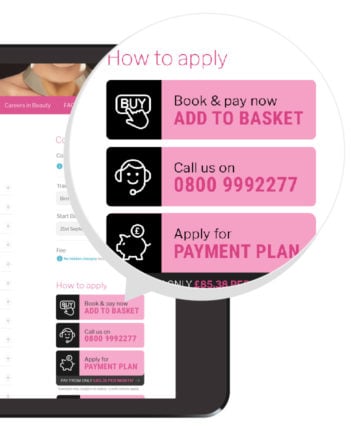 Our friendly, expert Advisors are on hand to answer any questions & assist you in booking your place over the telephone*. Call on Freephone 0800 999 2277
Alternatively, most of our courses can be booked online 24/7, using our secure payment system.
Simply choose your venue and date
Click the add to basket button
Then complete the secure, online checkout
*Payment in full at time of booking online or by telephone allows you to select your training days at your preferred training centre in the best way to suit you – whether that's as a consecutive block (subject to availability) or taken at your own pace. Deko Finance (Payment Plan) is available on all bookings over £299. To enquire, simply click 'Apply for Payment Plan' on the right-hand side or give us a call to learn more.
1. Payment in full using Credit / Debit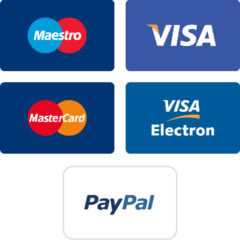 By making payment in full, you can secure your course place and enjoy the greatest flexibility to book all of your training days at your preferred training centre, in the best way to suit you – whether that's as a consecutive block (subject to availability) or taken at your own pace. Book securely online 24/7, or call our friendly Advisors by book by phone.
---
2. Payment Plan – Courses over £299

Our Deko Finance option is available on all courses, diploma course packages and VTCT qualifications over £299. You have three options – to make repayments either over 12, 24, or 36 months at only 9.9%, all with just a 20% deposit.
A very important point regarding finance options: Many of our students are fairly young and may not have taken out finance before; perhaps they are living with mum/dad or boyfriend/partner and have not had their own name on an electoral roll for at least 3 years. Now, although it may seem a bit harsh it is very true that all finance companies will view your application very critically if any of the above is true. A way around this is to increase your deposit to say 40% but this needs to be done at the outset and not after you have been rejected.
If you feel that any of the above does apply to you then please just have a word with one of our Course Advisors before making an application.
---
The Deko finance option allows you book and attend your chosen courses with us while making affordable, monthly repayments to spread the cost. You don't need to wait to book training sessions, you can complete all training as you wish, selecting from our available scheduled dates without delay. This is a great payment choice for those who desire the flexibility to manage studying around work commitments / childcare or even wish to complete their award as soon as possible; but who need the option to spread the cost into more affordable payments, over a longer term.
You can increase your deposit to reduce your payments and you can pay off early if you wish. No hidden fees or charges. The scheme is subject to the usual credit checks etc.
Manicure and pedicure treatments are an essential skill for any therapist – all of us want attractive hands, feet and nails. Natural nail treatments, in particular, are growing in popularity amongst all ages and the addition of luxury treatments allows you to upsell your clients and boost earning potential. Facial treatments are also in high demand with many wanting to achieve flawless, natural skin without needing to apply make-up. A facial is great for relaxation and pampering, but also to help prevent the premature signs of ageing. Waxing treatments are sought after all year round to achieve smooth, hair-free skin, with clients returning every 4-6 weeks, creating a continual source of income (earning up to £50 per hour) particularly during the summer months. Make up treatments are popular for special occasions such as proms or weddings, so these skills are excellent for enabling you to offer packages to your clients. Lash & brow treatments are a staple treatment all year round for therapists and help to build regular, loyal clients as maintenance is required every 2-3 weeks. This exciting training package combines some of the most profitable treatments from the salon, allowing you to earn whilst working from home or mobile to suit both yours and your clients' lifestyle.
Our diploma courses are suitable for complete beginners and do not require any prior learning to be able to train with us; many of our students are not yet beauty trained and are looking to start up a business in the industry. We welcome students of all abilities, whether you are looking to learn a new skill from scratch or currently working as a therapist and looking to refresh your knowledge of particular treatments.
All products and tools are provided for the training days at the centre when you attend. No kit is required to complete the training days, nor included in the course fee. On the training days, you only need to bring a hand and bath towel for your personal use, completed enrolment form and cold food for your lunch (e.g. sandwich/salad). Tea & coffee are provided.
We are so proud at The Beauty Academy to work with such a professional, passionate and friendly team of tutors, all of which hold a Level 2 and Level 3 qualification in their specialised sector. Our tutors are also all qualified with either Level 4 PTTLS or equivalent teaching awards in education, with years of experience in beauty-related professional industries. Furthermore, our tutors who are involved in the assessment process all hold an Assessors Award.
We pride ourselves on the welcoming nature of our tutors and their ability to engage, educate and enrich students from all ages and backgrounds. All of our tutors are dedicated to maintaining their knowledge and keeping up to date with the latest treatments and techniques in the ever-changing industry.
If you would like to read more about our fantastic tutors individually, please have a look at our Meet the Tutors page.
When you have successfully completed your training course(s), you will receive a diploma certificate issued by The Beauty Academy. This not only demonstrates your commitment to the training, but also allows you to obtain Public Liability Insurance so you can start offering treatments to paying clients from home and/or mobile.
Once you have completed your practical training day with us, there is no additional work to be completed. Your diploma certificate will be sent to you within 1-2 working days and you can then begin working from home and/or mobile, once insurance has been obtained.
The Beauty Academy offer a discounted insurance scheme with Balens exclusively to our students; a Specialist Insurance Brokers aimed at Health and Well-Being Professionals, offering both Therapist and Student Therapist insurance for those who train with us. To learn more about our insurance scheme, please click here.
All of our diploma courses enable you to work from both home and mobile offering the specialised treatment(s) that you have completed. You can start earning by offering treatments to paying clients as soon as you have obtained your insurance.
We offer high-quality accredited training with experienced tutors, professional equipment and a great atmosphere to train in. Our training centres are well-equipped, within easy reach of public transport and regularly inspected by our accrediting awarding body (VTCT) to ensure we are giving you the best service for your money. We pride ourselves on working with only qualified and experienced tutors who are friendly, welcoming and happy to go the extra mile to deliver the very best student experience possible. 
All courses are run as small groups which allows plenty of opportunity to ask questions or seek further support if required. Our training centres are permanent and exclusive to us and they are always set-up ready to begin your training. All centres have the very latest equipment and products required to adhere to industry standards. We also have an on-going Support Team available to answer any query you may have regarding your training with us, contactable on either email or telephone.
If you would like to further the range of treatments that you offer to your clients following the completion of this training package, you may be interested in our VTCT Level 2 Qualification in Beauty Therapy. Please note this course is available via our Payment Plan option. We also offer a variety of other Quick Start Diploma Packages available to purchase through Easy Pay which are available to view here.
Course Info & Price
Course Duration

8 days