Online Certificate in Sales Skills for Beauty Professionals Training Course
Our Online Sales Skills for Beauty Professionals Course is designed anyone who is interested in learning more about the process of sales and selling. You may be working in the beauty industry already as a therapist or sales representative and want to hone your selling skills with a better understanding of the processes involved. You might be a team leader or salon owner / manager who wants to better understand the role of sales and learn how to better motivate and manage your sales team. Studied online, at your own pace through our online portal; this course will give you confidence within sales and the art of selling products or services in the beauty industry.
What is sales?
The sales process
Sales terms / language
History of professional sales
Skills required to be successful in sales
Developing sales skills
Recording sales
Following up sales / aftersales
Understanding social media's role in sales & sales trends
Managing a general sales team
Self-evaluation of success in sales
Applying selling skills to a salon / spa
Importance of clear sales goals / targets
Managing a sales team in salon / spa
Adapting selling techniques to sell services instead of products
This course is designed to be home-study only; you are not required to attend the training centre to complete this course. All course material is studied through our online student portal, accessible 24/7 and completed in the comfort of your own home.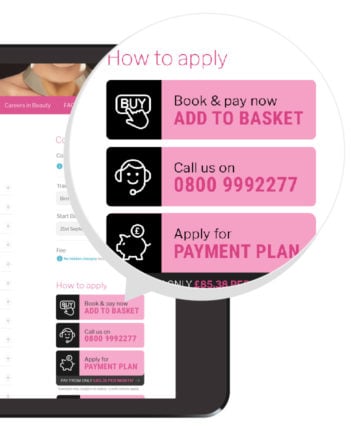 Our friendly, expert Advisors are on hand to answer any questions & assist you in booking onto your chosen Online course over the telephone*. Call on Freephone 0800 9992277
Alternatively, most of our courses can be booked online 24/7, using our secure payment system.
Simply click the add to basket button
Then complete the secure, online checkout
You will receive a confirmation email within 24 working hours including details of how to access your online course materials & begin learning!
*Payment is required in full at time of booking by telephone or online.
Our Selling Skills for Beauty Professionals course is ideal for anyone who wants to know more about sales and improve their selling skills. Suitable for those working in a sales capacity such as a sales representative or specifically in salon such as a therapist. The course also covers important knowledge on how to manage and motivate a sales team and monitor sales performance making the course ideal for team leaders, salon managers and owners.
This comprehensive course is completed from home through our online student portal, accessible 24/7; making it a convenient way to study around other commitments you may have. Our Support Team are available to help throughout the course if you need any further assistance or guidance with your learning.
Our diploma courses are suitable for complete beginners and do not require any prior learning to be able to train with us; many of our students are not yet beauty trained and are looking to start up a business in the industry. We welcome students of all abilities, whether you are looking to learn a new skill from scratch or currently working as a therapist and looking to refresh your knowledge of particular treatments. You will need access to a device connected to the internet to complete this course.
We are so proud at The Beauty Academy to work with such a professional, passionate and friendly team of tutors, all of which hold a Level 2 and Level 3 qualification in their specialised sector. Our tutors are also all qualified with either Level 4 PTTLS or equivalent teaching awards in education, with years of experience in beauty-related professional industries. Furthermore, our tutors who are involved in the assessment process all hold an Assessors Award.
We pride ourselves on the welcoming nature of our tutors and their ability to engage, educate and enrich students from all ages and backgrounds. All of our tutors are dedicated to maintaining their knowledge and keeping up to date with the latest treatments and techniques in the ever-changing industry. If you would like to read more about our fantastic tutors individually, please have a look at our Meet the Tutors page.
When you have successfully completed your training course(s), you will receive a diploma certificate issued by The Beauty Academy. This not only demonstrates your commitment to the training, but also allows you to obtain Public Liability Insurance so you can start offering treatments to paying clients from home and/or mobile.
This course is an ideal skills building course for anyone new to working in the beauty industry, and/or a sales or sales management role. It is also ideal for career development skills training to assist you in advancing your career. Upon completion you will have a good understanding of the sales function and role of sales within the business. You will also have gained knowledge to be successful in a sales capacity.
Our online courses have been designed following over 31 years experience in delivering private beauty training. We understand the requirements of our students and online courses are delivered in an easy to follow way, accessible on your computer or mobile device.
Comprehensive course manuals written to the highest industry standards accompanied by video tutorials produced with our professional tutors allow you to develop the required knowledge and skills to be successful within beauty.
Our in-house Support team is available through your studies and beyond.
Share your thoughts!
Let us know what you think...
0 reviews
Customer Reviews