Lash Lift Kit
Our expertly created Lash Lift Kit includes all the basic essentials to begin offering lash lift treatments. This kit includes enough product to complete 5-7 treatments (where some product used for patch testing). Sachets effective for 24 hours after opening.
This kit is ideal for those taking the Online Lash Lift & Tinting Course for use to complete your case studies or for those who have attended 1 Day Classroom Lash Lift & Tinting Course* for use as you begin to practice and deliver your treatments to paying clients, following your training day.
*Please note for classroom courses, all products/tools are provided at the centre on the day so kits are not required to attend. This is for use following training.
This kit does not include any tinting products. View a kit for this here
Contents may vary, subject to substitution dependent on stock levels to equivalent products as required by the supplier.
Note: Kits sent direct from the supplier by DHL, within 3-7 working days, to address given with your booking. You will need to sign for the parcel on delivery or arrange redelivery. You will be sent a notification email by DHL to confirm date for your delivery. Please look out for this email.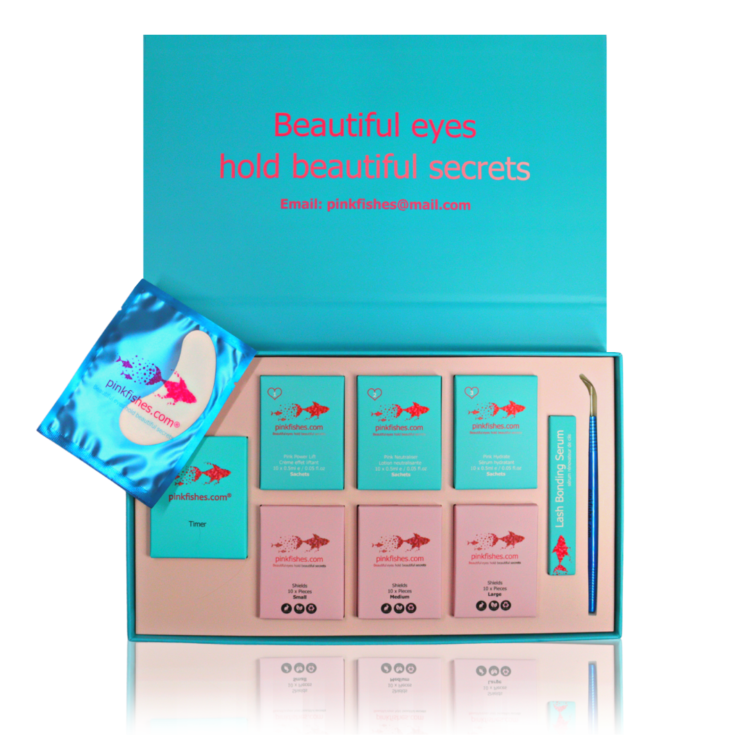 Lash Lift Kit includes:
10 x Pink Powerlift Sachets (Step 1)
10 x Pink Neutraliser Sachets (Step 2)
10 x Pink Hydrate Sachets (Step 3)
Small Pink Shields
Medium Pink Shields
Large Pink Shields
Bonding serum
Lash Lift Tool
Timer
5 x Under Eye Gel Pads
Magnetic Pinkfishes Kit Box
Share your thoughts!
Let us know what you think...
0 reviews
Customer Reviews