Indian Head Massage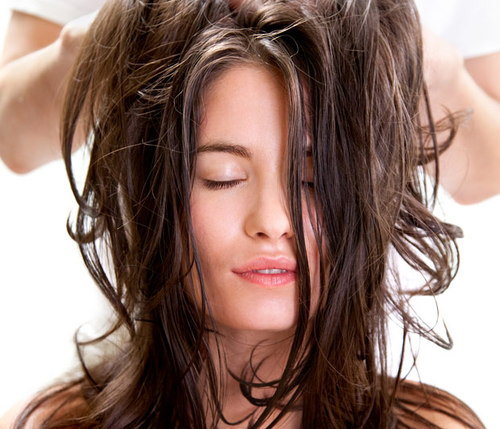 How much do you know about the Indianhead massage? Experts from The Beauty Academy explore this relaxing, holisticform of massage which can alleviate stress and tension, as well as rebalanceyour body's energies.
The Indianhead massage is an ancient therapeutic treatment which has been used in Indiafor thousands of years. It is incredibly relaxing and uses acupressure massageon the areas of your body that aremost vulnerable to tension – the scalp, face, upper back, neck and shoulders.
It is a deep massage, which usesa variety of pressure and techniques that tap into your seven 'chakras' or pathsof energy, which encourage healing and balance in your whole body. It's also anespecially beneficial treatment for stress related issues.
Where did it originate?
Head massages originated as part of the ancient Indian practice ofmedicine, called Ayurveda, based on balancing the body, mind and spirt topromote long life.
TraditionalIndian massage was originally just a massage of the scalp and hair. Indianwomen gave head massages to their daughters, using oils such as coconut,almond, olive and buttermilk to keep their hair in good condition.
The IndianHead Massage tradition was confined to India until native Indian, NarendraMehta, travelled to England in 1973 to study physiotherapy. He began offeringthe head massages in England and the concept then spread to other countries.
Mehta also expanded the tradition to a more holistic massageof the head, neck and shoulder region.
What it is good for
The aim of Indian head massage is to release the stress thathas accumulated in the tissues, muscles and joints of the head, face, neck andshoulders.
The massage is especially good for relieving the following:
Stress
Tension
Fatigue
Insomnia
Headaches
Migraines
Sinusitis
Recipients also report that the experience is deeply calming andrelaxing, leaving them feeling energised and revitalised and better able toconcentrate.
Indian head massages also help increase joint mobility and flexibilityin the neck and shoulders, improves blood circulation and lymphatic flow, freesknots of muscular tension and helps with the elimination of toxins.
How to prepare
You shouldwear loose-fitting clothing for your massage, so that you don't feel restrictedor uncomfortable.
A headmassage is kind to hair, but not to 'hair styles', so take out any bands orclips that are in your hair. Also, remove any chains, earrings and piercingsfrom the facial area.
Be prepared thatsome of the massage will be quite firm. It can be quite an odd sensation to haveyour skull massaged, but stick with it. The results are worth it!
What to expect
The massagewill most likely last between 25 and 45 minutes, allowing also for aconsultation with your therapist before the treatment. Your therapist willprobably ask you about your lifestyle, medical history and if you have anyparticular ailments.
During themassage, you will have oils massaged into your scalp. You may be asked whetheryou have dry, greasy or normal hair so that the therapist can use an oil whichwill most improve your hair's shine and texture.
You normallysit, fully clothed, upright in a chair for the treatment. The therapist willthen use a range of different movements, including an application of deepkneading and compression movements over the neck, shoulder and scalp areas.They will also gently stimulate and stroke pressure points on the face.
You will beasked throughout the massage if you are happy with the pressure that is applied– remember that you can tell the therapist at any time if you areuncomfortable.
Side effects
Following a treatment some clients experience tiredness, dizziness, anincreased desire to urinate (as the body eliminates toxins and waste materials)or aching muscles.
All of these side effects usually last for no more than a few hours,after which clients generally experience increased energy and alertness.
After the massage
After an Indian head massage, you are likely to feel great: relaxed,ache-free, serene and clear headed.
Your hair will be seeped in oil after the massage, but the long-termeffects of your Indian head massage may well leave your hair softer, shinierand in much better condition!
TheBeauty Academy offer the one day Indian Head Massage course, which covers the below:
Historyand benefits of Indian Head Massage
Physicaleffects of the treatment
Massagemediums
Massagemovements
Practicaltuition on performing Indian Head Massage, massage of the upper back,shoulders, neck, upper arms, scalp and face
For more information, take a look at the course here:
https://www.thebeautyacademy.org/indian-head-massag…
Here is an article on scalp massage for hair growth that you may find interesting:
---