Can I achieve a VTCT qualification through distance learning?
The Beauty Academy offer a full range of VTCT Qualifications in all aspects of beauty therapy ranging from single units for those looking to specialise in one professional skill such as Facial Skincare to a full diploma at level 2 or 3 suitable for those looking to gain full time employment in the industry. Our VTCT qualifications are delivered on a 'blended' learning basis giving you optimum flexibility with your learning, while still providing full support and expert face to face tuition on a fast track basis.
Much of the study is completed on a distance learning basis, online from home including your theory coursework. Students have access to a wealth of learning resources on our online portal including training videos, manuals and support documents. Attend for 1-5 training days (depending on qualification) to learn your practical skills at one of our 10 conveniently located training centres, across England. Practice your treatments to build a portfolio and then once ready, book your assessments.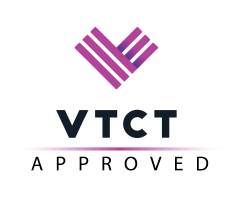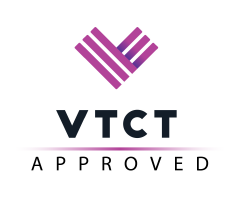 Most students complete within 4-6 months, studying on a part time basis at home beyond their initial training days, learning around other commitments. All students have up to 12 months to complete the qualification, should you need to learn at a slower pace.
Full access to our expert in-house Support team by phone or email throughout. We offer the most flexible, fast track way to achieve your VTCT beauty qualification and start your new career, ideal for those who need to learn around their existing work or commitments such as childcare that make attendance of year long face to face courses unsuitable for their needs. Most learners are aged 25 or over, as those looking to either change career or start something new; although their are no age limits.
What are VTCT Qualifications?
Vocational Training Charitable Trust (VTCT) is a specialist awarding and assessment organisation offering vocational and technical qualifications in a range of service sectors. With more than 2,000 approved centres worldwide, VTCT has an ever-expanding list of centres throughout the UK and Ireland, with a growing international presence. VTCT have been providing qualifications since 1962 and in 2016 expanded to take over iTEC adding to its specialist worldwide training offer.
If you are looking to embark upon a new career in beauty therapy or take your existing role in beauty further, VTCT qualifications will set you ahead of the competition and open up a wealth of career opportunities whether that is employed in the salon, spa, nail bar, cruise liner, opening your own salon or working as a beauty trainer in a further education college or for private beauty training provider.
Achieving a prestigious and internationally recognised VTCT Qualifications will demonstrate you have an assessed high standard of competence within your treatment skills; giving both employers, insurers, industry bodies, advanced training providers & potential clients confidence within your abilities as a beauty professional.
Which VTCT Courses are available?
We offer a full range of VTCT awards in Beauty Therapy and also VTCT Level 3 Award in Education & Training for those looking to take their beauty career into a teaching capacity. We offer Level 2 qualifications ideal for complete beginners, along with Level 3 in Nail Technology and Massage Therapy which are advanced awards which can also be started as a complete beginner. We have single unit qualifications in individual treatments such as Facial Skincare for those wanting to specialise in a specific treatment, although we generally recommend the full Level 2 or 3 Diploma courses for those looking to gain an all-rounder set of skills most sought by employers within the beauty sector. Discover our VTCT courses by clicking below or for more guidance on the best course for you, select one of the options below to get in touch. All VTCT qualifications can be booked securely through our website or by calling our team on Freephone 0800 999 2277.
Where could a VTCT Qualification take my career?
The vast majority of our students achieve their VTCT qualification within 4-6 months and upon completion, enter the beauty industry either on an employed basis within a salon or spa, or start their own beauty business. We often have students who travel the world while working in beauty, working aboard cruise liners offering luxurious spa treatments. Many students enter professional competitions and gain recognition within the industry for their high level skills and flair for beauty. Once you have a VTCT Level 2 and/or Level 3 in beauty, you can then go onto learn further beauty treatments to expand your knowledge and boost your opportunities or could even take the VTCT Level 3 Award in Education & Training to begin offering beauty training courses yourself, work for a further education college or as a trainer for a private beauty training company to share your knowledge and inspire a passion for beauty in others. Click below to read the success story of one of our past students. You can see also Reviews from past students to assure you of the quality of our training.
---