Advanced Aesthetics Courses.. what you need to know!
NEW Advanced Aesthetics Courses!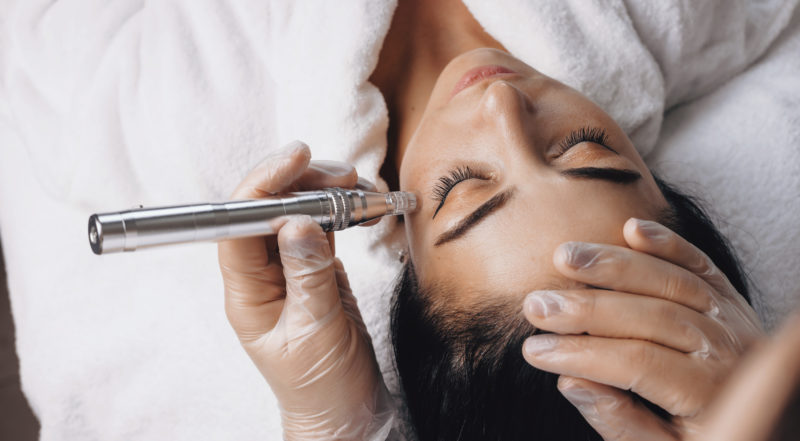 With our NEW Advanced Aesthetics Courses launching in November, now is the time to get prepared. In this blog we'll cover all of the actions to take for a successful roll out of the new treatments within your business.
But firstly, what are the courses we're offering?
Dermaplaning offers deep exfoliation removing dead skin cells, blockages, make up and vellus hair from the upper layer of the surface of the skin using a surgical scalpel to refine skin. (1/2 day training £349)
Microneedling also known as dermarolling or collagen induction therapy is administered using a dermaroller or automated pen applicator to stimulate collagen growth and repairing of skin. (1/2 day training £349)
Skin Peels, often known also as 'chemical' peels work using natural acids to exfoliate the skin and remove dead skin cells using specialised products applied topically to the skin. (1/2 day training £225)
LED Light Therapy works to soothe the skin, boosting natural skin healing following more invasive treatments and is hugely rejuvenating for the skin. (1/2 day training £199)
We will also be combining the courses into a 2 day training package. This training package combines all of our Advanced Aesthetics Courses for £1099.
Get prepared.. Here are our top considerations for getting started with these new treatments!
Prerequisites for study
As the new courses are advanced treatments that can impact the skin on a molecular level, you will need to have the skills and knowledge to safely deliver these services to your clients. We will require all attendees to be experienced in delivering facial skin care at a professional level.
There will be the following prerequisite qualifications needed to attend the courses:
VTCT Level 2 (or equivalent) in Facials
VTCT Level 3 (or equivalent) in Electrical Facials.
Not yet qualified? No need to panic, we have reduced the cost of these courses by £400 until the 28th October, so now is the time to book and start your journey towards becoming an Advanced Aesthetics practitioner.
Marketing
Now is the time to start promoting the treatments to your clients. Your current Facial clients are the ideal place to start, these treatments will also attract new clients more interested in instant results! Below are a few ways to get started with promoting the new treatments.
Existing Facial clients:
Send out e-blast messages sharing the benefits of the new treatments
Hold a launch event, offer mini treatment tasters and demonstrations, these could be themed around the festive season or 'new year new you'
Run an introductory offer for your loyal clients
Change your answering phone message to highlight 'what's new'
Link to your retail products as a way of maintaining their skin and increasing retail/treatment sales, i.e. 'book a course of treatments and receive a free mini's kit'
Target potential new clients:
Grow your social media presence, videos tend to receive more interaction than photos. Why not vlog your training journey?
Connect with local businesses, do you have a local bridal shop? Hairdressers? Why not team up to promote each others business, you could throw in a treatment to sweeten the deal!
Preparing your and your client's skin for the treatments
These advanced treatments will have more of a targeted effect on the skin, treating more progressive skin challenges such as acne, ageing and hyperpigmentation. With this in mind you can start preparing your skin ready for treatments. The healthier the skin is prior to treatment the better the result and faster healing time post treatment.
Increasing skin hydration with richer moisturisers, adding serums and facial oils into a skin routine and using water/oil based facial masks 2-3 times a week.
Build up the skins tolerance level
We wouldn't advise going straight into a chemical peel if you have never exfoliated the skin, with this in mind slowly building up your skins tolerance levels to chemical exfoliation will yield the best results. Lactic acid is a great ingredient as it also improves hydration. Avoid exfoliating at home 48hrs before your treatment
Retinol is a fantastic ingredient for skin conditions and complements these advanced treatments, but avoid using it 48hrs before.
Ensure you have at least an SPF30 for everyday use following your treatment. Physical (sometimes referred to as mineral) SPF products are more tolerated by exposed skins following treatment.
Avoid using sunbeds and tanning before and after your treatments
We hope you are as excited as we are to welcome you on these courses!
---