VTCT Level 2 Certificate in Nail Technology (500/8882/8) carries 22 credits.
Units covered within this qualification are:
UV20399 Provide & Maintain Nail Enhancement

UV20453 Client Care & Communication in Beauty-Related Industries

UV20470 Provide Manicure

UV20483 Follow Health & Safety Practice in the Salon

UV20471 Provide Pedicure Treatments
You will also complete the VTCT (ITEC) Level 2 Award in Infection Prevention (COVID-19) for Beauty Therapy & Nail Services (UIP2) at no additional cost, as part of your Level 2 in Nail Technology.
Unit covered within this qualification is: UIP2 – Infection prevention (COVID-19) for beauty therapy and nail services

This is a pre-requirement for Level 2 courses, set by the awarding body. This is completed alongside your nail qualification and will be certificated separately upon completion of your VTCT course. If you have already completed this award as part of previous qualification(s) with us or elsewhere, you will not need to repeat this award.
If you are looking to embark on a career as a nail technician, working either in a salon or nail bar, our VTCT in Level 2 in Nail Technology (500/8882/8) course is designed to equip you with the knowledge, practical skills and industry-required qualification to be able do this with confidence. Students will need access to a pc to complete coursework and online exams.
This qualification can be completed in as little as 24 weeks but you have up to 12 months to fully complete the course.
3 Days of Practical Training covering;
Health, safety & hygiene
Consultation techniques
Contraindications
Manicure and Pedicure including Luxury Manicure & Pedicure aspects
Acrylic Nail Extensions (tip & overlay method)
UV Gel Nail Extensions (tip & overlay method)
Aftercare advice
Much of the qualification is completed as home-study, including written and practical coursework making this an ideal route for those who wish to study flexibly around other commitments. The practical training days required for the course will run from 10am – 4pm, although we ask students to arrive at 9.45am to ensure a prompt start. You will learn the theory of the treatment firstly, and spend the majority of the training days acquiring and demonstrating your practical skills, with a short break for lunch. Students will need access to a pc to complete coursework and online exams. Once you have completed all training and coursework, you will arrange to attend assessment days to achieve your VTCT qualification.
For more detailed information on the structure of this qualification, please call to speak with one of our friendly Course Advisors on 0800 999 2277.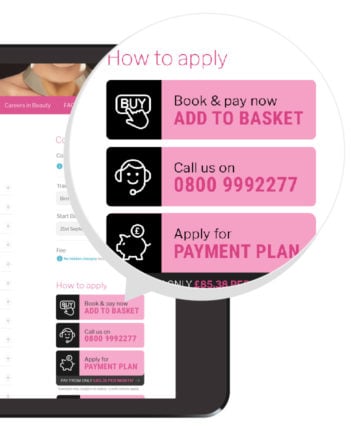 Our friendly, expert Advisors are on hand to answer any questions & assist you in booking your place over the telephone. Call on Freephone 0800 999 2277
Alternatively, most of our courses can be booked online 24/7, using our secure payment system.
Simply choose your venue and date
Click the add to basket button
Then complete the secure, online checkout
When booking online, choose from secure payment options including PayPal, WorldPay or Klarna. Premium Credit (Payment Plan) is also available on all bookings allowing you to spread the cost over 6 or 12 months at a reasonable rate of interest. To enquire, simply click 'Apply for Payment Plan' on the right-hand side or give us a call to learn more.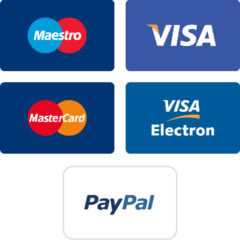 By making payment in full, you can secure your course place and enjoy the greatest flexibility to book all of your training days at your preferred training centre, in the best way to suit you – whether that's as a consecutive block (subject to availability) or taken at your own pace. Book securely online 24/7, or call our friendly Advisors by book by phone.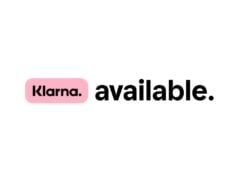 Book Now, Pay Later with Klarna with no interest & no late fees*. Available on all bookings totaling £79 or more. Spread the cost over 3 equal, monthly payments.
Simply pick your courses & add to shopping basket, at checkout select Klarna Pay in 3 and then enter your details to check if you're eligible. You'll know instantly if you're approved. Available to those aged 18+, resident in the UK & with a UK bank account. T&Cs apply. Find out more about Klarna with Klarna FAQs
Disclosure: The Beauty Academy is not a lender and acts only as an introducer. The credit product is provided by Klarna Bank AB (publ). Klarna's Pay in 3 instalments & Pay in 30 days credit agreements are not regulated by the FCA. Use of these and any missed payments may affect your ability to obtain credit from Klarna and other lenders. 18+, UK residents only. Subject to status. T&Cs apply. klarna.com/uk/terms-and-conditions. Please spend responsibly. Borrowing more than you can afford could seriously affect your financial status. Make sure you can afford to make your monthly repayments on time.  Missed payments may affect your ability to use Klarna in the future.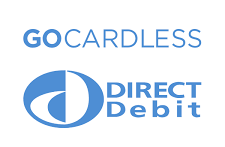 Spread the cost of your training over 6 easier to manage, interest free instalments, paid through direct debit, while still being able to begin your learning straightaway! Using GoCardless, our EasyPay Direct Debit plan allows you to enrol for your chosen training package and paid only £99 upfront. This allows us to book your first course. You'll then pay the remainder of the course fees split over 5 equal monthly instalments, taken through direct debit.
For a £449 (3 day package) pay £99 upfront & book 1 course. 5 x monthly instalments of £70 each. Book 1 further training day after the 3rd instalment & 5th instalment.

For a £459 (3 day package) pay £99 upfront & book 1 course. 5 x monthly instalments of £72 each. Book 1 further training day after the 3rd instalment & 5th instalment.

For a £699 (4 day package) pay £99 upfront & book 1 course. 5 x monthly instalments of £120 each. Book 1 further training day after the 2nd, 3rd & 5th instalment.

For a £899 (6 day package) pay £99 upfront & book 1 course. 5 x monthly instalments of £160 each. Book further training days after the 1st, 2nd, 3rd, 4th & 5th instalment.

For a £999 (8 day package) pay £99 upfront & book 1 course. 5 x monthly instalments of £180 each. Book 1 further training day after the 1st, 2nd & 3rd instalment. Book 2 further training days after 4th & 5th instalments.
No credit check required. Must live in the UK, be aged 18 years + and have a UK bank account which accepts direct debit mandates.
Simply decide upon your chosen courses and then call our team on freephone 0800 999 2277 (option 1) or submit an enquiry through our website. Our team will then be in touch to confirm your courses and set up your payment plan through GoCardless.
A VTCT Level 2 Qualification in Nail Technology is becoming the industry-required standard and recognized in many sectors of the industry. This particular course will enable you to provide a complete nail service and work as a professional nail technician, either self-employed or within a salon. You will learn a wide range of practical skills, from the polishing techniques to achieve a professional result to how to achieve in-demand nail enhancement services using Acrylic extension products.
Whilst you are perfecting your practical skills during training, you will also be consolidating your theoretical knowledge with our comprehensive study material, answering written questions in your electronic workbooks to submit as coursework. You will also be practising the skills that you have learnt at our training centre on models (friends/family) at home, gradually building a portfolio of treatments to submit as your practical coursework.
Our assessment process will ensure that your techniques, from hygiene requirements to attention to detail, are at a satisfactory industry level, and re-affirm the skills learnt during your practical training. This exciting course is hands-on, provides you with in-depth detail on a range of nail treatments and it is designed to prepare you to begin your career within the industry. The qualification not only provides you with extensive career opportunities, it is also internationally recognized and demonstrates your ability to work to an industry-standard level of practice.
Our diploma courses are suitable for complete beginners and do not require any prior learning to be able to train with us; many of our students are not beauty trained and are looking to start up a business in the industry. We welcome students of all abilities, whether you are looking to learn a new skill from scratch or currently working as a therapist and looking to refresh your knowledge of particular treatments.
Students will need to have previously achieved GCSE English or equivalent to ensure you have a good command of spoken and written English to be successful within the VTCT qualification. Students will need access to a pc to complete coursework and online exams.
You are required to give and receive treatments as part of the Manicure & Pedicure training day so will need to remove nail extensions, polish and/or gel polish before attending the training days. You will work on a professional nail trainer hand for the Acrylic and UV Gel nail extensions training days. All products and tools are provided for the training days at the centre when you attend. No kit is required to complete the training days, nor included in the course fee.
On the training day, you only need to bring a hand and bath towel for your personal use, completed enrolment form and cold food for your lunch (e.g. sandwich/salad).
We do provide study materials to assist you in completion of your written coursework & in preparation for your assessments. Students will require products/tools at home and to arrange models to complete their coursework/assessments.We have a Support Team that is on hand to answer any of your questions via email and will get back to you before the end of the working day.
We are so proud at The Beauty Academy to work with such a professional, passionate and friendly team of tutors, all of which hold a Level 2 and Level 3 qualification in their specialised sector. Our tutors are also all qualified with either Level 4 PTTLS or equivalent teaching awards in education, with years of experience in beauty-related professional industries. Furthermore, our tutors who are involved in the assessment process all hold an Assessors Award.
We pride ourselves on the welcoming nature of our tutors and their ability to engage, educate and enrich students from all ages and backgrounds. All of our tutors are dedicated to maintaining their knowledge and keeping up to date with the latest treatments and techniques in the ever-changing industry.
If you would like to read more about our fantastic tutors individually, please have a look at our Meet the Tutors page.
When you have successfully completed your training course(s), you will receive a diploma certificate issued by The Beauty Academy and accredited by ABT. This not only demonstrates your commitment to the training, but also allows you to obtain Public Liability insurance so you can start offering treatments to paying clients from home or mobile straightaway, even while working towards completion of your case studies towards your VTCT.
Once you have completed your assessment days you will also receive your VTCT qualification certificate (this can take up to 12 weeks to be released from the awarding body VTCT) and can then be used for gaining employment in a salon or opening your own salon premises.
Once you have completed your practical training day with us, there is no additional work to be completed to achieve The Beauty Academy diploma certificate which will be sent to you within 1-2 working days and you can then begin working from home or mobile once insurance has been obtained as it is accredited by ABT.
Aside from your practical training, your VTCT qualification course also involves home-study and assessments as required by the awarding body VTCT. The qualification requires written coursework to be submitted and marked by an assessor before you can be progressed to the assessment stage.
At the time of booking your qualification, you will be given access to the online study resources through our Online Student Portal where you can view videos, read manuals and work on your theory assignments. You will require access to products/tools and models at home in order to complete treatments towards your portfolio and also for your practical assessment days.  We have a Support Team that is on hand to answer any of your questions via email throughout your studies.
All courses completed with The Beauty Academy are accredited by ABT allowing you receive a 10% discount off your policy with ABT Insurance when you quote ACADEMY99
The Beauty Academy also offer a discounted insurance scheme with Balens; a Specialist Insurance Brokers aimed at Health and Well-Being Professionals, offering both Therapist and Student Therapist insurance for those who train with us. To learn more about the Balens insurance scheme, please click here.
All of our diploma courses enable you to work from both home and mobile offering the specialised treatment(s) that you have completed. You can start earning by offering treatments to paying clients as soon as you have obtained your insurance, which can be purchased once you have The Beauty Academy diploma which is issued by email following your training days.
This particular course will enable you to provide a complete nail technology service and work as a professional nail technician. Once you have received your certification from the awarding body VTCT stating your qualification achievement, you are also able to work on an employed or self-employed basis within the industry, including: spas; hotels; salons, nail bars and cruise-ships etc.
We offer high-quality ABT accredited training with experienced tutors, professional equipment and a great atmosphere to train in. Our training centres are well-equipped, within easy reach of public transport and regularly inspected by the awarding body (VTCT) which we provide qualifications through; to ensure we are giving you the best service for your money. We pride ourselves on working with only qualified and industry experienced tutors who are friendly, welcoming and happy to go the extra mile to deliver the very best student experience possible. 
All courses are run as smaller groups than most other providers, allowing plenty of opportunity to ask questions or seek further support if required. Our training centres are permanent and exclusive to us and they are always set-up ready to begin your training. All centres have the very latest equipment and products required to adhere to industry standards. We have a Support Team that is on hand to answer any of your questions via email and will get back to you before the end of the working day. [email protected]
You may want to progress your career in nails by completing our other nail treatment courses to enhance your skill-set, please see here.
We also offer a Starting a Business in Beauty Therapy course for our students; a comprehensive, home-study course that would complement any course completed with us, aimed at those looking to launch a business in the industry.
Share your thoughts!
Let us know what you think...
Course Info & Price
Course Duration

Fast Track

10am to 4pm
Total price for 1 Student(s): £1,599.00
No hidden charges: includes all exam fees & VAT.
How to Apply
0 reviews
Customer Reviews