ProSpa Spray Tanning Kit
Our Tanning Kit is the perfect kit to get you started on tanning your clients. Our kits have been carefully and specifically designed to ensure it is as easy to use and apply.  This kit is ideal for those taking the Online Tanning  Course for use to complete your case studies.
Please note: no spray tanning pop-up tent is included in this kit. They aren't compulsory for practising spray tanning treatments but if desired, can be purchased inexpensively separately from online sources.
Contents may vary, subject to substitution dependent on stock levels to equivalent products as required by the supplier. Kits sent direct to address given with your booking, to be received within 3-7 working days.
Excellent value, recommended retail price on this kit is £250. Available to The Beauty Academy students for only £225!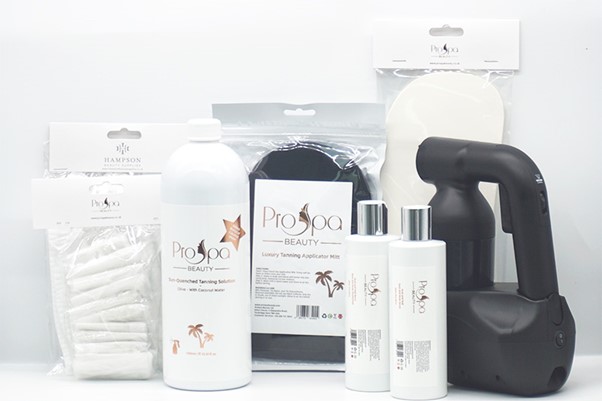 Spray Tanning Kit includes:
Spray Tan Gun
ProSpa Spray Tanning Solution 1L
ProSpa Sticky Feet x 10 pairs
ProSpa Disposables Pants x 10 pairs
ProSpa Hair Nets x 10 pairs
ProSpa Acai and Goji Face and Body Scrub 250ml
ProSpa Acai and Goji Face and Body Moisturiser 250ml
ProSpa Buffing Mitt
Share your thoughts!
Let us know what you think...
0 reviews
Customer Reviews