ProSpa Skin Peels Kit
Our ProSpa Skin Peels kit has been carefully and specifically designed to ensure it is as easy to use, on a range of skin types and conditions. This kit is ideal for those taking the Online Skin Peels Course to practice your treatments or for those who have attended 1 Day Classroom Skin Peel Course* for use as you begin to practice and deliver your treatments to paying clients, following your training day.
*Please note for classroom courses, all products/tools are provided at the centre on the day so kits are not required to attend. This is for use following training.
Contents may vary, subject to substitution dependent on stock levels to equivalent products as required by the supplier. Kits sent direct to address given with your booking, to be received within 3-7 working days.
Excellent value, recommended retail price on this kit is £145. Available to The Beauty Academy students for only £129!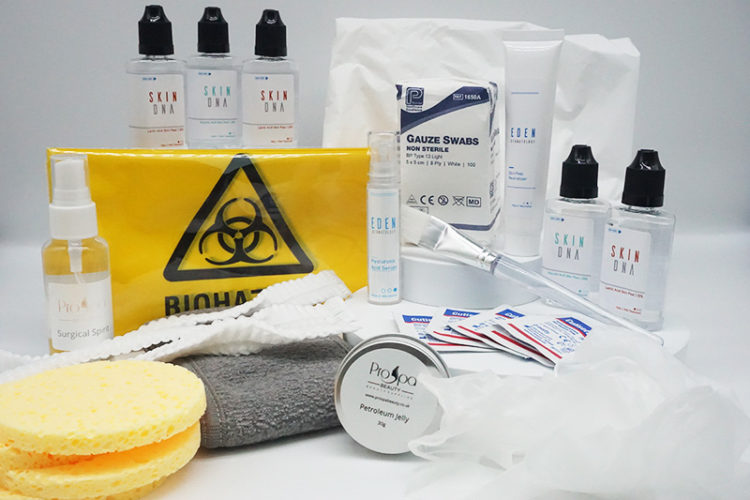 Facial Skin Peels Kit includes:
Skin DNA Lactic Acid 10%.
Skin DNA Lactic Acid 15%.
Skin DNA Lactic Acid 20%.
Skin DNA Glycolic Acid Skin Peel 10%.
Skin DNA Glycolic Acid Skin Peel 15%.
Skin DNA Glycolic Acid Skin Peel 20%.
2 x Hydrating Hyaluronic Acid Serum.
2 x Skin Peel Neutraliser.
After-peel Neutraliser 120ml.
Petroleum Jelly.
2 x Facial peel application brush.
Facial sponges (pack of ten).
Disposable Aprons (pack of ten).
Disposable hairnets (pack of twenty-five).
Therapist face mask (pack of five).
Nitrile blue gloves (pack of ten pairs).
Surgical spirit.
Gauze swabs.
Grey beauty head band.
Share your thoughts!
Let us know what you think...
0 reviews
Customer Reviews