ProSpa Lash Lift & Tint Kit
Our expertly created ProSpa Lash Lift and Tint Course Kit includes all the basic essentials that a technician, salon or spa would need to add express lash lifting to their treatment list. Undoubtedly, lash lifting is the perfect option for those who would prefer to do without eyelash extensions. Similarly to a traditional lash perm, ProSpa Lash Lift and Tint Course Kit curls the natural lashes at the root. Creating a change in direction of hair growth and the appearance of longer, thicker lashes. Finally, the lash tint creates a mascara-style effect. This kit is ideal for those taking the Online Lash Lift & Tinting Course for use to complete your case studies or for those who have attended 1 Day Classroom Lash Lift & Tinting Course* for use as you begin to practice and deliver your treatments to paying clients, following your training day.
*Please note for classroom courses, all products/tools are provided at the centre on the day so kits are not required to attend. This is for use following training.
Contents may vary, subject to substitution dependent on stock levels to equivalent products as required by the supplier. Kits sent direct to address given with your booking, to be received within 3-7 working days.
Excellent value, recommended retail price on this kit is £135. Available to The Beauty Academy students for only £109!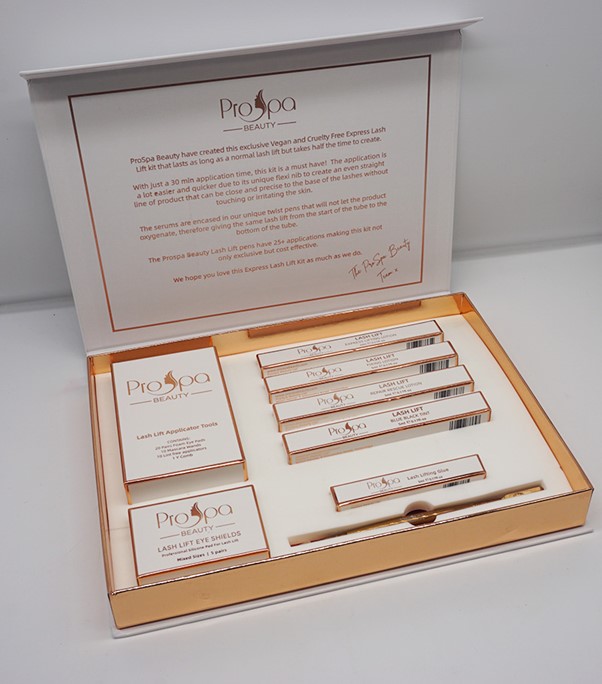 Lash Lift and Tint Course Kit includes:
ProSpa Express Lifting Lotion 5ML
ProSpa Fixing Lotion 5ML
ProSpa Repair and Rescue 5ML
ProSpa Lash Lifting Glue 5ML
ProSpa Plastic Y Tool Comb
ProSpa Under Eye Foam Pads
ProSpa Mixed Shields
ProSpa Mascara Brushes
ProSpa Lint Free Applicators
ProSpa Blue/Black Tint 5ML
ProSpa Lash Lift Tool Rose Gold
Share your thoughts!
Let us know what you think...
0 reviews
Customer Reviews