ProSpa Henna Brows Course Kit
Start offering one of the hottest brow trends using our henna eyebrow kit! All our products are hand tested and created for technicians in the beauty industry. Making it possible to create perfect brows for your clients with our easy to use full kit.
This kit is ideal for those taking the Online Henna Course for use to complete your case studies or for those who have attended 1 Day Classroom Henna Brows Course* for use as you begin to practice and deliver your treatments to paying clients, following your training day.
*Please note for classroom courses, all products/tools are provided at the centre on the day so kits are not required to attend. This is for use following training.
Contents may vary, subject to substitution dependent on stock levels to equivalent products as required by the supplier. Kits sent direct to address given with your booking, to be received within 3-7 working days.
Excellent value, recommended retail price on this kit is £125. Available to The Beauty Academy students for only £109!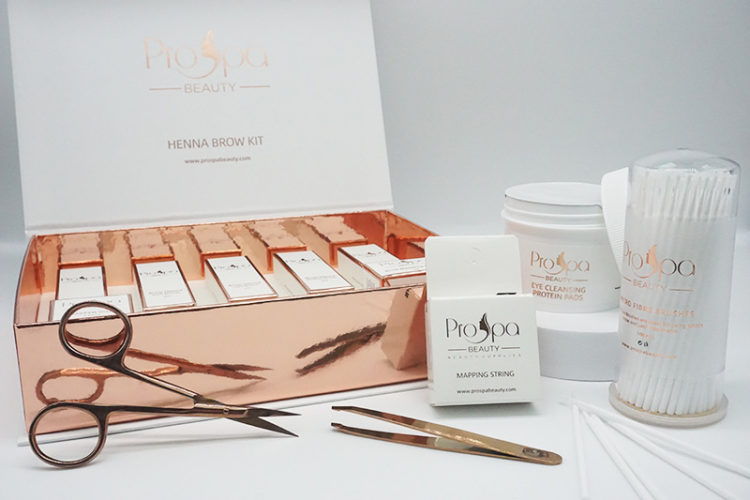 Henna Brows Course Kit includes:
ProSpa brow henna light blonde 5ml
ProSpa brow henna dark blonde 5ml
ProSpa brow henna light brown 5ml
ProSpa brow henna medium brown 5ml
ProSpa brow henna dark brown 5ml
ProSpa brow mapping cream 5g
ProSpa angled brow brush
ProSpa Dappen Dish
Prospa Application Tool kit – 10 x microfibre brushes and 5 x mascara wands
ProSpa brow mapping string – white
ProSpa microfibre brushes 100pcs
ProSpa scissors rose gold
ProSpa brow tweezers rose gold
ProSpa cleansing and protein pads 75pk
Share your thoughts!
Let us know what you think...
0 reviews
Customer Reviews