ProSpa Acrylic Nail Extensions
This Acrylic Nails Kit is perfect for beauty professionals throughout the industry. Manufactured especially for both beginners and advanced technicians.  This kit is ideal for those taking the Online Acrylic Nail Extensions Course for use to complete your case studies or for those who have attended 1 Day Classroom Acrylic Nail Extensions Course* for use as you begin to practice and deliver your treatments to paying clients, following your training day.
*Please note for classroom courses, all products/tools are provided at the centre on the day so kits are not required to attend. This is for use following training.
Contents may vary, subject to substitution dependent on stock levels to equivalent products as required by the supplier. Kits sent direct to address given with your booking, to be received within 3-7 working days.
Excellent value, recommended retail price on this kit is £135. Available to The Beauty Academy students for only £109!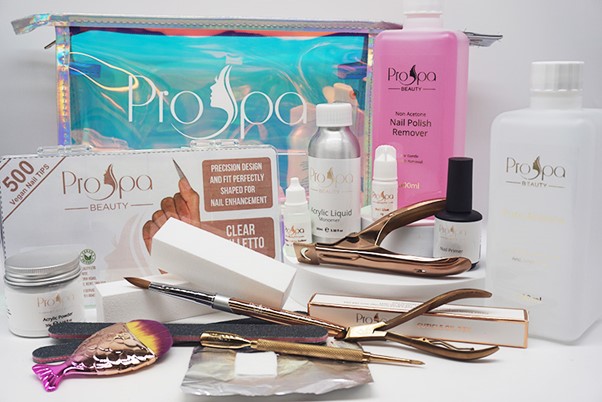 Acrylic Nails Kit includes:
ProSpa Travel Bag
ProSpa Acetone 500ml
ProSpa Nail Varnish Remover 500ml
ProSpa Cuticle Oil Twist Pen
ProSpa Acrylic Powder 50g
ProSpa Monomer 100ml
ProSpa Cuticle Softener 10ml
ProSpa Primer 15ml
ProSpa Nail Glue 3g
ProSpa Acrylic Brush
ProSpa 20 Soak Off Foils
ProSpa 5 Buffing Blocks
ProSpa Cuticle Nippers
ProSpa Cuticle Pusher
ProSpa Nail Tip Cutters
ProSpa 10 x 100/180 Grit Files
ProSpa 10 x 80/80 Grit Files
ProSpa Box of Tips 1 – 10 500pcs
ProSpa Dust Brush
Share your thoughts!
Let us know what you think...
0 reviews
Customer Reviews