Online Covid-19 Preventing Infection, Hygiene & Safety Training Course
Our Online Covid-19 Preventing Infection, Hygiene & Safety Course has been devised to help salon and beauty business owners, as well as therapists to carefully plan for reopening or starting a beauty business and providing treatments to their clients safely. The course covers all aspects that any beauty professional will need to know and consider to help them successfully adapt their way of working to maintain high levels of hygiene and safety both for themselves and the benefit of their clients to help reduce the risk of infection and prevent spreading of the disease. It will also enable you to confidently meet all legal and insurance obligations.
The course is an excellent way to learn key information about this virus and what steps you need to put in place to enable you to transition back to working in beauty to reassure your clients of your professionalism. The course is completed online through our Student Portal. Study at your own pace, accessible 24/7 with recap multiple choice quizzes to help you check your understanding of key points. Beyond the course, you will be able to make decisions for your beauty business and implement an action plan to enable you to resume or start your business and treatments successfully and safely.
Online course covers:
What is Covid-19?
Means of transmission
Preventing infection
Use of PPE
Salon Hygiene
Adapting ways of working
Adapting the salon environment
Safety for mobile and working from home businesses
Updating business policies
Legal & insurance obligations
Risk Assessment
Considerations before opening your business
Creating a plan to safely reopen
This course is completed entirely as home-study, including online multiple choice theory tests making this an ideal route for those who wish to study flexibly around other commitments. Guided through our Online Student Portal, you will learn the essential knowledge to be able to create a plan to successfully and safely reopen your beauty business once lockdown measures ease. You will have access to support from a tutor by email throughout your studies as required. Learn at your own pace, anywhere and anytime using our online student portal.
Upon completion of the online course, you will receive The Beauty Academy certificate demonstrating your commitment to safety for your clients during these difficult times. You will be able to hold your certificate with pride, giving reassurance of your professionalism and high level of training to set you apart from the competion. Completion of the course and applying suitable measures taught within it, will help to reduce the risk of you, your therapists and clients contracting the illness through well considered hygiene, safety and modifications to ways of working in light of the Covid-19 pandemic.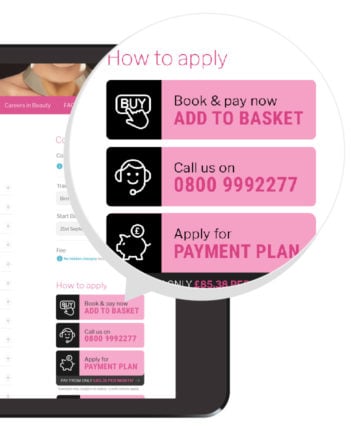 Our friendly, expert Advisors are on hand to answer any questions & assist you in booking your place over the telephone*. Call on Freephone 0800 999 2277
Alternatively, most of our courses can be booked online 24/7, using our secure payment system.
Simply choose your venue and date
Click the add to basket button
Then complete the secure, online checkout
*Payment in full at time of booking online or by telephone allows you to select your training days at your preferred training centre in the best way to suit you – whether that's as a consecutive block (subject to availability) or taken at your own pace. Deko Finance (Payment Plan) is available on all bookings over £299. To enquire, simply click 'Apply for Payment Plan' on the right-hand side or give us a call to learn more.
1. Payment in full using Credit / Debit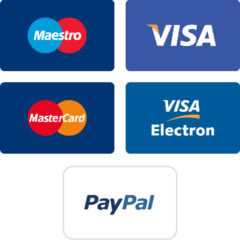 By making payment in full, you can secure your course place and enjoy the greatest flexibility to book all of your training days at your preferred training centre, in the best way to suit you – whether that's as a consecutive block (subject to availability) or taken at your own pace. Book securely online 24/7, or call our friendly Advisors by book by phone.
Our Online Covid-19 Preventing Infection, Hygiene & Safety course is ideal for therapists working within beauty but also salon / beauty business owners to enable you to safely and successfully resume or start your business and provide treatments to your clients. The course covers key information about the virus and means of transmission, along with considerations for how to adapt your ways of working to maximise safety for all involved within your business. Completed online at your own pace, through our student portal. You will be guided through the course with easy to follow information and online multiple choice tests to allow you to check your understanding of the key points. Our support team are on-hand by email throughout to guide you as needed.
There are no pre-requirements to complete this course. It is ideal for complete beginners to beauty therapy but also experienced professionals within beauty alike. A good understanding of spoken and written English is required along with access to a suitable device (pc/laptop/tablet) connected to the internet in order to access and complete this course.
All learning is completed through our Online Student Portal allowing you flexibility to learn from home at your own pace. Our Support team are on-hand to contact by telephone or email throughout the duration of your course to answer any questions you may have and guide you through the process. Upon completion you will receive a certificate from The Beauty Academy recognising your learning and demonstrating your commitment as a beauty professional to protecting all involved within your beauty business.
When you have successfully completed your training course(s), you will receive a certificate issued by The Beauty Academy recognising your achievement on the Online course.
Our online courses have been designed following over 29 years experience in delivering private beauty training. We understand the requirements of our students and online courses are delivered in an easy to follow way, accessible on your computer or mobile device. Our in-house Support team is available through your studies and beyond.
Share your thoughts!
Let us know what you think...
0 reviews
Customer Reviews