Our Online Gel Nail Package Training Package is comprised of our four most popular online nail technology courses. Incredible value for money!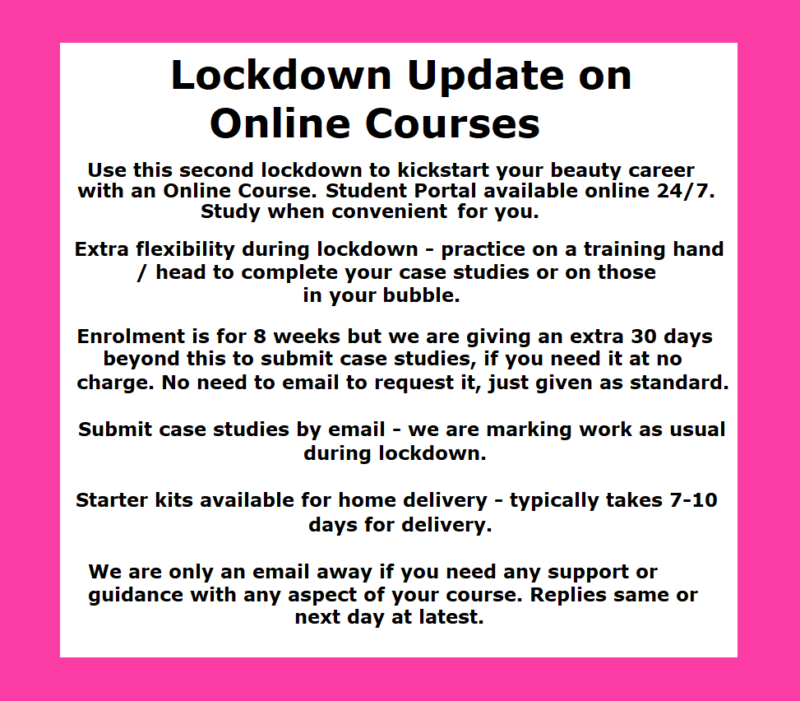 Guided by our comprehensive study materials and video tutorials, this online course package will take you through the process to perform these hugely popular treatments, as well as learning the theoretical knowledge and safety procedures involved in practising these treatments to an industry-standard.
As part of this fantastic Online Gel Nail Package Package, you will be taught how to competently perform manicure and pedicures, dry manicure and gel polish application and nail art!
Study from the comfort and convenience of home, with an experienced course tutor on-hand to help by email. Ideal for those who wish to learn treatments for personal interest or to provide pampering to friends, family and clients.
Achieve an IPHM Accredited certificate for each online course in this package which is recognised for insurance, to start your own beauty business!
To enable you to make the most of this professional course we advise that you purchase some of the optional starter kits available, to practice with and then for using on your first few clients. These can be viewed on our Starter Kits page
The online courses are accredited by IPHM (International Practioners of Holistic Medicine) and is also accepted by Radius insurance. Accreditation means the certificate you receive is well recognised within the beauty industry and will allow you to gain insurance to work from home or mobile.
Online courses are ideal for anyone, of any age, gender or background who wishes to learn a new skill from the comfort and convenience of home. Our Online courses are suitable for complete beginners and no previous knowledge of beauty is required as the courses cover all aspects of the treatment process including health & safety, consultation and client care to enable you to perform treatments to industry standard.
The Online courses are designed to work seamlessly with PCs, laptops and most mobile devices including tablets and smart phones so you can study at your own pace, wherever you may be. Easy to follow online study materials are provided along with video tutorials filmed with professional therapists making learning engaging and straightforward. Following completion of the multiple-choice theory assignments and a small number of case studies provided to friends or family at home, you will achieve your certificate accredited by IPHM recognising your learning and achievement. You can then gain insurance to work from home or mobile delivering your treatments.
Free access is available by email to our in-house expert Support team, throughout your studies and beyond.
All students have 8 weeks from the date of booking to access the Online Student Portal where you can access the comprehensive course materials including training manuals, video tutorials and the online multiple choice assignments. You have access to our in-house Support team by email or telephone throughout your studies and beyond. Most students complete their Online courses within a few weeks; however we can extend the study period upon request.
Please note: Once your certificate has been issued all work submitted will be destroyed. We do not keep students portfolios for Online courses.  
Our Student Portal is entirely online based and can be accessed quickly and easily from any mobile device connected to the internet including smart phones, tablets, laptops & PCs. It can be accessed at any time, anywhere in the world so you can work through the course at a pace to suit you, around any existing commitments you may have.
You will be sent login details to access our Online Student Portal as soon as your bookings is processed. You will be guided through your online course so you are clear what is required at each stage. You will work through the comprehensive study materials online at your own pace; including training manuals, video tutorials and multiple choice tests to help demonstrate your understanding. You must achieve 70% on each online theory test but can retake the tests as many times as you need. You will need to complete a small number of treatments at home on friends or family and submit evidence of these treatments to complete your course. This is approximately 3-6 treatments depending on the course, although we recommend you complete as many treatments as you need to build your confidence before submitting your practical assignment. You will need basic products and tools at home to complete these treatments so we recommend the purchase of a starter kit. Once all assignments are complete, you will receive your certificate by email. We also highly recommend the purchase of Student Insurance to cover you during your studies.
You will need to have basic products/tools to allow you to complete a small number of treatments on friends and family. You will submit evidence of these treatments towards achieving your certificate. A small selection of starter kits are available to purchase online through The Beauty Academy. Alternatively you can purchase products or kits from your chosen supplier.
It is quick, easy and secure to book onto any of our online courses through our website. Once we have processed your booking, you will receive a confirmation email providing your login details for the Student Portal allowing you to begin learning!
Face to face training is not required to achieve the certificate or to obtain insurance through our scheme. Our Online courses are very comprehensive and ensure you will learn best practice and acquire the skills required to deliver treatments to an industry standard so you are fully supported to achieve the certificate through distance learning only. However, if at any time during your studies or within 12 weeks following completion of your online course, you feel you would benefit from attending some face to face training*; we are happy to arrange this for £150 per day required. Subject to availability, training sessions run across our training centres with attendance from 10.00am – 4.00pm and would be provided on set dates from our training schedule(s).
*This option is only available for selected courses. We do not offer a face to face option for all online courses. Others are provided only at selected centres. If face to face training is an option you are considering, please contact our team to discuss this before enrolling for an Online course, to ensure you begin the best training route for you.
You can study online anytime or anywhere using most mobile devices
You can study at your own pace around other commitments you may have, such as childcare or long working hours
Ideal for those who do not live local to one of our 10 training centres
Ideal for those who would prefer to study over a longer duration, at their own pace with time to reflect and revisit any aspects as you prefer
Online courses can be studied either instead of attending our face to face intensive training courses or in addition to face to face training courses as additional learning support
Option to arrange a face to face training session at 1 of our 10 training centres, is available for £150 per day for those who feel they would benefit from further tuition, guidance and feedback in person from a professional tutor (selected courses only, subject to availability)
Following completion of our Online courses, you can gain insurance to work from home or mobile. Learn more here about insurance scheme for Online courses
Online Manicure & Pedicure Course covers;
Health, safety & hygiene
Consultation techniques
Contraindications
Manicure procedure
Pedicure procedure
French Manicure procedure
Filing and cuticle work
Massage of the hand and foot
Homecare & aftercare advice
Online Dry Manicure & Gel Polish Course covers;
Health, safety & hygiene
Consultation techniques
Contraindications
Dry manicure procedure to prepare the natural nail
Shaping the nail and cuticle work
Painting techniques with gel polish
Application of gel polish
Removal procedure
Aftercare advice
Online Nail Art Course covers;
Health, safety & hygiene
Presenting a professional image
Consultation techniques
Contraindications
Dotting (flowers)
Striping and flicks
Starry night
Marbling
Animal Print (Zebra, Tiger & Leopard)
Flowers
Freehand Rose
Neon Designs
Chevron French/Marbling French
Chrome
Ombre
Glitter Fade
Sugaring
Perfect Smile Lines
French Manicure with a difference
Application of flat stones and rhinestones
Aftercare advice
Recommended suppliers
This incredible Online Gel Nail Technology Training Package includes 3 online courses of the most popular nail treatments and essential skills for any gel nail technician. You will work through comprehensive training manuals, watch professional training videos, complete multiple choice theory tests to consolidate your learning and a small number of treatment case studies to help you practice your treatment skills. The courses are all completed online, there is no travel to our training centres required with this training package – you can learn anywhere, anytime you prefer using a pc, laptop or mobile device connected to the internet. 
Manicure & Pedicure treatments have always been popular as we all want well presented hands and feet but few have the time to take care of these themselves. The Online Dry Manicure & Gel Polish course will allow you to take your manicure and pedicure treatments a step further and provide high shine, long lasting polish results. Gel Polish treatments are one of the most in-demand nail services available and you will gain the skills to competently perform these treatments. Our Online Nail Art Course will teach you how to create a range of freehand nail art techniques which can be combined to create stunning Nail Art designs. This online course will take you through using different medium and tools to perform Nail Art treatments with confidence, adhering to a professional level of service.
It's up to you:
Debit or credit card or our DEKO finance package with affordable monthly payments.

Our Deko Finance option is available on all courses, diploma course packages and VTCT qualifications over £299. You have three options – to make repayments either over 12, 24, or 36 months at only 19.9%, all with just a 20% deposit.
A very important point regarding finance options: Many of our students are fairly young and may not have taken out finance before; perhaps they are living with mum/dad or boyfriend/partner and have not had their own name on an electoral roll for at least 3 years. Now, although it may seem a bit harsh it is very true that all finance companies will view your application very critically if any of the above is true. A way around this is to increase your deposit to say 40% but this needs to be done at the outset and not after you have been rejected.
If you feel that any of the above does apply to you then please just have a word with one of our Course Advisors before making an application.
---
The Deko finance option allows you book and attend your chosen courses with us while making affordable, monthly repayments to spread the cost. You don't need to wait to book training sessions, you can complete all training as you wish, selecting from our available scheduled dates without delay. This is a great payment choice for those who desire the flexibility to manage studying around work commitments / childcare or even wish to complete their award as soon as possible; but who need the option to spread the cost into more affordable payments, over a longer term.
You can increase your deposit to reduce your payments and you can pay off early if you wish. No hidden fees or charges. The scheme is subject to the usual credit checks etc.
Our online courses are suitable for complete beginners and do not require any prior learning to be able to train with us; many of our students are not yet beauty trained and are looking to start up a business in the industry. We welcome students of all abilities, whether you are looking to learn a new skill from scratch or currently working as a therapist and looking to refresh your knowledge of particular treatments.
When you have successfully completed your online training course(s), you will receive a certificate issued by The Beauty Academy recognising your achievement on each of the Online courses included within this Online Training Package. These are great to support applications for further training courses, entering employment or indeed may be considered towards CPD for existing therapists. You will also be able to provide treatments on yourself or to friends and family. You can even gain insurance to begin working with paying clients as a therapist working from home or mobile.
You should purchase our student insurance policy (£20) while studying and then our professional insurance package (£70) before you offer treatments to paying clients. Remember to follow closely what you have learned on your course and to always adhere to best practice. You can find out more and purchase insurance online by visiting the Information on Insurance page
The online courses are an excellent starting point for those who have a passion for beauty and wish to learn new skills. Completion of the online courses will equip you with the essential knowledge and skills to provide pampering on yourself and also to friends, family and paying clients.
We recommend all students purchase Student Insurance while studying their Online course. This is available for just £20 (plus tax) and covers you while practising your treatments on friends and family. This can be purchased securely online directly from Radius Insurance.
Upon successful completion of your online course, you will be issued with a certificate from The Beauty Academy which is recognised by Radius, the leading provider of professional beauty insurance. This will allow you to gain Therapist Insurance for just £70 (plus tax) to cover you when working from home or mobile providing your treatments. Find out more at our Insurance for Online Courses
Our online courses have been designed following over 25 years experience in delivering private beauty training. We understand the requirements of our students and online courses are delivered in an easy to follow way, accessible on your computer or mobile device.
Comprehensive course manuals written to the highest industry standards accompanied by video tutorials produced with our professional tutors allow you to develop the required knowledge and skills to be successful within beauty.
Our in-house Support team is available through your studies and beyond.
Share your thoughts!
Let us know what you think...
Course Info & Price
Course Duration

Online
No hidden charges: includes all exam fees & VAT.
How to Apply
* Example only. Subject to status. Credit checks apply.
0 reviews
Customer Reviews