Lash FX Introductory Kit is the first stop for beginners and trainees. It is a comprehensive kit for trialling eyelash extensions. It has a unique practice eye and is extremely competitive and exceptional value for money. Contents may vary, but typically includes: 
Approx. 6000 Lashes: 1500 x Fine 9mm; 1500 x Thick 10mm; 1500 x Extra Thick 11mm; 1500 x Super Thick 12mm.
Regular Adhesive
Adhesive Remover
Jade Stone
Micropore Tape
6x Gel Patches (Lint-free)
12 x Micro Brushes
1 x X Tweezers
1 x Straight Tweezers
1 x Lash Extension Holder
1 x Air Blower
1 x Practice Eye
1 Box of Practice Lashes
Instruction manual, after care card, salon leaflet & record card
Supplied in a handy & robust carry case.
Pack of 25 disposable mascara wands included in separate pack in box.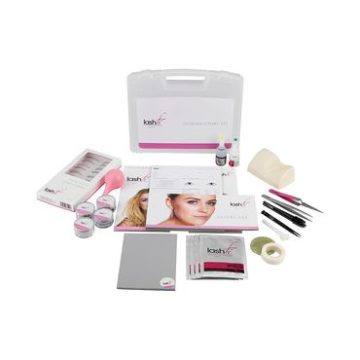 Share your thoughts!
Let us know what you think...
0 reviews
Customer Reviews