If you are looking to embark on a career as a beauty therapist, working either in a salon or from home and/or mobile, our City & Guilds Level 2 & 3 in Beauty Therapy course is designed to equip you with the knowledge, practical skills and industry-required qualification to be able do this with confidence.
Facial Massage and Skincare
Waxing
Precision Lashes and Brows
Introduction to Make-Up
Manicure and Pedicure
Luxury Manicure & Pedicure
UV Gel Nail Extensions
Swedish Body Massage
Electrical Facials
Microdermabrasion
*On the Manicure & Pedicure and Luxury Manicure & Pedicure training days you will required to remove any nail extensions/gel polish from finger and toe nails before attending the training. For the Waxing training day, you will be required to give and receive waxing treatments to all areas covered by the course so should allow hair growth to a minimum of 0.5cm before the training. Students must not have received any cosmetic procedures to include dermal fillers or microblading in the 12 weeks prior to the training days.
Much of the qualification is completed as home-study, including written and practical coursework making this an ideal route for those who wish to study flexibly around other commitments. The 13 days of practical training required for the course will run from 10am – 4pm, although we ask students to arrive at 9.45am to ensure a prompt start. You will learn the theory of the treatment firstly, and spend the majority of the training days acquiring and demonstrating your practical skills, with a short break for lunch.
Once you have completed all training and coursework, you will arrange to attend practical assessment days to achieve your City & Guilds qualification. There are no written assessment days or written exams to be taken, which is an advantage over the VTCT qualification programmes for those who struggle with taking exam papers. A benefit of this Level 2 Qualification over others we offer, is that it combines a wider range of popular skills within beauty and nail services allowing you to be a valuable asset when you look to go onto employment within a salon or spa.
An advantage of the City & Guilds Level 3 Certificate over other Level 3 awards available, is that it focuses on the key skills of electrical facials for those who want to go onto further advanced skincare training or work within an aesthetics clinic; while still giving you knowledge of body massage treatments (essential for spa work). You have a wide range of career options open to you without needing to study as many holistic therapy options as with the VTCT route.
For more detailed information on the structure of this qualification, please call to speak with one of our friendly Course Advisors on 0800 999 2277.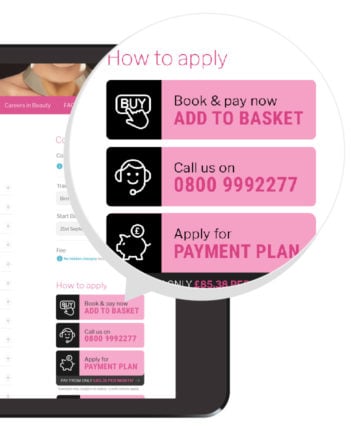 Our friendly, expert Advisors are on hand to answer any questions & assist you in booking your place over the telephone*. Call on Freephone 0800 9992277
Alternatively, most of our courses can be booked online 24/7, using our secure payment system.
Simply choose your venue and date
Click the add to basket button
Then complete the secure, online checkout
*Payment in full at time of booking online or by telephone allows you to select your training days at your preferred training centre in the best way to suit you – whether that's as a consecutive block (subject to availability) or taken at your own pace. Enquire about a Deko Finance (Payment Plan) by clicking 'Apply for Payment Plan' option or call us about Easy Pay plans.
---
1. Payment in full using Credit / Debit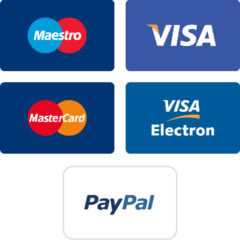 By making payment in full, you can secure your course place and enjoy the greatest flexibility to book all of your training days at your preferred training centre, in the best way to suit you – whether that's as a consecutive block (subject to availability) or taken at your own pace. Book securely online 24/7, or call our friendly Advisors by book by phone.
---
2. Payment Plan – Courses over £500

Our Deko Finance option is available on all courses, diploma course packages and VTCT qualifications totaling over £500. You have three options – to make repayments either over 12 months interest free or 24 months / 36 months, at only 9.9% interest.
---
The Deko finance option allows you book and attend your chosen courses with us while making affordable, monthly repayments to spread the cost. You don't need to wait to book training sessions, you can complete all training as you wish, selecting from our available scheduled dates without delay. This is a great payment choice for those who desire the flexibility to manage studying around work commitments / childcare or even wish to complete their award as soon as possible; but who need the option to spread the cost into more affordable payments, over a longer term.
You can increase your deposit to reduce your payments and you can pay off early if you wish. No hidden fees or charges. The scheme is subject to the usual credit checks etc.
A City & Guilds Level 2 Diploma in Beauty Therapy is becoming the industry-required standard and recognized in many sectors of this lucrative industry. This particular course will enable you to provide many beauty-related treatments and work as a professional beauty therapist, either self-employed or within a salon. You will learn a wide range of practical skills, including deeply relaxing facial massages, precision brow techniques, the basics of make-up application and UV Gel Nail Extensions.
A City & Guilds Level 3 Certificate in Beauty Therapy is an excellent option for those who want to hold a higher level qualification. This particular course will enable you to provide technical skills and knowledge to work as a professional therapist in your chosen sector within a salon, spa or skin clinic. You will learn a wide range of techniques, including in-demand electrical facial treatments and microdermabrasion, plus Swedish body massage treatments.
Whilst you are perfecting your practical skills during training, you will also be consolidating your theoretical knowledge with our comprehensive study material, answering questions in your electronic workbooks to submit as coursework. You will also be practicing the skills that you have learnt at our training centre on models (friends/family) at home for your Level 2 treatments and within Body Massage, gradually building a portfolio of treatments to submit as your practical coursework. You complete all required electrical facial treatments at the centre as part of your training and assessment days so no electrical facial equipment is required at home.
Our assessment process will ensure that your techniques, from hygiene requirements to attention to detail, are at a satisfactory industry level, and re-affirm the skills learnt during your practical training. This exciting course is hands-on, provides you with in-depth detail on a range of beauty treatments including those most relevant to working with a spa, salon or aesthetic skin clinic. It is designed to prepare you to begin your career within the industry. The qualification not only provides you with extensive career opportunities, it is also internationally recognized and demonstrates your ability to work to an industry-standard level of practice providing safe, hygienic treatments and excellent client care skills, setting you ahead of the competition.
Our diploma courses are suitable for complete beginners and do not require any prior learning to be able to train with us; many of our students are not beauty trained and are looking to start up a business in the industry. We welcome students of all abilities, whether you are looking to learn a new skill from scratch or currently working as a therapist and looking to refresh your knowledge of particular treatments.
Students will require a good command of spoken and written English to complete the City & Guilds qualifications.
You will give and receive beauty, nail, body massage and electrical facial treatments as part of this course. Students work upon each other so no models are required. Training sessions can be mixed sex depending on bookings made, however privacy screens are used to ensure student discretion. Should you require to attend a training day with same-sex students only in attendance e.g. for religious reasons, please contact us before booking so we can look at the best training dates for you. Students must not have received any cosmetic procedures to include dermal fillers or microblading in the 12 weeks prior to the training days. All products and tools are provided for the training days at the centre when you attend. No kit is required to complete the training days, nor included in the course fee.
On the training days, you only need to bring a hand and bath towel for your personal use, completed enrolment form and cold food for your lunch (e.g. sandwich/salad). Tea & coffee are provided on the training days.
We do provide study materials to assist you in completion of your written coursework & in preparation for your practical assessments. Students will require products/tools at home and to arrange models to complete their coursework/practical assessments. You do not require access to the electrical facial machines at home however, as all practical for this is completed as part of your training/assessment days. Our Support team are on-hand to contact by telephone or email throughout the duration of your course to answer any questions you may have and guide you through the process.
We are so proud at The Beauty Academy to work with such a professional, passionate and friendly team of tutors, all of which hold a Level 2 and Level 3 qualification in their specialised sector. Our tutors are also all qualified with either Level 4 PTTLS or equivalent teaching awards in education, with years of experience in beauty-related professional industries. Furthermore, our tutors who are involved in the assessment process all hold an Assessors Award.
We pride ourselves on the welcoming nature of our tutors and their ability to engage, educate and enrich students from all ages and backgrounds. All of our tutors are dedicated to maintaining their knowledge and keeping up to date with the latest treatments and techniques in the ever-changing industry.
If you would like to read more about our fantastic tutors individually, please have a look at our Meet the Tutors page.
When you have successfully completed your training course(s), you will receive a diploma certificate issued by The Beauty Academy and accredited by ABT. This not only demonstrates your commitment to the training, but also allows you to obtain Public Liability insurance so you can start offering treatments to paying clients from home or mobile.
Once you have completed your practical assessment days you will receive your qualification certificate (this can take up to 12 weeks to be released from the awarding body City & Guilds).
Aside from your practical training, your course also involves home-study and assessments as required by the awarding body City & Guilds. Our qualifications (all levels) require both written and practical coursework to be submitted and marked by an assessor before you can be progressed to the assessment stage. Coursework is completed at home, within your own time and at your own pace. 
At the time of booking your qualification, you will be sent your study materials (including: Workbooks; Student Study Guide; Practical Assignment and our Student Handbook) to get you started with your coursework.
As you complete your practical training, you can begin working on your practical assignment. You will require products/tools at home and also models to enable you to complete the coursework/practical assessments needed to achieve the qualification. We have a Support Team that is on hand to answer any of your questions via email or telephone at any stage during the course of your qualification. 
The Beauty Academy offers a discounted insurance scheme with Balens; a Specialist Insurance Brokers aimed at Health and Well-Being Professionals, offering both Therapist and Student Therapist insurance for those who train with us. To learn more about the Balens insurance scheme, please click here.
An advantage of completing your qualification with The Beauty Academy is that you can obtain insurance to begin working from home or mobile (even while still pulling together your portfolio of treatments towards your qualification and/or preparing to complete your practical assessments). It allows you to earn while you learn. Once you have fully completed your qualification, you will be able to gain employment within a salon/spa/cruise ship or to gain insurance and a licence to open your own salon.
All of our diploma courses enable you to work from both home and mobile offering the specialised treatment(s) that you have completed. You can start earning by offering treatments to paying clients as soon as you have attended your practical training days and obtained your insurance.
Once you have received your certification from the awarding body City & Guilds, stating your qualification achievement; you are also able to work for larger companies within the industry, including: spas; hotels; salons and cruise-ships etc. The opportunities are endless!
We offer high-quality ABT accredited training with experienced tutors, professional equipment and a great atmosphere to train in. Our training centres are well-equipped, within easy reach of public transport and regularly inspected by the awarding bodies (City & Guilds and VTCT) which we provide qualifications through; to ensure we are giving you the best service for your money. We pride ourselves on working with only qualified and industry experienced tutors who are friendly, welcoming and happy to go the extra mile to deliver the very best student experience possible. 
All courses are run as smaller groups than most other providers, allowing plenty of opportunity to ask questions or seek further support if required. Our training centres are permanent and exclusive to us and they are always set-up ready to begin your training. All centres have the very latest equipment and products required to adhere to industry standards. We also provide free and unlimited on-going access to our Support Team who are available to answer queries or provide guidance within any aspect of your course with us, contactable on either email or telephone.
Following your training, you may like to complete some further in-house diploma training with The Beauty Academy to enable you to offer a wider range of treatments to your clients. These can be completed in as little as 1 day – you can find details of all diploma courses here
We also offer a Starting a Business in Beauty Therapy course for our students; a comprehensive, home-study course that would complement any course completed with us, aimed at those looking to launch a business in the industry.
Course Info & Price
Course Duration

Flexible