Understanding Profit for Beauty Business
While you may be the most exceptional therapist providing breathtaking treatments, such skills are nothing without a sharp business mind. Striking the balance of driving business with achieving profitability and productivity is a tough call in an ever evolving industry like beauty but our blog this week focuses on what it really takes to be profitable in business and it's probably not what you might assume!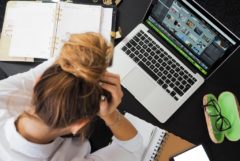 What is profitability?
Being profitable is not just about making sales AKA earning money. Being profitable is about ensuring that the money you earn equates to much more than just covering the costs you incur (not just on products, premises, utilities like electricity but also covering the cost of your or your therapist's time). Beyond this it's also ensuring it's worth the effort i.e. you are earning the most possible within each working hour once your costs are considered. Many therapists assume because they are being paid for treatments, they are making a profit when in fact they are actually missing out on making much more within each working hour through a number of factors.
How to ensure profitability and boost it…
First you need to look at what you are earning – where does this revenue come from? Break it down by treatment, time and cost involved in delivering these treatments and against current treatment cost, what % of clear profit are you making per treatment. For this you need to know the treatment cost per treatment (such disposables, approximate product cost including any wastage plus your time). Also look at your appointment diary and tot up total earned for each hour of your diary and also overall for each day. Do this for the last month or so. See if you can identify the hours and/or days where you are earning the most. Are there any gaps in your diary that you just couldn't fill? Is there any pattern to which treatments are booked together or at specific times/days? Or indeed to where you have no appointments or gaps in appointments.This will help you to identify your 'peak' appointment hours/days and 'off-peak' appointment hours/days.
Off Peak & Peak Hours – happy hour should fill your quietest time of day…
From identifying the hours most in demand by clients, these should be the hours where you either charge a premium or only book in treatments which earn you the greatest % profit. During off-peak hours you could offer a small % reduction in the treatment price to help fill these hours, look at shorter treatments with high % profit margins that you could tack on to longer treatments to fill gaps in your appointment diary or consider only allowing bookings of less profitable treatments within these time slots. Run promotions applicable only to off-peak times ideally as this really helps you fill the most useful times to suit you and not your clients. If a client wants or needs an appointment during peak hours, they will need to 'pay' for the privilege so to speak as these are appointment times that would otherwise fill at full price regardless. The aim is to ensure that each working hour is filled productively to allow you to earn the most in each hour by working smart. Turn around time between clients also eats into productivity and therefore profitability. Consider offering a discount for group bookings where the clients attend together and have their treatments back to back.

Careful appointment scheduling means time really is money…
When a client wants to block book themselves in e.g. client's who like to book their nail extension maintenance treatments in for several continuous months ahead or when offering a block package e.g. for facial treatments where you may offer a small discount for this; schedule carefully! Don't offer a client an appointment smack bang in the middle of your morning or afternoon. Schedule smart and offer the client an appointment first thing in the morning or last thing in your appointment day. This means you can then book 'backwards' so to speak keeping all appointments close in terms of turn around time between clients and making it easier to book in longer treatments especially those with the highest % profit margin. You don't end up hanging around waiting for clients hoping for walk-ins or worst still, having those clients who book months ahead not turn up and waste a huge window in your day.
By analysing the most productive hours and also where the gaps are, you may find you can drive productivity by reducing your working hours. For example if you always end up with a 2 hour empty gap after lunch but before your evening appointments commence, considering offering a discount to clients as an incentive for them to move their appointments earlier going forward. Or if Mondays are always a very quiet day and you have a lot of gaps across other days of the week, consider taking this as a 'day off' or business planning day e.g. to do the salon books and begin condensing more appointments into your other days. Many therapists think by making themselves available at all times of the day or night across 7 days a week they will earn the most. Actually many end up monopolising their appointment diary with small appointments and not striking a valuable work-life balance. Few therapists lose clients by making themselves less available, in fact by driving your appointments harder and closer together you earn more in less hours and clients also are more inclined to book ahead and avoid missing appointments if they grasp that you are busier and they may struggle to get their appointments when they need them if they don't plan ahead and show up!
Reconsider those loyalty schemes & promotions…
When you first start your beauty business, many therapists will set up incentives to help build their client base such as loyalty schemes or monthly promotions. Often these schemes do little in the long term to maintain genuine loyalty and often end up devaluing the treatments you offer (as clients get used to endless promotions and end up only expecting offers). Be confident in the value of your work and the service you provide and clients will return even without discount incentives. Remember that every discount is taking away from your profits and often it adds little to your business. Well timed promotions which drive business on high profit but low demand treatments or fill off-peak appointment slots are worth running, discounts on low profit but high demand treatments or during peak times (that would otherwise get booked anyway) only take away profit.
Business fundamental – keep control of costs…
Too many therapists have zero knowledge of what each treatment actually costs both in terms of their time (& worse still, do not have an expected minimum hourly rate in mind for themselves) but also in terms of product cost. This defines your profit margin for each treatment. Then take a realistic look at your treatment price list to establish are there any treatments you aren't making a profit on? Could you raise the treatment price? Or could you scrap offering those treatments altogether or only offer them to meet demand in conjunction with another profitable treatment e.g. adding a quick brow wax as an option when having a longer treatment such as nail extensions or eyelash extensions. Don't be afraid to charge for all services including nail repairs or include the cost of products they may take home such as the rest of a nail polish used in their manicure or the foot file from their pedicure. Build in value to treatments where you can but not at the cost to your profits. If it will sell without it anyway, cut it out. It's the quality of your treatments and your service that builds loyal customers, not offering it cheaper than all other therapists in your area.
Also get a grip on wastage. Circulate your retail products to avoid their use by dates passing before being sold. Make add-on products like cuticle oil a compulsory add on purchase for a new client having nail extensions so that they follow home-care but also push through sales. Ensure you are measuring out only the required amount of product for each treatment. You can always add more but you can't put it back in when it is out the bottle. Wastage occurs through poor treatment planning and not considering even the little things add up to a loss of profit. Cut out disposables for better alternatives e.g. use couch roll instead of make up capes, switch disposable applicators for brushes which can be sanitised e.g. tint brushes where possible etc. and decant products like acetone into pump bottles to avoid over-saturation of nail wipes and spillages. Also keep an eye on reserve stock, don't overstock tying up business cash flow needlessly and risking wastage.
Taking time to review your business will always pay dividends. Look at things from a business perspective & think profit. Value your skills and expertise, don't be too keen to accommodate difficult clients if it isn't beneficial to your appointment diary and avoid giving away profit with discounts or freebies where it doesn't guarantee more business or greater profit in the long run.
Discover our Accredited Fast Track Training & Online Courses. Unsure of the best route for you – give our friendly team a call on Freephone 0800 999 2277 or visit www.thebeautyacademy.org
---