Top Lash Tech Know-How – Commonly Asked Questions
Our blog this week follows on from our previous blog about troubleshooting the most common lash extension issues. You can read our previous blog here to catch up. This week we will be covering essential need-to-know information to lash technicians. You'd be surprised how many lash techs already working within the industry are not fully aware of these facts. Don't me amongst them, ensure you are delivering the very best lash treatments to your clients…
How should I store Lash Adhesive?
Many lash techs believe lash adhesive must be stored in a refrigerator. This is not necessary and actually doing so may reduce the shelf life of your adhesive. Lash adhesive should be stored in a cool, dry place away from direct sunlight and extremes of temperature. Within it's sealed packaging, lash adhesive can usually be kept for up to 6 months (do check manufacturer's recommendation for your specific brand of adhesive). Once opened, it must be used within 3 months. We highly recommend the use of vacuum sealed storage containers to help prolong the efficacy of your glue. You must always ensure you thoroughly shake your adhesive through to ensure it is correctly mixed ready for use.
Do I need to buy new tweezers every couple of months?
Lash tweezers provided they are stored correctly and sterilised after every use, should really last you for several years. Invest in quality with a well made set of tweezers and you will reap the benefits. Always ensure tweezers are not stored up against their 'points' and any tweezers dropped on the floor will usually need to be replaced as trauma can damage their very fine tips preventing them meeting as they should. If you find your tweezers are not closing as they used to and they haven't been damaged in any way, you may find a small amount of adhesive dried between the plates. If the plates don't close fully, they will not grip lashes as they should and for Russian Volume fanning, some lashes will slip through out of the fan. Dried adhesive should be removed after each usage (and during treatment if required) using an alcohol wipe, allowing them to dry before continuing the treatment and/or sterilising for next use.
Lash lengths and curls I understand but thicknesses?
So many lash techs do not fully understand the impact of selecting not just the right curl and length of lash, but also the right thickness of lash when selecting lashes and mapping these based on natural lash and look required. When carrying out a Classic Individual Lash Extension treatment, you will be applying only one false lash to one natural lash so to create additional volume to the natural lashes or give definition to the lashes, you will need to use a thicker lash. 0.15-0.20mm are the usual choice for individual technique. When carrying out a Russian Volume lash treatment, the thickness selected will depend on the client's natural lash thickness (fine or thick) and how many lashes are to be applied within the fans. When creating a fuller look with 5-7 lashes per fan, you will want to use as thin as 0.03mm lashes but you may mix these with a couple of 0.05mm if the client has naturally thicker individual lashes. For 2-4 lashes per fan (2D-4D) you may like to use just 0.05 – 0.07mm. Anything thicker and the lashes are likely to be lost prematurely or for the fan to collapse quite quickly. Lashes that are too thick for the natural lashes may not be supported fully by the natural lashes and it can lead to the lashes appearing to droop, especially when applied to the outer corners of the eyes which is not a good look for any client.
How close am I meant to apply the lashes?
Too often lash techs apply the false lashes too close to the lid line. You should be leaving a gap of 0.5-1mm from the lid line. This ensures the lashes feel comfortable for the client (a lash too close to the skin not only risks adhesive on the skin and possible allergic reaction developing but can feel 'prickly') but also still give a seamless blend with the natural lashes. Lashes applied too closely will also most likely shed prematurely as the bond will be insufficient to hold and as the natural lash grows out, it will be unable to grow down while carrying the false lash.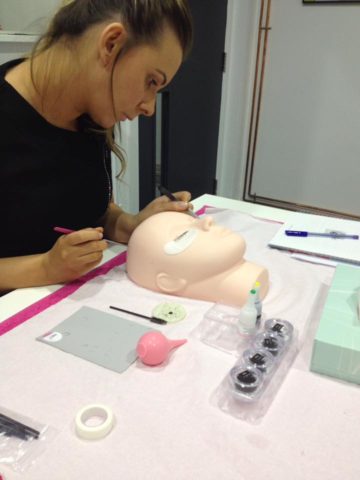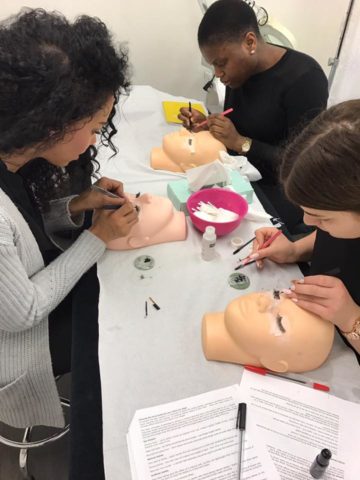 ---