Time to Take a Seat… Benefits of Mobile Seated Massage
Do you know what the term 'seated' massage means? Referring to Indian Head massage treatments where massages are provided in a seated position (rather than laying on a massage treatment bed) and often without oil and through clothing, allowing the treatment to be provided anywhere! We discover why you should consider learning to provide these treatments…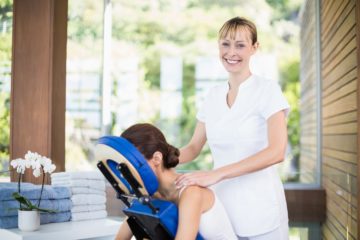 More of us are seeking holistic therapies to complement our existing health and fitness regimes to allow us to reduce stress, release muscle tension, sleep better, restore flexibility to tight muscles after exercise or simply to encourage our bodies to detox when dieting or getting over an illness. Add to that how we are all busier than ever before, juggling work, childcare, domestic duties, hobbies and self-care; there has never been a better time to offer massage treatments on a mobile basis to work for the needs of your clients.
"All the therapeutic advantages of traditional massage treatments, with the convenience of being on-site to the work place. No need to undress or shower afterwards. Treatments can be offered in as little as 15 minutes. It's no wonder employers are seeking on-site massage therapists to provide holistic therapy to tired, stressed and overworked employees to overcome increasing rates of sick leave and re-recruiting from staff turnover."
Why work mobile?
There are plenty of advantages to being a mobile therapist over being spa/salon or even employed on a fixed basis. It allows you to avoid the overheads of keeping premises open, lets you pick your own working hours and gives you greater job satisfaction with better job diversity. Earnings can be unlimited when working for yourself, with only minimal costs for insurance, travel and equipment versus rent, utilities etc.
Why seated massage?
As demand for mobile massage increases, more employers are seeking to offer holistic treatments to their staff to help reduce absenteeism, as part of a formal rewards programme or simply informally to look after their staff and help them feel appreciated. This is where seated massage comes in, which can easily be offered in a corporate 'office' setting using a mobile massage chair for greater client comfort (or indeed any chair for simplicity!). You simply take your oils and your skills; that is all that is required. Often seated massage is offered oil-free and through clothing, which can take time to learn and get used to adapting your techniques, but allows clients to receive treatments in their working space and carry on their day straight after.
You may also be used to seeing seated massage being offered at events such as concerts, festivals, exhibitions and conferences. Even shopping malls often have pop up shops offering seated massage treatments, it really is possible to offer these treatments anywhere. The advantage of this is huge potential footfall giving uncapped earning potential! It also allows you to quickly grow your brand profile and meet future regular clients with minimal outlay. When first starting out, there are also many agencies where you can gain work freelance or contract work with rates from as much as £25 an hour plus bonuses and allowances for travel possible.
Where to start in in offering seated massage?
Well you don't need to be an existing massage therapist, you can be a complete beginner. Anyone can learn to offer these therapeutic treatments and they will be skills for life. Our Indian Head (seated) massage courses allow you to gain the skills whether as a standalone treatment skill set or to further your skills and add the services to your other holistic therapies. Learn in as little as 1 day or at your own pace, online from home. Gain insurance and begin earning. It really is that simple! Earn back your course fee within as little as 2-3 treatments!
---