The Grey Market of Beauty Products – Too Good to be True…
When the price is too good to be true, it usually is. It is so tempting when first starting out in beauty to go on the hunt for bargain prices when looking to build your beauty kit. These are the products you will be using to practice your treatments and begin earning.
It is understandable that you may have limited funds when starting out. While you want it all in terms of being able to offer every treatment you've trained within and all the best brands to compete with local therapists, the cost of purchasing this huge range of products, let alone premium brands can be vast. The pressure to be using the latest brand names and top end products is perceived and this is where some will become susceptible to the 'Grey Market' of beauty.
What is the 'Grey Market'?
Google your favourite beauty product and you will probably find hundreds of websites selling the item you're looking for, some at ridiculously low prices. Take a closer look at these websites and you will see most are based outside of the UK in countries as far as China or India. The websites will usually have absolutely no connection to the product manufacturer or primary wholesaler or approved retailer(s).
You may find the products are available for all to purchase without any requirement to prove you are qualified to use these 'professional products', some of which could cause harm or be dangerous if not used or stored correctly. Many of these offers are simply just too good to be true.
And more often than not, they are. While what these companies are doing is not illegal in many cases, what they are selling comes with no guarantee of the quality or safety of the product. The 'Grey Market' is where products are sold outside of the manufacturer's approved distribution channels. Websites which allow personal sellers such as eBay or Amazon are the main places where products can be sold which could be of questionable origin.
What is the harm of the 'Grey Market'?
You have to wonder how these companies have come by the products – are they beyond the safe expiry date? Have they been stored correctly to maintain the quality? Are they even the genuine product? Are they an imitation for which no adequate product testing has taken place? If the product is counterfeit, you could find yourself having the items seized if trading standards or the authorities were notified by a client etc. Also counterfeit products are often an income stream to fund other illegal activities such as organised crime or even terrorism.
You have to consider the implications of purchasing these products to use on your clients. If a client was to suffer a reaction or ill effect, you could find your insurer refusing to cover you if you cannot provide details of an approved supplier where your products were purchased from. Can you be confident that the treatment result will look as it should and last as well as it should? This is all before you consider what could go wrong if you use a product which is unsafe – some counterfeit products have been found to contain toxic substances such as lead or arsenic. Can you be sure the products will not harm your client immediately or in the long term?

Never purchase products from a source where you cannot trace the supply and distribution chain back to the product manufacturer. These faceless suppliers who give you the 'bargain of the century' will not be around to give you the information you need in the event of a claim against you by a client. Any reputable wholesaler will be able to refer you back to the manufacturer in the event of an issue with any of the products sold to you. This allows the manufacturer to use the batch or lot number to trace back when and where the product was made, confirm it is within the use by date and that it is in fact a genuine product.
Also remember that products bought from the 'Grey Market' are hugely damaging to your favourite brands reputation. While it may cut their profit margins, worse than this is that those buying these products from unauthorised channels may falsely believe the products to be genuine or even if they are not fake, the quality cannot be guaranteed. These brands then receive unfair negative press about product quality for items which they have no control over and this can be hugely damaging to their brand image and the reputation your clients hear about the products that you have spent out to be able to use. If you've paid extra for the genuine article, how frustrating to hear clients then be put off those by the few who are using fakes etc. It undoes all your hard work in selecting the very best brands to use.
Where to buy your products from?
When purchasing products, always ensure you are using a reliable supplier. There are many excellent beauty suppliers and wholesalers available (see the list below), many of which offer regular discounts, VAT free days and even trade accounts allowing you to buy on credit making it easier to spread the cost.
We recommend the following beauty suppliers, we are in no way affliated with these companies. There are many good suppliers, these are just some pointers:
Beauty Express
Salon Services
Ellison's
Salons Direct
Dennis Williams
Salon Serve
Capital Hair & Beauty
MAC Make Up
The Beauty Academy also offer a range of affordable starter kits which contain the essentials to get you started in practising your treatments with professional products without the huge price tag. See our website for more information on the kits available – kits can be purchased online or by calling FREEPHONE on 0800 999 22 77
Information on kits can be found at: https://www.thebeautyacademy.org/starter-kits/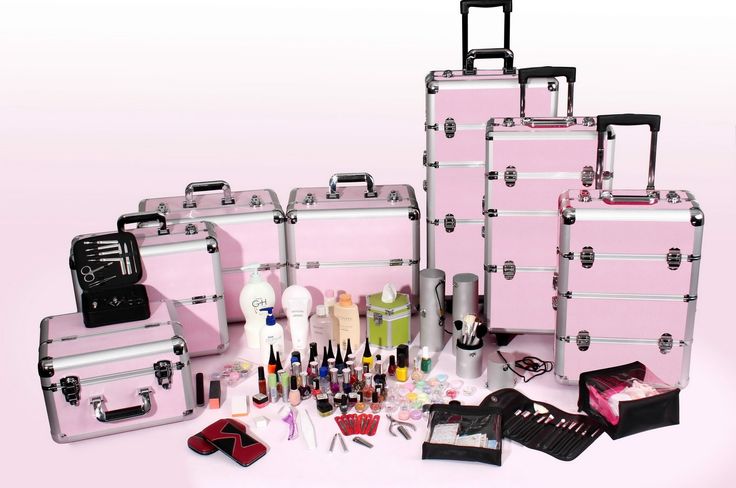 Our top tips for building your starter kit are:
1) Approach beauty suppliers once you have achieved your training certificates. Many will allow you to access trade discounts when buying in bulk or let you take advantage of VAT free days throughout the year.
2) Start by buying only the essentials to begin with – it is nice to have hundreds of nail or eye shadow colours to choose from but it's not essential. Many brands offer trial sizes or starter kits that allow you to get together the basics without such a big outlay. When buying make up, consider the advantages of make up palettes which give you multiple options in small quantities. Gives you a bigger range but with less packaging and less cost. Once you begin earning, you can begin investing in further products or more premium brands.
3) Don't feel you have to offer every treatment you trained within to start with. Research the local market – see if there is demand in your area for treatments that are not yet being covered or pick treatments which have a smaller outlay such as threading or tinting. Once you have a client base building, you can gauge interest in additional treatments to offer and invest in the required products as you go along.
4) Remember clients aren't just buying into product brands when they book a treatment, they are buying into you as the therapist. They want to feel pampered, enjoy time out and come away with a great treatment result. If you have excellent beauty skills, you can deliver a great treatment with even the most basic of products. Top notch products make it easier to deliver great results but they do not take away from your underlying talents and skills.
5) If your business requires a larger spend on products to get up and running, don't be afraid to approach the bank for a business loan. They may be able to help you cover the cost with affordable repayments, rather than having to cut corners and buy shady products from unreliable sources.
6) Remember some of your business costs can be set against your tax bill when you complete your first self-assessment for HMRC so ensure you keep all receipts or invoices for products. This is where it pays to buy through reputable sources so that you can include these expenses in your tax bill.
7) Don't forget that if you buy cheap, you often buy twice. Products and tools bought from reputable sources usually come with a return policy by law for faulty goods or have some form of guarantee (usually 12 months in line with your statutory rights). Buying from dodgy sources will not come with this same assurance.
---