The Advantages of Trade Shows
There are lots of Beauty Trade Shows held each year in the UK. These are mostly held in Birmingham, London and Manchester throughout the year. This is ideal for our students who train at our 3 largest training centres.
Trade Shows are a great way to research new products and treatments that you may look to add to your repertoire either working from home or in the salon. They are also fantastic for purchasing kit items required to practice your treatments and/or complete your course at wholesale or discounted prices.
There are also great to help you keep up to date with the latest trends and gain ideas on what you might like to learn next, to capitalise on the next big trends.
Many of the Trade Shows feature industry leading experts in Facial Skincare, Electrical Facial Machines & Massage therapies. These allow you to see demonstrations of treatments and equipment as new advancements come through to this lucrative market.
Our tutors enjoy attending these shows regularly to keep current.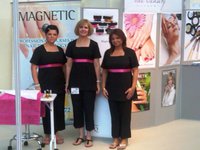 Big trends this year include the growth in popularity of nail extensions, eyelash extensions and the application of gel polish. Leading brands offering products to deliver these treatments are often in attendance.
One Trade Show we would recommend is Olympia Beauty in London which is running from 4-5 October 2015. More details can be found here: http://www.olympiabeauty.co.uk
After visiting, you may wish to learn some new skills to make use of your new purchases. The advantage of our intensive courses are that they require only day out from the Salon and are generic to allow you to go on to use the brand of your choice.
Links to details of some of the most popular courses at the moment can be found below. These treatments are currently the most demanded in Salons and of mobile Therapists.
Eyelash Extensions: https://www.thebeautyacademy.org/eyelash-extensions…
Highly Defined Brows: https://www.thebeautyacademy.org/highly-defined-bro…
Application of Gel Polish: https://www.thebeautyacademy.org/application-of-gel…
Nail Extensions: https://www.thebeautyacademy.org/nail-treatment-cou…
Basic & Electrical Facials: https://www.thebeautyacademy.org/facial-courses
Holistic Therapy: https://www.thebeautyacademy.org/holistic-body-trea…
---