Getting Through a Dry Spell – Dry/Brittle Nails…
With so many clients having bad nail habits whether that is from having poorly applied nail extensions in the past, failing to use gloves when carrying out cleaning tasks or simply not using good quality skin and nail care products; it is not surprising more clients are coming to us seeking advice for dry and brittle nails. But what advice should you give?
What causes dry/brittle nails?
Genetics – some of us are just natural predisposed to dry/brittle nails, just as some of us naturally have drier skin conditions. Note those with drier skin conditions, will usually also have dry / brittle nails too.
Medical conditions / medications – some conditions will cause nails to become hardened, dry and brittle.
Exposure to water / chemicals – not using gloves when in water or using chemicals for a long time.
Allergies – some clients will be prone to allergies and a common reaction is for the nails to become dry or brittle.
Poor diet & lack of hydration – those who do not eat well or fail to drink sufficient water daily are likely to suffer with poor nail condition and growth.
Previous damage from nail extensions or poor nail care – over-application of nail extensions or acetone without use of conditioning nail products alongside, poorly applied nail extensions causing nails to thicken or break, or simply failing to following home-care and maintenance to keep natural nails in good condition.
How to tackle dry/brittle nails…
There are two trains of thought – you could work to improve the condition of the natural nails or you could apply an overlay product to support the natural nails and prevent breakage. Fibreglass/silk and gel polish are good, flexible options rather than more solid nail extension products like acrylic or UV builder gel. Overlays with fibreglass/silk can also be used to tackle existing nail breaks without cutting the nail short.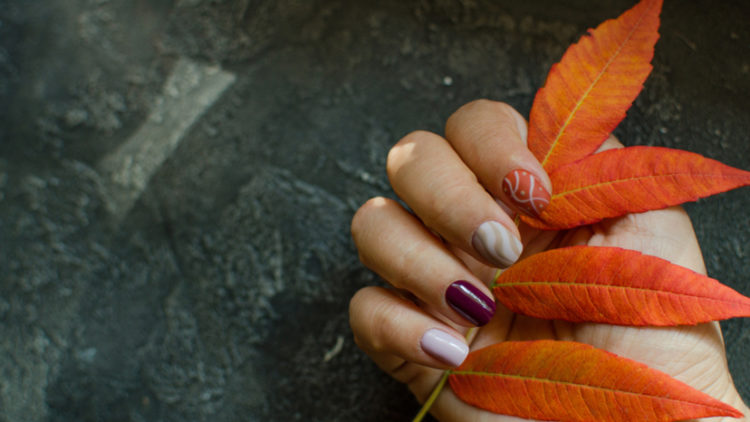 Conditioning the natural nails…
Start with a luxurious manicure / pedicure to include use of mask, paraffin wax and heated mitts or booties to help the products permeate for best effects. Ensure thorough cuticle work as overgrowth and hangnails are common in those with overall dry nails.
A warm oil massage will help nourishing oil to work into the nails to improve suppleness, encourage flexibility and shine.
Finish nails with a buffed natural finish or a conditioning polish/top coat massaging in a hand or foot cream containing moisture boosting ingredients such as coconut oil, vitamin E, shea butter or almond oil. Filing nails into a rounder shape such as oval or squoval is generally better for brittle nails and keep nail length on the shorter side if possible to reduce chance of breakage.
Alternatively overlay the nails…
Carry out a thorough dry manicure to prepare the nails ready for an overlay. Good overlay options as silk/fibreglass to provide additional strength (helping to prevent breakage of the natural nails).
Fibreglass/silk is also fantastic to hold the nail together where a break has occurred very low down on the nail, to allow the nail time to grow out the break and reduce any discomfort resulting from the break. Gel polish is another possible option for those who just want minor additional strength and to help hold the layers of the nail plate together to prevent nail splitting particularly where it occurs higher up on the nail, typically to the corners of the nails for those who like a square or squoval nail shape. Gel polish must be removed correctly in-salon and never picked off to avoid damage to already dry nails.
Ensure whichever option you take, clients take home a cuticle and nail oil to allow them to continue massaging this into the surface of the nails at least twice daily to keep nails nourished and flexible, helping to improve the condition over time.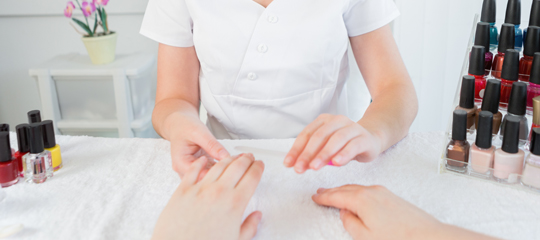 Top tips:
For those who forget to apply nail oil, encourage clients to keep a small bottle on their desk at work, one by the bed for applying at night or perhaps next to their toothbrush to help them remember.
Recommend clients return every 2-3 weeks for maintenance of overlays, reapplication of gel polish or regular natural manicures. This is particularly important in the winter where weather conditions can leave skin and nails drier than usual.
Always recommend clients to wear not only rubber gloves when in water or chemicals, but warm gloves when out and about in the winter to avoid nails drying out further.
For any client having severe issues with dry/brittle nails, it may be worth then seeing their GP just to rule out any medical issues and for them to review their diet in case of a vitamin or mineral deficiency.
Update your nail skills or indeed learn from scratch to start your own business with our fast track accredited face to face or flexible online courses. Click below to explore our face to face and online nail courses…
---