Get ahead, go online…
In these unprecendented times, we all want to find a way of feeling more secure. There has never been a better time to focus on our future or indeed a better way to so this than to go online.
We are proud to offer two training options for our students which can be studied online. We break down the differences between our Online Courses and our brand spanking new Virtual Academy Courses, to help you make the right choice for you.
Don't miss out incredible new Paypal Payment option allowing you to spread the cost of any course or courses totalling over £99 over 4 months, Interest Free. Allowing you to gain an accredited qualification in your chosen beauty skills and a new business oppportunity from as little as only £25 per month!
Virtual Academy Courses
Take part in a structured online training session delivered by our top beauty tutors.
Accessed from your mobile phone, pc or tablet using Zoom. Each session lasts 2-3 hours with a short interval midway through, so easy to complete.
Sessions are available throughout the week, even on weekends so there is bound to be a time to suit your schedule.
Opportunity to ask questions throughout the online training session to keep on track.
Recording of the session is emailed to you along with comprehensive course notes for you to refresh and expand your knowledge.
You then simply practice your skills on friends, family or even a mannequin training hand/head as you can during lockdown. Submit treatment evidence for 3 case studies for feedback.
Once case studies are completed, you'll be contacted to book your online practical support / assessment session.
Once successfully complete, you receive your ABT accredited diploma allowing you to gain insurance to work from home or mobile.
Ideal for those who want an accredited, fast track online training option that is convenient but also guided by a tutor throughout.
Online Courses
Access to a wealth of learning resources through our Online Student Portal including videos, manuals and test your knowledge quizzes to help you learn.
Access to the online portal is available 24/7 via phone, pc or tablet. Study as much or as little as you want each time you access the portal.
Ample time to complete (typically completed in less than 2 weeks but go as slow as you need). Re-read manuals, watch videos and take tests until you feel ready to begin practising.
You then simply practice your skills on friends, family or even a mannequin training hand/head as you can during lockdown. Submit for feedback.
Once complete, you receive your certificate which is accredited by IPHM and recognised by Radius also for insurance. Begin working from home or mobile.
Ideal for those who want to study online at their own pace, with unlimited access to the resources during study, support from our team throughout and for whom scheduled online training sessions may not be as convenient e.g. those who work unsocial hours or who could not do a 2-3 hour training session in one sitting.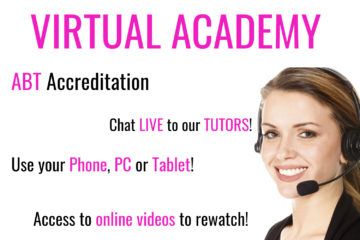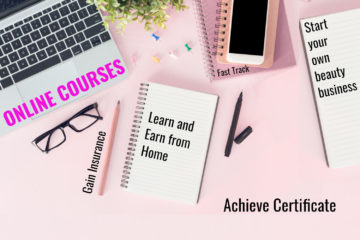 Both options…
allow you to gain insurance and have a recognised qualification to start your own business offering your beauty services.
are studied entirely online, no attendance of our training centres is required.
involve submission of case studies but these can be completed on your family, yourself or even on a training head/hand (dependent on the treatment), if required during lockdown.
can be conveniently studied on mobile, pc or tablet so you can literally be anywhere you can access the internet.
give you full support to our expert, friendly tream throughout to ensure you achieve your goal and get qualified as quickly as possible!
Don't delay, get ahead… Get online. Give us a call today on Freephone 0800 999 2277 and ask about our Interest Free payment option available securely through Paypal.
---