Careers Paths in Beauty Therapy
There are so many different directions that you career path can take in Beauty Therapy. That's what makes it so exciting. No matter what your interests are, there is a career route to suit you. But if you know what you want to do, how do you decide what course is right for you? And worse still, if you've already started a course but you have no idea what you're going to do when you finish? How do you get it right to become successful in this business? Our blog this week focuses on the most popular careers and the routes into these roles.
---
When you start in Beauty Therapy, you will need to decide whether you have a general interest in Beauty Therapy, Holistic Therapy (primarily massage) or whether you want to specialise in a particular field.
Most students who are completely new to this industry aren't sure what treatments they will enjoy doing most as they have no experience to compare with or draw upon. For this reason, most students will undertake a Level 2 course in Beauty Therapy. This allows you to learn and become skilled within the most popular treatments offered by mobile therapists or therapists within the salon including waxing, manicure/pedicure, eye treatments and facials. You will also gain basic skills in make up.
This gives you a great starting point within the industry and you will always be able to offer additional treatments even if you specialise in a particular field at a later stage. It will also help to guide you in the treatments you enjoy most and you might then take the next step at Level 3 in a specific field such as massage, nails or make up.
It is always advisable to undertake a qualification such as NVQ, VRQ or City & Guilds if you are unsure what your career plans are. Even if you are thinking their is a slight possibility you might wish to work in a salon, you are best to undertake an accredited qualification from an awarding body such as VTCT or City & Guilds as this will give you a wider range of career options later on. If you know in absolute certainty that you will only ever work for yourself from home or mobile, then you are absolutely fine to take the practical training only and achieve The Beauty Academy Diploma(s). This will allow you to gain insurance to work and begin earning and their is no requirement for you to complete any coursework or assessments. Do bear in mind you cannot change to qualifications later usually and might have to retake practical training if you later decide to do a qualification for which you may incur additional cost. It is important to be clear on what you wish to do before you commit to a course ideally.
The chart below shows the most popular career routes and the levels of study associated to enter these roles. Employers will usually have Level 2 and/or Level 3 as their minimum requirements but they will of course appreciate any work experience you may have gained also. It is always helpful to discuss the case studies you will have completed at home as part of your qualification coursework during interviews and also any work experience you may have gained in a salon during your training as this will set you apart from the competition.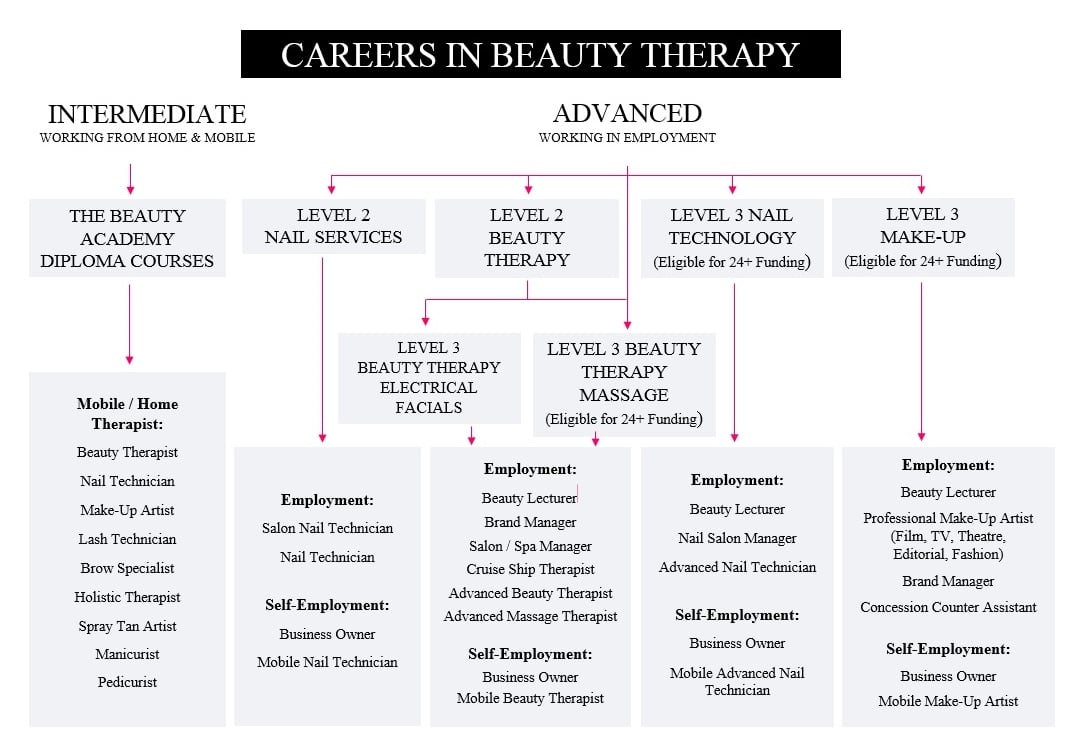 ---
The Careers Available
There are several main careers in beauty therapy:
Beauty Therapist – usually offers general beauty treatments such as waxing, facials, manicures/pedicures, eye treatments and basic make up. This can be within a salon or from home/mobile. Usually only diplomas or Level 2 are required to be able to work in this field. Can be self employed or employed.
Lash Technician – specialises in eye treatments particularly lash extensions but also may offer lash/brow tinting, eye brow shaping and occasionally facial treatments. Usually works from home or mobile (as most salons prefer to have Beauty Therapists who can offer a wider range of treatments as above with Beauty Therapist role). Usually only diploma level training is required if you are going to work for yourself.
Nail Technician – specialises in all forms of nail service including natural nail manicures/pedicures, nail extensions and nail art. This can be within a salon or from home/mobile. Usually diploma training required as a minimum, many nail techs are qualified at Level 2 and/or Level 3 also.
Make up Artist – specialises in make up treatments. This might be primarily Bridal/Special Occasion make up but there are also opportunities to get into fashion/theatrical or special effects work with the right training. This is usually a role involving self-employment/freelance work. Occasionally it is possible to get some form of short or long term contract e.g. with theatrical work. Usually diploma training required as a minimum, many Make up Artists are qualified at Level 2 and/or Level 3 also.
Holistic/Massage Therapist – specialises in offering a range of massage treatments and sometimes additional treatments like ear candles or aromatherapy. This can be within a salon or from home/mobile. Usually only diplomas or Level 3 are required to be able to work in this field (you can usually go straight into massage courses at Level 3 without any prior knowledge of beauty being required, as they are very different fields). Can be self employed or employed.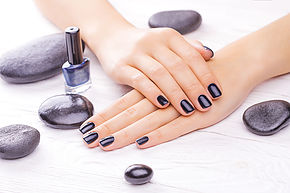 ---
How to choose the right course…
Our Course Advisors are on hand Monday to Friday, 9.00am – 5.30pm and are happy to discuss the training options available with you. They can help you decide upon the best style of learning, course route and funding option for you. Call FREE on 0800 9992277 for a no obligation chat about how our fast track, intensive courses could work for you. Our courses are designed to work around other commitments you may have such as childcare or current working patterns. We also have a number of funding options which may be suitable if you are unable to cover the cost of your training.
---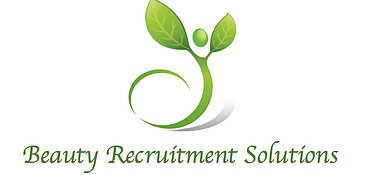 How to find a job…
Our sister company Beauty Recruitment Solutions offer a FREE service to candidates where you can register your CV. they will then contact you should a suitable position arise which matches your skills and requirements. It really does take the leg work out of finding your ideal job. Join our Candidate Regsiter today at our Candidate Zone
It only takes a minute to register your CV and it really could set you on the path to the career you've imagined…
We hope this guide has been helpful. Don't forget our Course Advisors & Support Team are here to help you every step of the way towards your dream career.
---