Boost Business with Online Courses
With Summer around the corner & the sudden surge in interest for quick treatments that meet the needs of those 'occasional clients' who only visit the salon to prepare for a holiday or special occasion such as a Wedding, there has never been a better time to achieve a big boost in earnings by branching out with new treatments. What's more, you can achieve these skills studying online around your busy salon column, with our exciting, comprehensive online Beauty Courses which are just £99!
Quick treatments such as spray tanning as easily be added on to the end of another service such as a nail treatment. Clients will walk out of the salon glowing, you can earn an additional £25-£45 with this add-on treatment and only taking 15-30 minutes, you can easily fit these treatment in between larger appointments to fill gaps or on a walk-in appointment basis. Waxing is also a fantastic add-on staple treatment to be able to offer with treatments such as a brow wax taking as little as 15 minutes but allowing you to earn an extra £12-£25 depending on the area within which you work. More clients are seeking professional Make Up application treatments to help make the 'getting ready' for a big night out fun and stress-free. Learning to provide evening and special occasion make up is not only a great way to get creative but also start earning up to £50 an hour!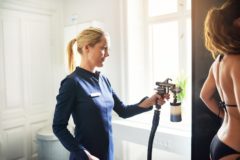 The Lowdown on Offering Spray Tanning Treatments
Driven by celebrities and fashion, more clients are seeking a safe alternative to tanning beds or sun exposure for an all-year round or pre-special occasion glow
Spray tanning kit set up starts from only £200 & usually allows you to carry out 10-25 treatments so you can easily earn back your start-up costs
Full body tanning treatment usually takes around 30 minutes or you can offer just half body (usually face, decolletage, arms and legs) in around 15 minutes so great for fitting in between larger treatment appointments, offering on a walk-in basis or promoting as an add-on to other services for a promotion price
The tanning tent is usually pop-up so you don't need a separate treatment area and can easily take the equipment out mobile too
Spray tanning is a great treatment to include in packages including for Brides, Proms or Pre-Holidays
Cost per treatment is usually only around £2-£5 so the profitability is huge, with a full body usually be charged at around £25-£45 depending on your area
Potential for retail sales is incredible, with most brands offering a great profit margin e.g. by simply offering a tan extender or
Our Online Spray Tanning Course is recognised for insurance, can be completed anytime, anywhere; fully supported by our expert in-house Support Team and only £99!
---
The Lowdown on Offering Waxing Treatments
Waxing has been a staple beauty treatment for decades and is popular with clients of all ages
Whether it's a simple brow maintenance treatment or a complete body hair removal treatment, clients usually need to return every 3-6 weeks to maintain the results and so it's a great way of building a regular client base
A brow wax can take as little as 15 minutes but allow you to earn around £12-£25, whereas a leg and bikini wax could earn you as much as £60 in less than 60 minutes (dependent on area you are based). Treatment costs are minimal (usually around £2-£3 per treatment) and with the instantly visible results, clients are bound to leave the salon delighted
Waxing start up costs are minimal with waxing kits available from around £40, allowing you to begin making a profit very quickly. The kit is small and easily portable allowing treatments to be offered on a mobile basis or with just a small trolley set up in the salon you can easily provide instant, walk-in waxing appointments as needed
Anyone can learn waxing, it's a great treatment to add-on whether you are a lash technician, nail technician or make up artist as the scope for potential clients is huge and most clients will be already using some form of hair removal. With the right promotion, you can easily sway them to let you take care of the hassle with regular waxing treatments for a smooth, hair free result.
Our Online Waxing course is recognised for insurance and can easily be studied around your clients, anywhere and anytime with our Online Student Portal. Comprehensive training videos and manuals guide you through the treatment techniques and process and our team are on hand with advice throughout your course by email or phone. The best thing is the course is only £99 so within just 5-10 treatments you will easily have earned back your investment and have this lucrative skills to keep earning!
---
The Lowdown on Offering Make Up Treatments
With make up trends coming through all the time and more clients seeking professional guidance on achieving a celebrity inspired look, there has been a huge surge in the number of clients seeking professional make up application treatments whether that's for a Wedding, Prom, Black Tie event, big night out or just a make up lesson to make looking their best each day that little bit easier.
Make Up treatments can typically earn you up to £35-£50 per treatment, with Bridal treatments often commanding greater service prices. More clients than ever are excited to receive Make Up treatments to get that pampered look and feel right before a big event. It's also a great add-on service to offer to regular clients with application taking around only 30-45 minutes so perfect for adding to the end of a quiet salon day or between larger treatment appointment slots.
You don't need a huge amount of products to get started – many people wrongly assume you need a huge and vastly expensive kit to get started. Realistically you can begin providing treatments with only a small range of products (perhaps 3-5 foundations to mix the perfect shade, concealer/corrector, contouring products, a good eyeshadow & brow palette, mascara and liner and a small selection of lip products). A good set of brushes is a must along with suitable disposables like mascara wands for a hygienic service. A basic collection of products and brushes can be established for around £200-£300 and within just 10-12 treatments you can easily have a return on your investment and start earning £££s.
Treatments can easily be offered on a mobile basis or within your usual treatment area. A comfy, height adjustable stool and wall mirror could make the perfect make up area if you want to add a luxurious feel to your make up services or you can consider charging a mileage charge if travelling out to the client's venue. This is quite usual in the industry and ensure you cover your costs in delivering treatments, while still offering maximum convenience to clients e.g. on their wedding day.
Our Online Make Up Course is ideal for beginners and will equip you with the know-how to deliver safe and hygienic professional make up treatments. Once you have gained the skills, you can easily begin getting creative to meet the needs of clients and offer something unique. Our course is only £99 and is studied through our Online Student Portal so is ideal for busy existing therapists or those looking to gain new skills to launch their own new business, perhaps around other employment or childcare needs.
Discover more about our Online Courses here or call us Free on 0800 999 2277
---