Be Earning in Nails in Time for Christmas!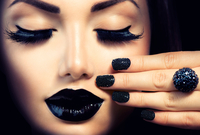 Fancy being your own boss?
In as little as 5 months, you could qualify as a Level 2 or 3 Nail Technician & begin offering treatments within this lucrative market! Working as many or as few hours as you like, being your own boss, having fun and making money at the same time!
What's it all about?
Nails are a growing industry all year round with excellent client retention with repeat treatments. This industry allows you to meet new people and make new friends. Nails are popular as a special occasion treatment for Weddings, Parties and Proms. Clients of all ages enjoy this treatment and even men are now enjoying the benefits of regular nail care.
You can indulge your creative side with nail art now being one of the most popular client requests. Nail extensions are now more widely appreciated with celebrity endorsement of wacky nail designs. Recent innovations with products such as Gel Polish which open up nail treatments to those who prefer a more natural nail care regime but with long lasting colour and shine.
The Beauty Academy's experienced Tutor and Nail Technician, Fay Gallagher, said: "Nails is such an exciting industry to be in now, with so many new products coming through. This helps with marketing your business".
"There is a great social aspect to nails with lots of new clients and also repeat business guaranteeing regular earnings".
How much could I earn?
As a nail technician you can realistically earn as much as £35 per hour depending on your location and work flexible hours with daytime, weekend or evening appointments to suit your lifestyle. Offering nails allows you to work around childcare or to fit it in alongside a current job to earn extra money. Minimal start up costs, you can build your kit as you earn. With such a wide range of products available from high end to budget brands to suit all.
Where do I start?
All of our Nail courses are suitable for complete beginners of all ages. There are no pre-requirements. Our courses are very hands-on practical training and ideal even if you have been out of formal learning for a while.
With flexible study options available to suit your career plans from 1 Day Diploma courses to our fast track, intensive Qualification courses at Level 2 & 3. These options allow you to work on a mobile basis with our Diplomas; right up to gaining employment or owning your own nail salon with our Qualifications.
Training in this field is affordable with Day courses from only £199. We also offer 12 Months Interest Free Finance on our Diploma & Qualification packages. We also have funded options including the exciting 24+ Advanced Learning Loan Scheme to help finance your new career.
Want more info?
Find out more information about the training options available here:
https://www.thebeautyacademy.org/nail-treatments
Or please call our Freephone telephone number on 0800 999 2277 to discuss the best option for you with our Experienced, Friendly Course Advisors.
---