Airbrush Your Way to Success
As we launch our incredible NEW Online Airbrush Make Up training courses, our blog this week highlights the many incredible benefits of offering airbrush make up over traditional make up options. It really does pay to airbrush…
Considering a career in make up artistry but not sure whether to train in traditional techniques or skip straight to airbrushing? Maybe you're already a make up artist or beauty therapist looking to expand your skill set. We can't wait to share our new Airbrushing trainng options with you but first let's give the lowdown on just why you need to train in these incredible treatments. First, what are the key differences between traditional and airbrush make up?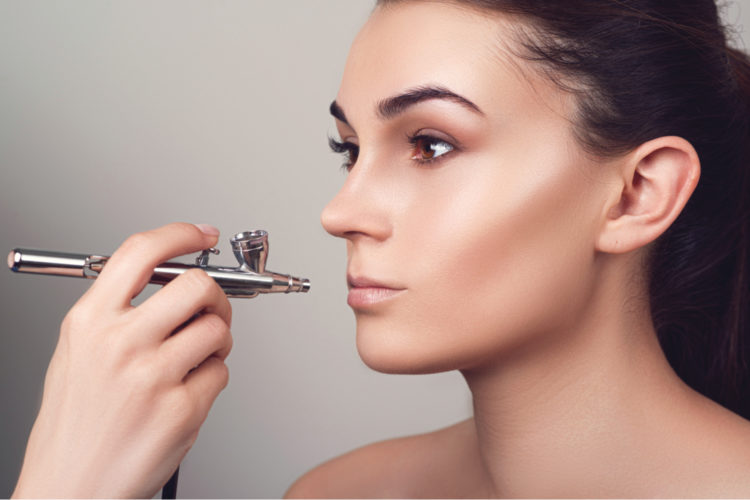 Traditional Make Up
Traditional makeup is the application of liquid, cream, or powdered foundations. Products might be applied using brushes or sponges
Traditional make up products are typically of a thicker consistency, sitting more heavily in fine lines, wrinkles, under the eyes and over blemishes.
Products typically contain a lot of oil to make them easier to spread across the skin, however with heat, sweat and natural skin oils; the make up products can break down over the course of wear leaving skin looking shiny, greasy or congested. It can also cause blockages within the pores and if products client is not used to wearing, can lead to blemishes, breakouts or skin sensitivity.
Require a large number of brushes, sponges and applicators. These will require thorough cleaning between each client and depending on cleaning product used, may need time to dry between uses so can limit the number of clients you can attend to e.g when working with a large wedding party unless you have funds to invest in a particularly large range of additional tools, in which case this increases the kit you must transport with you when working mobile. Cleaning of kit can be time consuming due to all the individual brushes required for use.
You will usually need a large number of shades of foundations, blushes and bronzers to meet the needs of your clients. Products can be blended but results can be less even and more time consuming to achieve a good skin match than when working with an airbrush.
Care must be taken when using traditional products to work under suitable lighting and to use the correct products e.g. not light reflecting products if client is attending an event with flash photography to ensure suitable results. Results achieved with an airbrush are typically more easy to achieve with minimal blending required and products giving an all-over, even matt sheen.
Depending on your level of application skill, application can be time consuming and will usually require touch up during the course of normal wear.
Airbrush Make Up
Airbrush make up application involves use of specially formulated products applied with an airbrush gun and a makeup air compressor. Some airbrush products are silicone based while others are water based. Regardless, airbrush foundation products are typically thinner in consistency than traditional foundations due to the nature of their application.
Airbrush makeup is applied in thin layers to the skin, providing a smooth and even, polished look when applied correctly. As the airbrush spray is very finely misted with each layer, it provides a flawless finish helping to even out skin tone and concealing imperfections, discolouration and even tattoos without weighing the skin down or appearing heavy.
Due to the formulation of products, airbrushed make up should typically last longer on the skin than traditional make up.
It gives a balanced finish that is generally better under flash photography so ideal for special occasions and events such as weddings or where flash photography will be used.
Products that are silicon based sit on the skin rather than sinking into pores so are usually considered non-comedogenic, in that they are less likely to cause blemishes.  Silicon based products are also water resistant so handle tears at emotional events like weddings or on fashion shoots where water or rain is involved extremely well.
Water based products are better for oilier skin types as they do not break down like traditional products during wear, with sweat, heat and natural skin oils therefore appear matt and shine free for longer. Airbrush products are usually formulated to be suitable for sensitive skin types too so can be less likely to cause skin sensitivity.
A wide range of products are available in a huge range of shades and for the professional, the airbrush allows you to easily combine shades to find the perfect skin more easily than with traditional products allowing you to minimise the range of products within your kit (for both cost and practicality).
Airbrushing uses only very small amounts of product due to the fine mist nature of application making it a cost effective treatment to offer with much less wastage than traditional make up.
Airbrush make up can be more hygienic generally speaking, as you do not need to use large numbers of brushes or sponges for application. The bulk of the make up is carried out using the airbrush including blush or bronzer and contouring. Disposable applicators can be used for lip and eye products. This significantly reduces the clean up time involved with your kit. Clean up of the airbrush is quick and simple allowing you to hygienically turn around your kit between each client. It is therefore ideal when working with large numbers of clients at events such as fashion shows or bridal parties allowing you to maximise earning potential within set event time frames.
Application is quick so is ideal when working with large parties or where you want to provide make up alongside other services such as bridal hair for example, allowing you ample time to provide the booked services where time is limited.
Airbrush make up gives a good even coverage that can be built up in layers, allowing each layer to dry in between. Alternatively it can be combined with use of traditional concealer or correction products where required to give higher coverage to the skin such as for dark pigmentation or to cover more severe cases of blemishes and pimples effectively.
So essentially…
Airbrush make up gives quick, even and flawless results
Results can last longer, require less or no touch ups
Products can be easily blended to find the perfect shade match to skin minimising kit requirements
Very little product is required making it a cost effective treatment beyond initial outlay
You can charge a premium for airbrush make up treatments yet application is simple once mastered, quick (allowing you to fit in more clients) and a stress free process
Coverage can be built up by applying additional layers or combined with traditional corrective products to overcome more challenging skin concerns and issues
Treatments are hugely in demand as more clients seek out celebrity endorsed flawless, airbrushed professional results for special occasions, weddings and even evenings out / black tie events
Kit is minimal and easy to transport so ideal for mobile make up artists. Turnaround of cleaning and kit maintence is quick and minimal making it easier to provide treatments to more clients per event or bridal party group = greater earnings in less time.
Ready to leap in? View our training options to learn Airbrush Make Up below…
---